Delhi is a 5,000 year old city that has served the longest period as the capital of India. Being the largest metropolitan city, it has always been in the limelight for its spectacular monuments, forts, museums, havelis, locals bazaars, low to high end eateries, designer fashion outlets, finger-licking street food and most importantly, the people with a big heart. Simply put, it is a perfect retreat for people from different walks of life.
Through this blog, you will unfold the deep-rooted history of Delhi – where the heart of India lies. All the below heritage sites are either UNESCO World Heritage Sites or have left a stubborn mark in the history of Delhi. So if you're a history buff or love architecture then begin your odyssey to Delhi with these heritage sites to add invaluable memories to your visit to Delhi.
1. Red Fort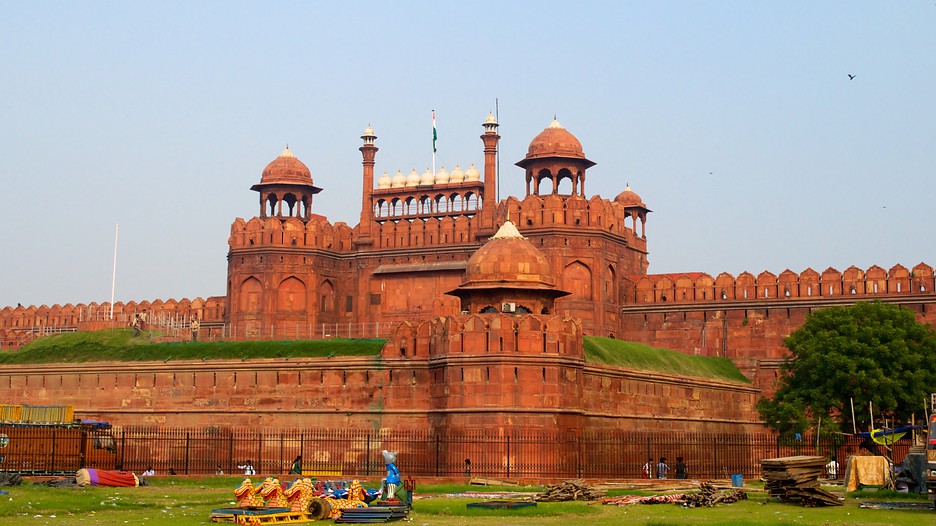 The 17th century Red Fort, declared a UNESCO World Heritage Site in 2007, was a former prime residence of the Mughal rulers (who ruled Delhi for more than 200 years) until the year 1857. It was the political and cultural centre of the Mughal empire and has witnessed various events of national importance. This site gained huge importance when Jawahar Lal Nehru, India's Prime Minister post independence, delivered a midnight speech to wake up the struggle for independence among the people. Since then this site has been a significant political spot in the history of India.
This fort hosts a Sound and Light Show, organized every evening, depicting the legendary events and history of Delhi. This show is a combination of history, visuals and audio representation offering a thrilling ambiance.
Timings: 09:30 AM to 04:30 PM (Closed on Mondays)
Location: Netaji Subhash Marg, Lal Qila, Chandni Chowk, New Delhi.
2. Qutub Minar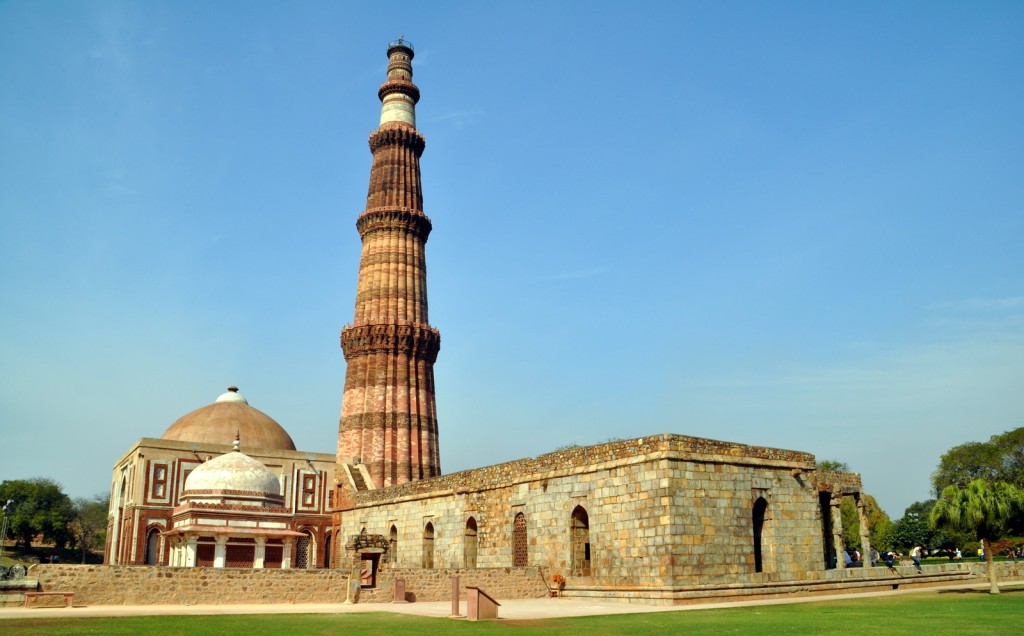 Qutub Minar, a World Heritage Site, was built in 1193 to mark the beginning of Muslim rule in India Qutub al-Din Aibak (founder of Turkish Power in India and first Sultan of the Delhi Sultanate). However, Feroz Shah Tughlaq, a Turkic Muslim ruler of the Tughlaq dynasty who ruled Delhi 1351 to 1388, completed the construction of this five-storeyed monument. An interesting fact about this tower is that is was constructed by gathering materials by demolishing 27 Hindu temples. Another feature about this site is that it has an Iron pillar nearby, where if you are able to encircle it with your hands, your wish gets fulfilled.
Timings: Daytime (Open on all days)
Location: Mehrauli in South West district, New Delhi.
3. Humayun's Tomb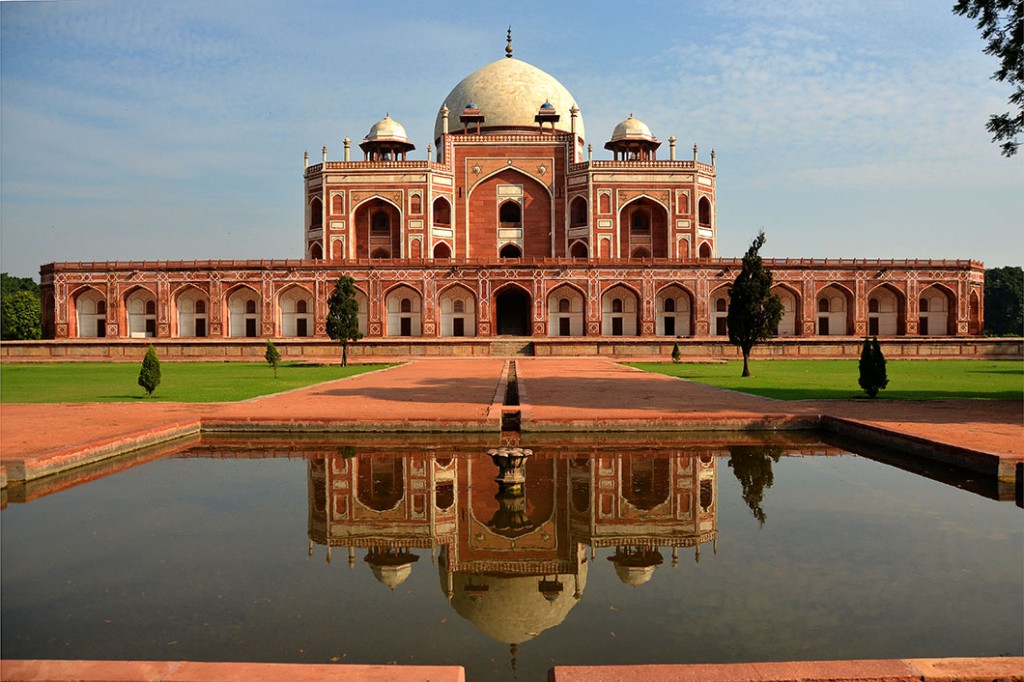 This magnificent tomb was built in the memory of Emperor Humayun by his widow Bega Begum between 1569-70. It became a UNESCO World Heritage Site in 1993 and since then it has become a popular historical site in Delhi. This tomb now accommodates of Emperor Humayun and Bega Begum and other important Mughal empire members. Inspired from Persian architecture, this monument is centrally placed between a four-squared garden with four causeways in the centre of shallow water channels.
Timings: 08:00 AM and 06:00 PM (All days)
Location: Mathura Road, New Delhi
4. Jantar Mantar

The Jantar Mantar, built by Maharaja Jai Singh II (a Hindu Rajput ruler) in 1724, is a compilation of 13 architectural astronomy instruments designed to observe the periodic movements of the astronomical objects – the sun, the moon and the planets. Its primary instruments are Samrat Yantra (sundial), Jayaprakash (observing the position of the sun, ascendants and other heavenly bodies) and Misra Yantra (determines the shortest as well the longest days of a year). If you are interested in knowing more about astrology then you must visit this place.
Timings: 09:00 AM to 07:00 PM (Open all days)
Location: Sansad Marg, Connaught Place, New Delhi
5. Ghalib ki Haveli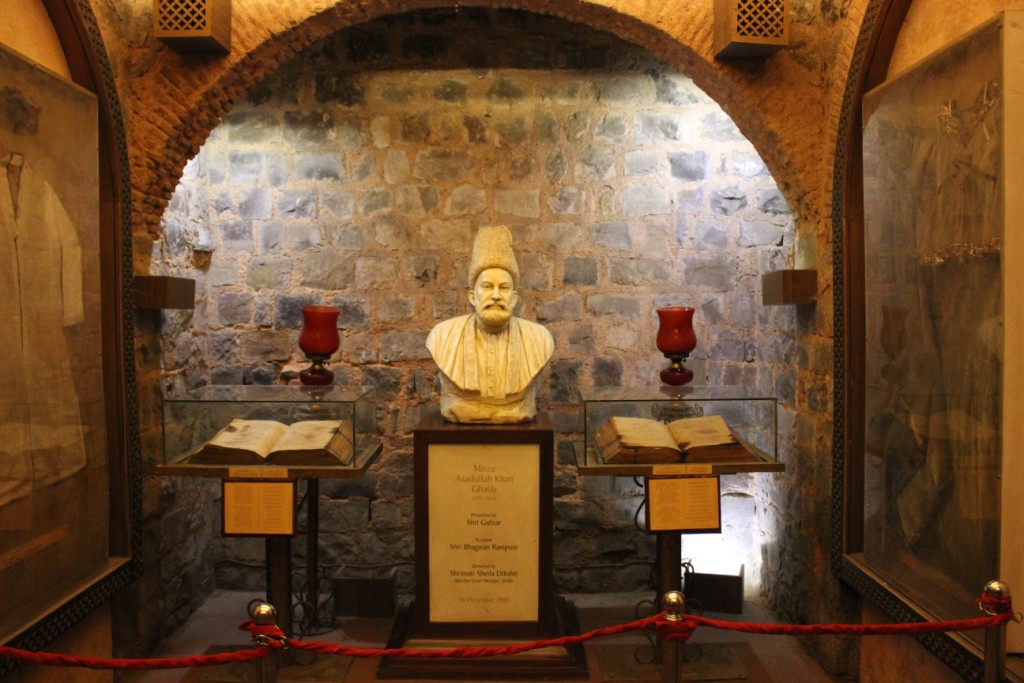 This 300-year old Haveli was a former residence of Mirza Asadullah Baig Khan (popularly known as Mirza Ghalib), a legendary 19th century Urdu Poet, from 1865-1869. It is a UNESCO World Heritage Site that offers a deep insight of the lifestyle of Mirza Ghalib during the Mughal era in India. This Haveli changed multiple hands and after its acquisition by the Indian government in 1999, it was turned into a museum showcasing the belongings of Mirza Ghalib, his replica and finest handwritten literary works.
Timings: 11:00 AM – 06:00 PM
Location: Gali Qasim Jan, Ballimaran, Old Delhi
6. Jama Masjid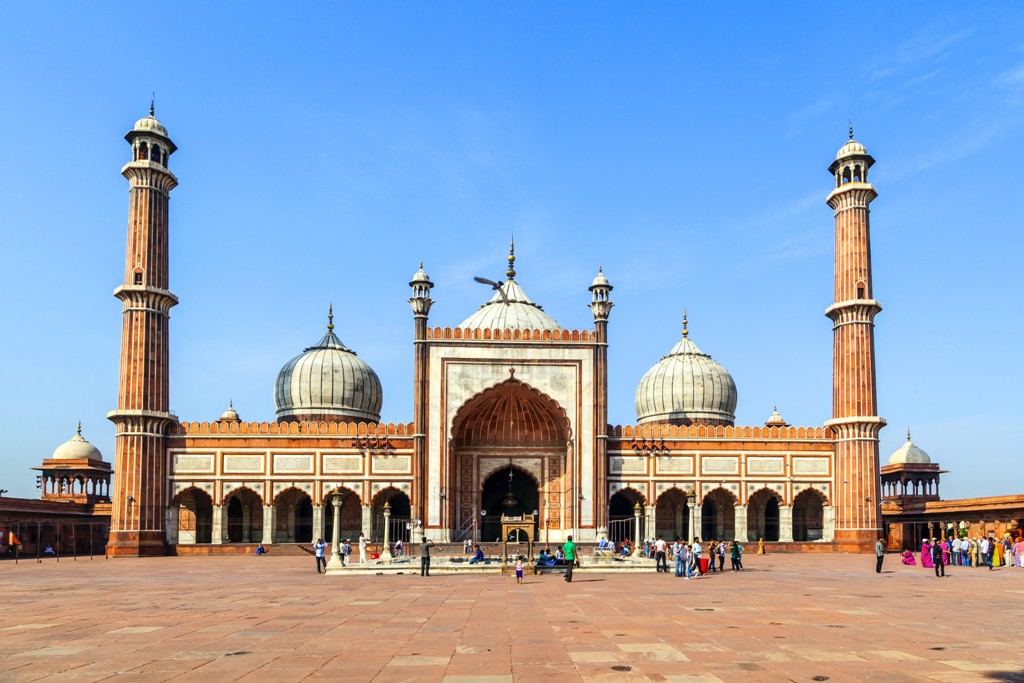 This 300-year old mosque is also known as "Masjid-i-Jahan Numa" meaning "World-reflecting mosque". This beautiful edifice, considered to be India's largest mosque, was built by Emperor Shah Jahan (5th Mughal Emperor who ruled India from 1628 to 1658) in the year 1656. Its courtyard, covered with three bulbous domes, can accommodate upto 25,000 devotees at a time. The major attractions here is the Quran inscribed on a deer skin and a small shrine that boasts the footprints of Prophet Mohammad (founder of Islam) on a marble slab.
Timings: 07:00 AM – 12:00 noon, 1:30 pm to 06:30 pm (Open on all days)
Location: Meena Bazaar, Jama Masjid, Chandni Chowk, New Delhi.
7. Safdarjung's Tomb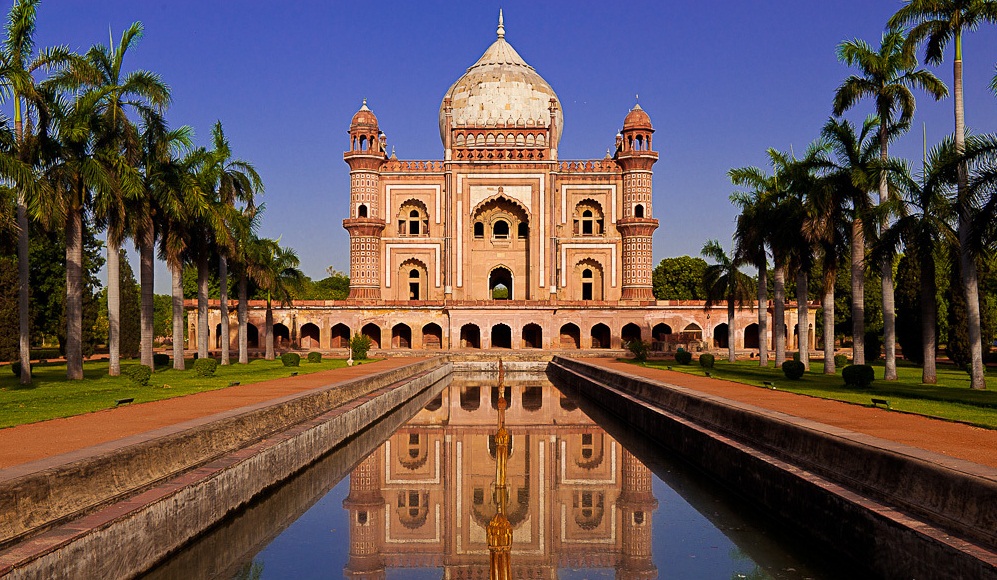 The Safdarjung Tomb was constructed in the late 18th century by Safdarjung's son Nawab Shujaud Daula. The emperor Mirza Muqim Abul Mansur Khan popularly titled as Safdarjung was a viceroy of Mohammad Shah (Mughal emperor of India from 1719 to 1748). This monument is the last garden style tomb inspired from Mughal architecture. It also comprises of a Madarsa (an institution for Islamic learning) and a library maintained by the Archaeological Survey of India.
Timings: Open on all days
Location: Airforce Golf Course, Delhi Race Club, New Delhi
8. Lodhi Garden Monuments

This ornamental park depicts a blend of nature with history. It is dotted with 15th century architectural delights. This park came into existence during the Mughal rule in India (1526-1857) and encompasses a plenty of tombs, tomb of Sikandar Lodi, Sheesh Gumbad, Bara Gumbad and many more. It is a site of huge importance as it possesses the last imprints of Saiyyad rule in India. The best time to visit this place is early morning to enjoy a refreshing walk amidst natural settings and wonderful monuments.
Timings: 06:00 AM to 07:30 PM (Open on all days)
Location: Main Lodi Road, Beside India International Centre, New Delhi
9. Hazrat Nizamuddin Auliya Dargah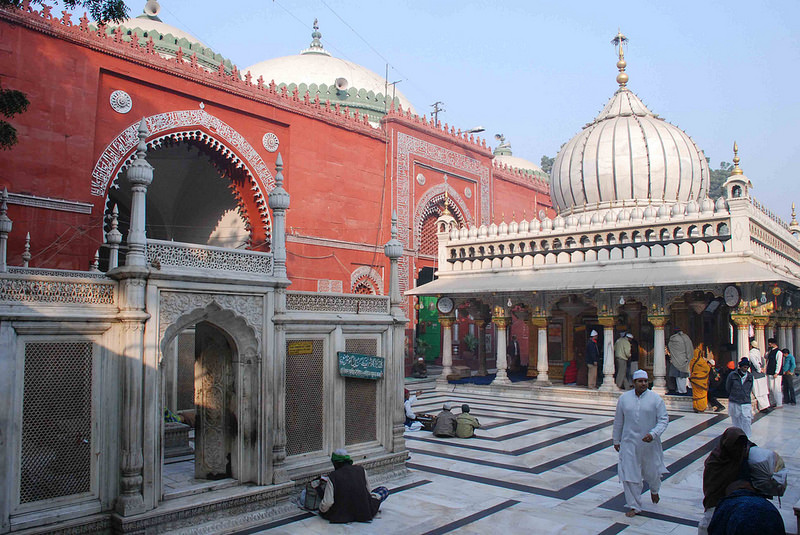 Popularly known as Nizamuddin Dargah, this mausoleum is dedicated to Hazrat Khwaja Syed Nizamuddin Auliya, one of the most famous Sufi saints, dating back to the 14th century. This mosque comprises the grave of Hazrat Nizamuddin, also known as Sheikh Hazrat Nizamuddin Auliya. It offers a unique experience of enjoying Sufi music in the form of Qawwalis (a Muslim devotional music particularly associated with Sufis). It is open to people of all religions.
Timings: 05:00 AM to 10:30 PM
Location: Old Nizamuddin Bazaar, Nizamuddin East, New Delhi
10. Hauz Khas village complex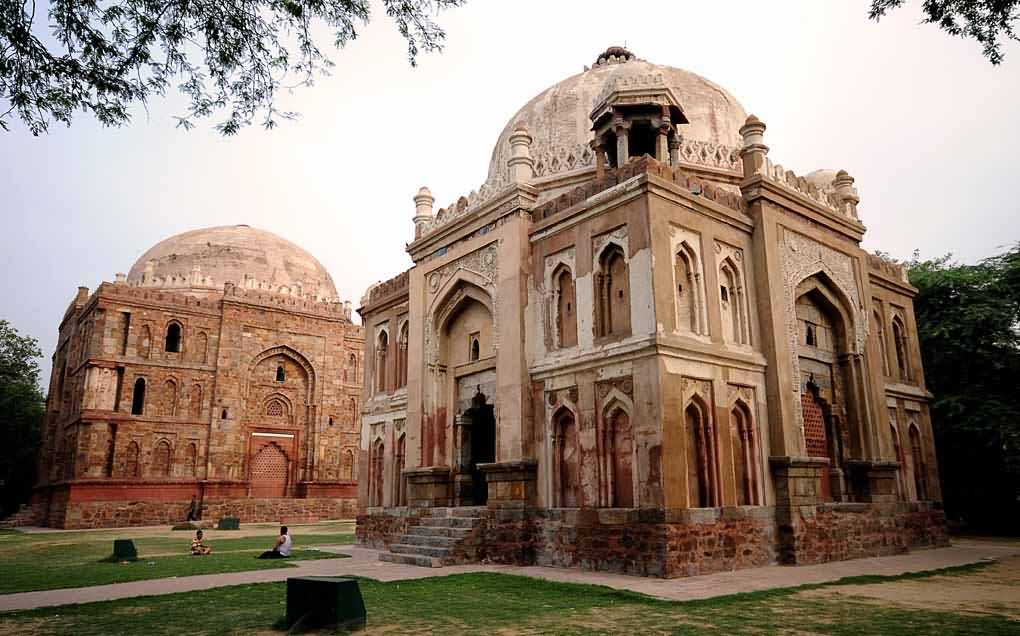 The Hauz Khas village is a blend of nature, history and urbane culture. It comprises of a plethora of eateries, designer fashion outlets, shops selling artifacts and antique items and a magnificent fort comprising of a 14th century water tank and a 13th century Madarsa. Explore the historical monuments within the Hauz Khas fort like the Feroz Shah tomb that houses the graves of Feroz Shah Kotla, his son and grandson. Located close to the Hauz Khas Fort is the Deer Park, where you can sight deers, guinea pigs and rabbits along with a couple of tombs that are totally worth a wander!
Timings: Open on all days
Location: Hauz Khas Village, Deer Park, Hauz Khas, New Delhi
11. Tughlaqabad Fort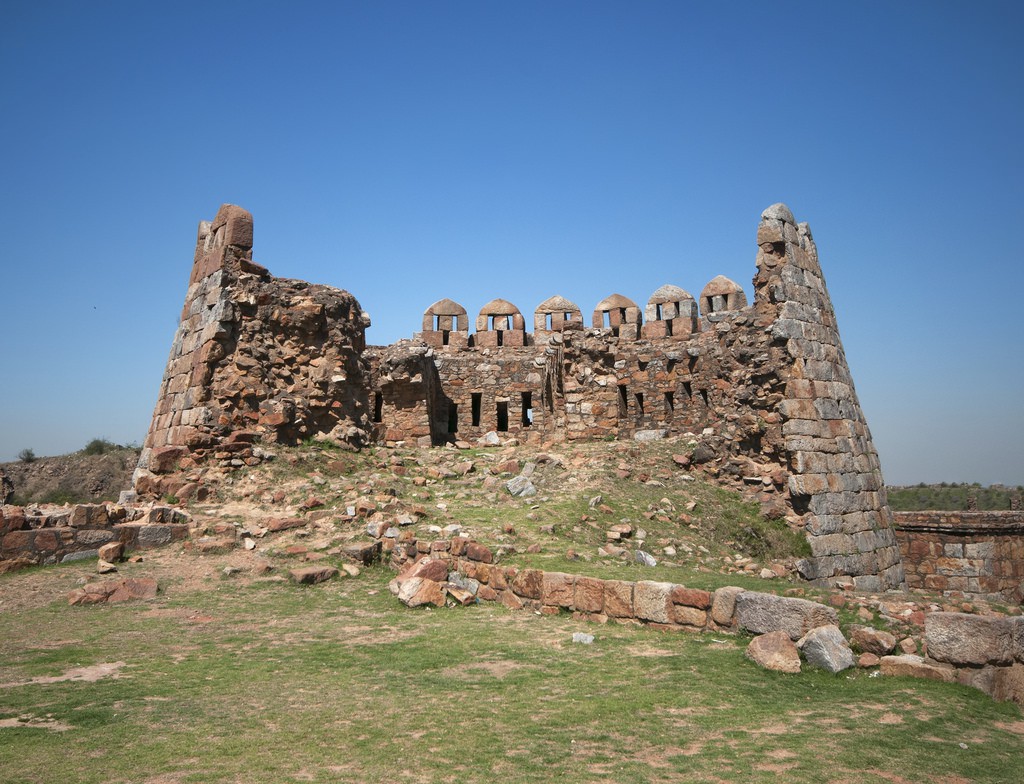 Tughlaqabad Fort is a magnificent monument built by Ghiyas-ud-din Tughlaq (founder of the Tughlaq dynasty) in the year 1321. It is said that this fort used to have around 52 gates, out of which only 13 remain. Also as per legends, Tughlaq ordered all the laborers to build this fort and seeing the fury of the laborers, the Sufi Saint Nizamuddin Auliya cursed the fort. Since then the Tughlaq empire failed to flourish and the fort became abandoned.
Timings: 08:00 AM to 06:00 PM
Location: Tughlaqabad Fort, Tughlakabad, New Delhi
12.The Lotus Temple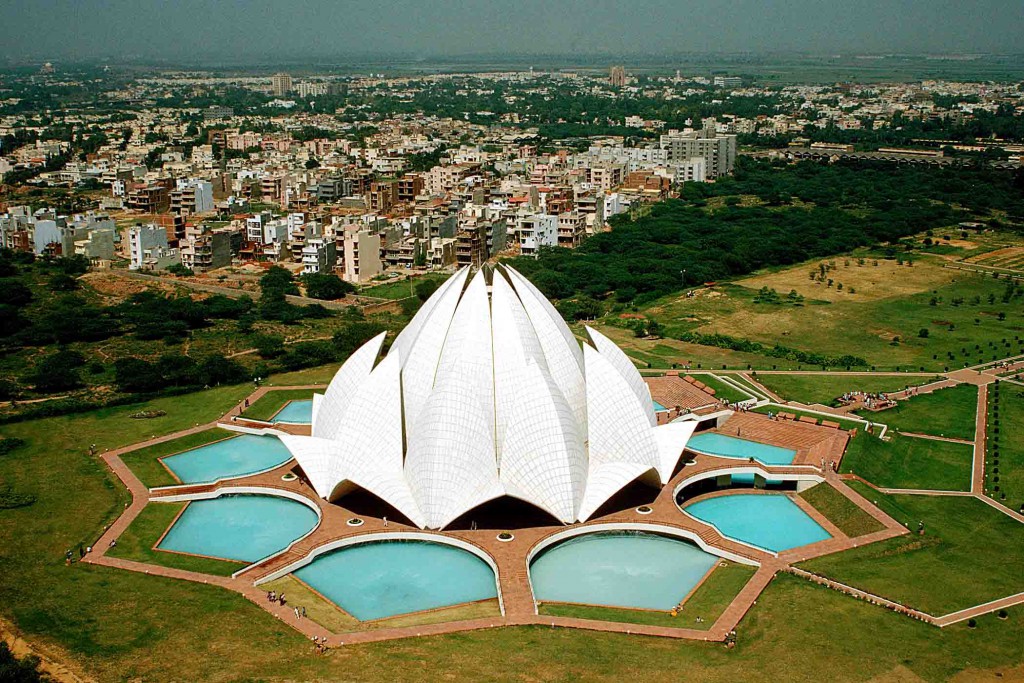 The Lotus temple is a monument that has won many awards for its inimitable architecture. It is the last Bahai temple built worldwide, whose construction was completed in 1986. This temple was designed in the shape of a lotus as it is a symbol common to Hinduism, Jainism, Buddhism and Islam. The Bahai religion, founded by Baha'u'llah in Iran in the 19th century, emphasizes on equality and hence, anyone can visit this temple irrespective of caste, sex and religious background.
Timings: Winter: 09:00 AM to 05:30 PM
                 Summer: 09:00 AM to 07:00 PM
Location: Lotus Temple Rd, Bahapur, Shambhu Dayal Bagh, Kalkaji, New Delhi
13. India Gate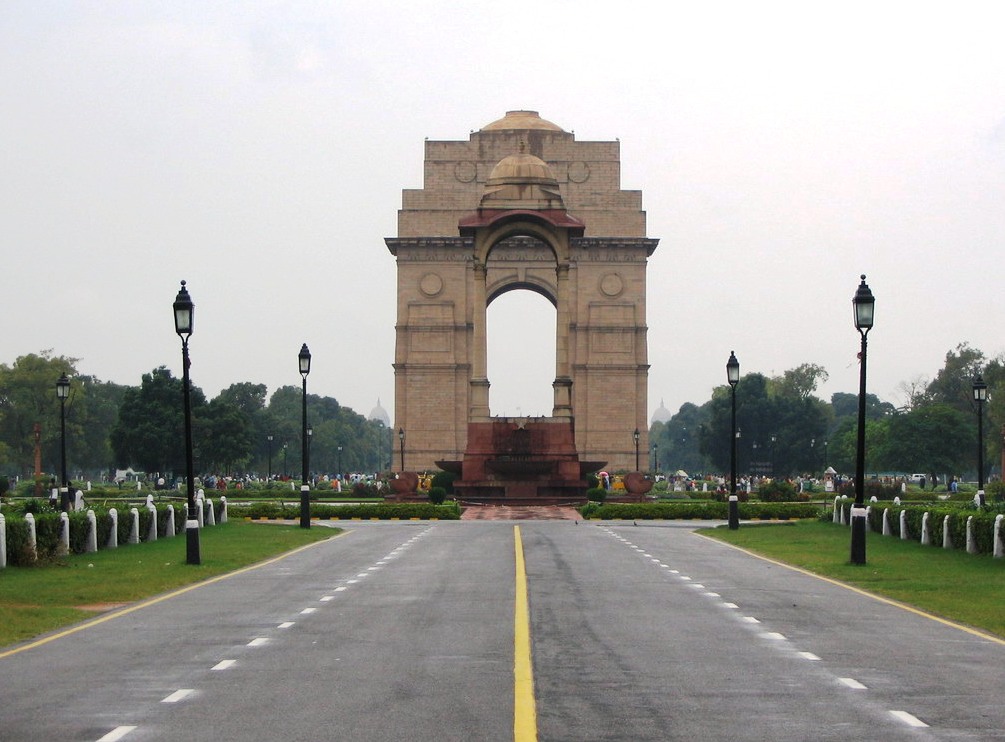 India Gate is an All India War Memorial built in 1931, in the memory of 82,000 soldiers who sacrificed their lives during the 1ST World War (1914 to 1921) and the Third Anglo-Afghan War. It bears the names of more than 13,000 British and Indian soldiers who lost their lives in the Afghan war of 1919. Every year on 26th January, Republic Day parade processions are carried around this gate displaying the rich culture of India and latest developments in the field of defence.
Timings: Open all days
Location: Rajpath Marg, India Gate, New Delhi
14. Rashtrapati Bhavan

The Rashtrapati Bhawan was the former residence of the Viceroy of India and is now a witness to the Indian democracy, its secular, plural and inclusive traditions. It is an extraordinary monument built by the British architect Edwin Lutyens in the year 1929. It is said that around seven million bricks were used for its construction. This estate of 330 acres consists of 340 rooms and is divided into three sections. One of the sections has the main building and central lawn, second section has a museum and a number of buildings and the third section has Mughal gardens, a group of gardens inspired from Persian style of gardens. This garden is open to public visit from August to March every year.
Timings: 09:00 am to 04:00 pm (Open all days)
Location: Rashtrapati Bhawan, President's Estate, New Delhi
15. Akshardham Temple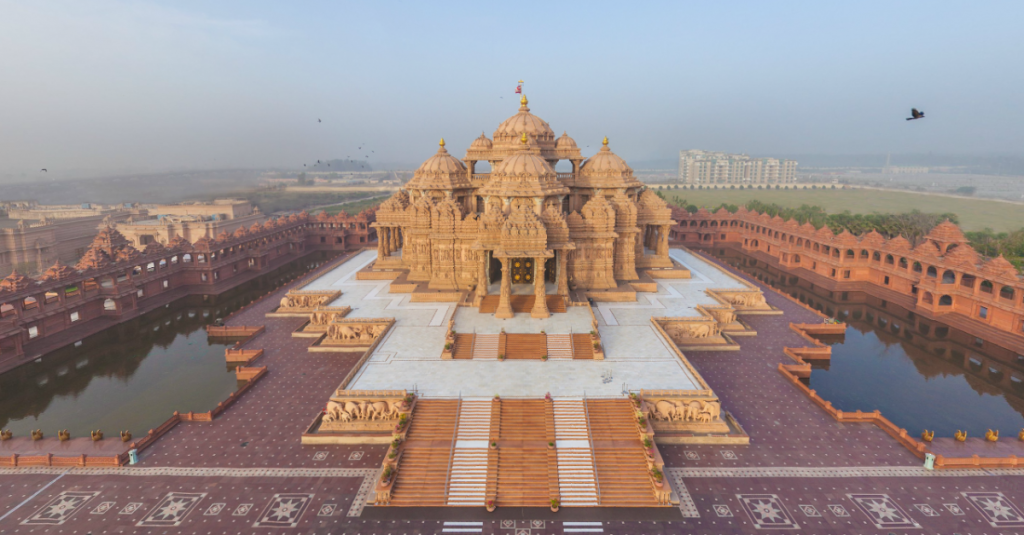 Akshardham temple is a perfect symbol of 10,000 years of Indian culture wherein Akshar means "indestructible" and Dham means "home". This is an architectural brilliance built from Rajasthani pink sandstone and Italian Carrara marble in just a matter of 5 years. This temple was announced as the World's Largest Comprehensive Hindu Temple in 2007 by the Guinness World Book of Records. The presiding deity here is Bhagwan Swaminarayan (considered to be a manifestation of God) along with 20,000 idols of devotees, leaders and saints. This traditional temple complex showcases a couple of exhibitions like the Hall of Values, the incredible story of an eleven-year-old yogi named Nilkanth, a cultural boat ride, musical fountain, Garden of India and Lotus Garden that can be best explored when experienced in real.
Timings: 09:30 am to 06:30 pm
Location: NH 24, Akshardham Setu, New Delhi
16. National Rail Museum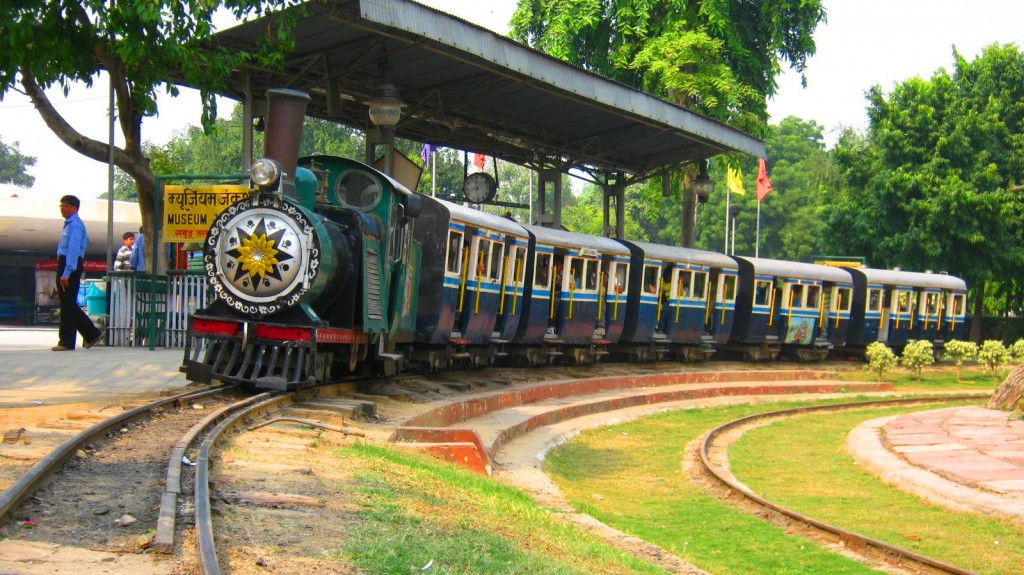 The National Rail Museum opened in 1977. It showcases a collection of railway engines, historical photographs, railway artifacts and related literature that speaks the history of its time. This museum displays rare railway locomotives and ancient trains that can be experienced with a free hand. The major attraction here is the Fairy Queen, one of the best preserved steam locomotive engines, built in 1855. You can go for a joyful toy train ride here within the grounds of the museum. If you want to know about the history of Railways in India then this is the best place to be in Delhi.
Timings: 9.30 am- 5.30 pm (Closed on Mondays)
Location: Market Rd, Block F, Chanakyapuri, New Delhi
17. Bangla Sahib Gurudwara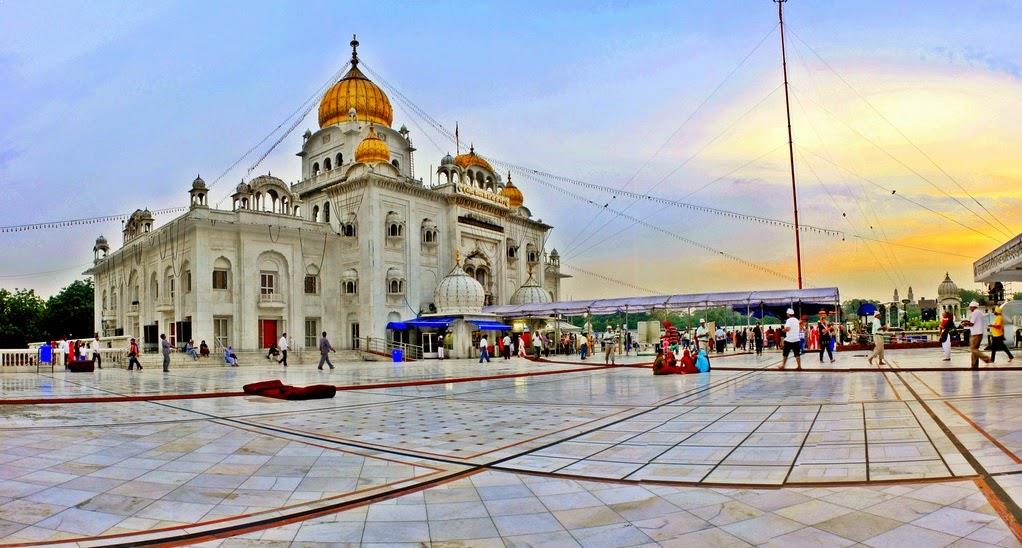 Bangla Sahib Gurudwara is the most visited Sikh shrine in Delhi. It was originally built in 1783. The complex of this shrine comprises of a holy water pond, where devotees usually halt for worship, a higher secondary school, Baba Baghel Singh Museum, library, hospital and a Langar hall. Everyday, a Langar is organized by devotees and volunteers who prepare and serve food to people irrespective of caste, race and religion.
Timings: Open on all days (24 hours)
Location: Ashoka Road, Hanuman Road Area, Connaught Place, New Delhi
18. Raj Ghat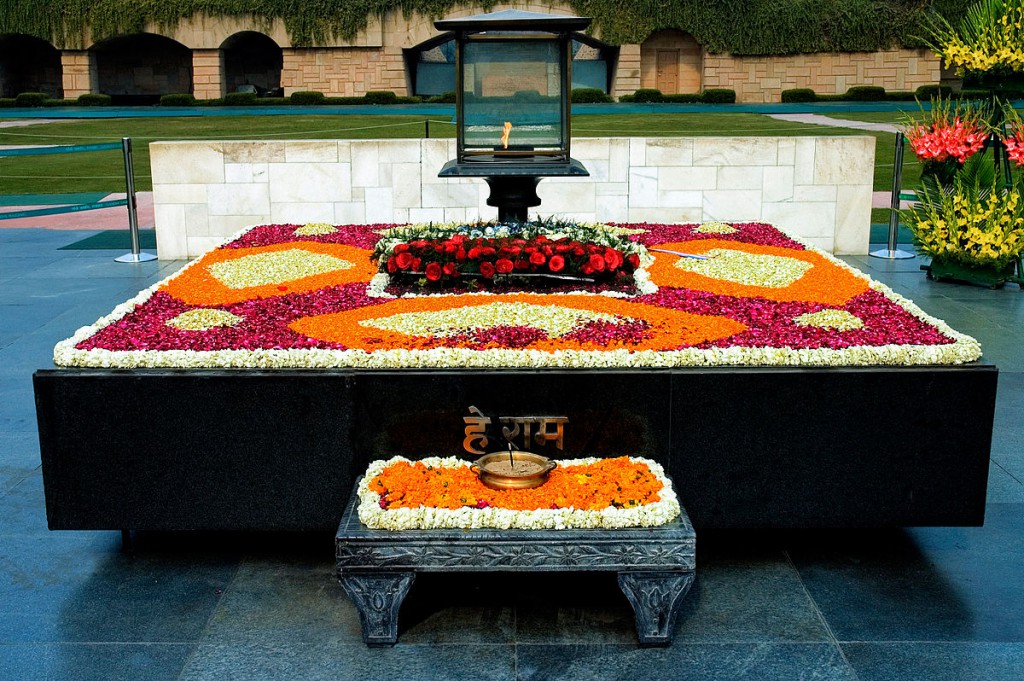 Raj Ghat is the cremation site of Mahatma Gandhi – the Father of the Nation – after his assassination in the year 1948. All the visitors pay respect to Gandhiji by adorning his grave with flowers. Within this memorial is a Gandhi Memorial Museum where a short autobiography of Mahatma Gandhi and his philosophies is displayed. It also includes memorials of other notables like Pandit Jawahar Lal Nehru (1st Prime Minister of India), Lal Bahadur Shastri (2nd Prime minister of India), Indira Gandhi (1st lady Prime Minister of India) and Rajiv Gandhi (son of Indira Gandhi).
Timings: 05:00 am to 07:30 pm (Open on all days)
Location: Gandhi Smriti, Raj Ghat, New Delhi.
19. ISKCON Hare Krishna Temple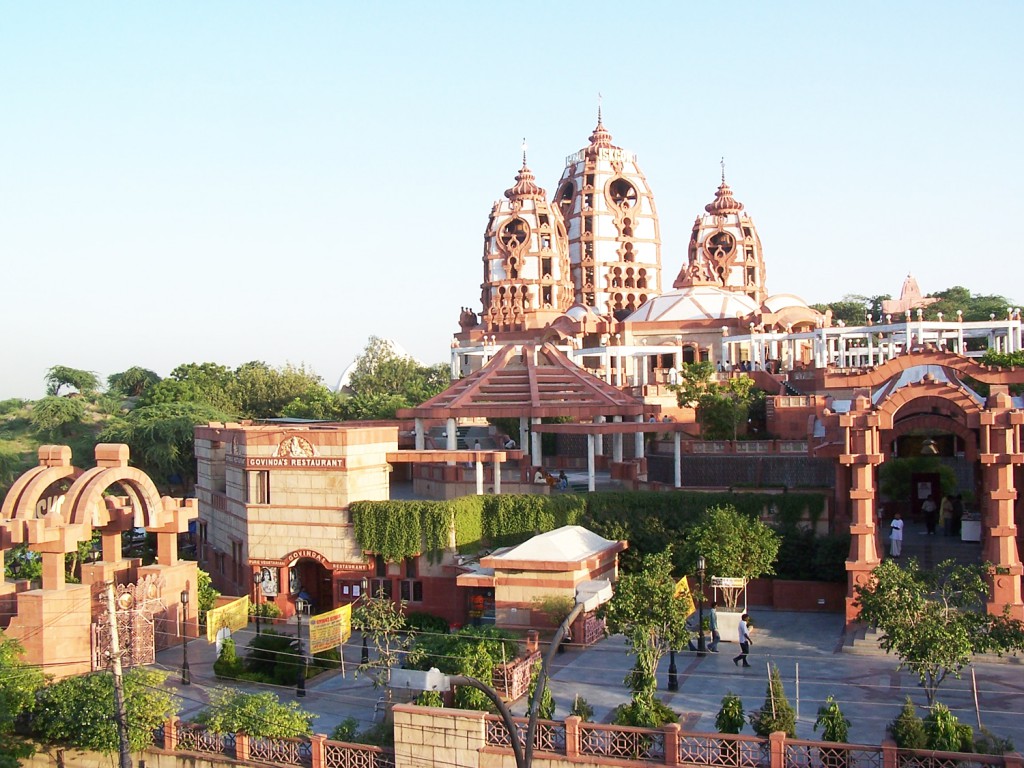 The ISKCON (International Society for Krishna Consciousness) temple or Hare Rama Hare Krishna temple dedicated to Lord Krishna, incarnation of the Lord Vishnu (upkeep of the world) was built in the year 1998. It is not just a temple but a centre for learning Vedic sciences and also houses a museum wherein great epics like Ramayana and Mahabharata are showcased. Since the presiding deity of this temple is Lord Krishna, the festival of Janmashtami is celebrated here, to mark the birthday of Lord Krishna, with pomp and grandeur.
Timings: Open on all days
Location: Hare Krishna Hill, Sant Nagar, East of Kailash, New Delhi.
20. Agrasen ki Baoli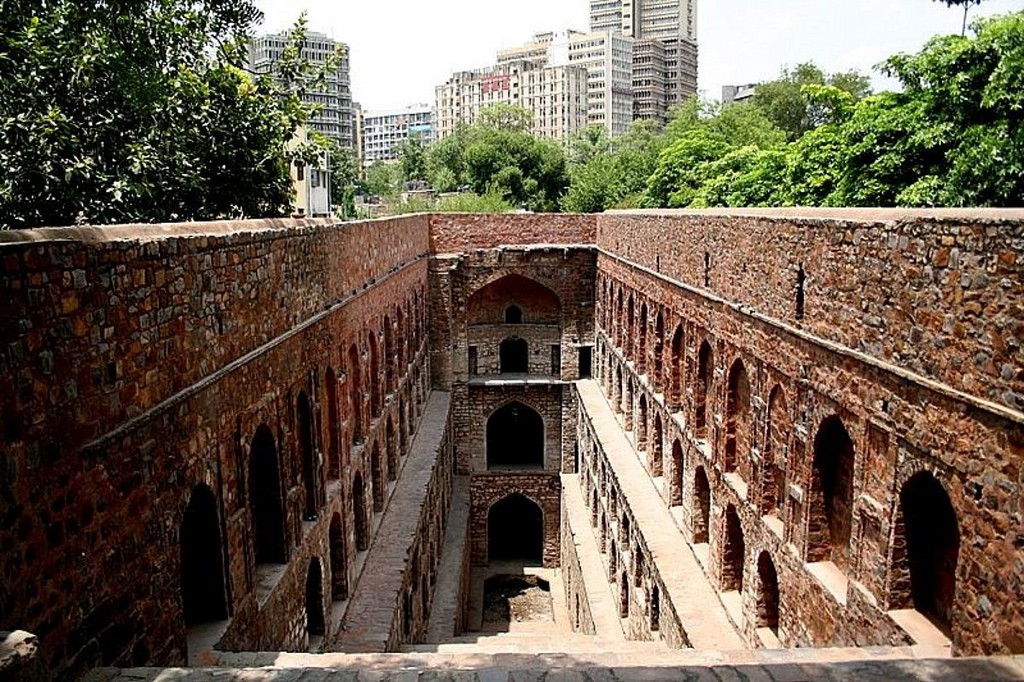 Agrasen Baoli is a well or pond that is connected through a number of descending steps. The Agrasen ki Baoli was originally built by Maharaja Agrasen (a legendary Indian king of Agroha in Haryana). However, the original records behind its existence is missing. This four-storeyed step well consists of 108 steps taking you to the circular well. Such step wells were a main source of water and a spot for women get together and bathing animals.
Timings: 9AM – 5:30PM
Location: Hailey Road, Near Diwanchand Imaging Centre, K G Marg, New Delhi
21. Feroz Shah Kotla Fort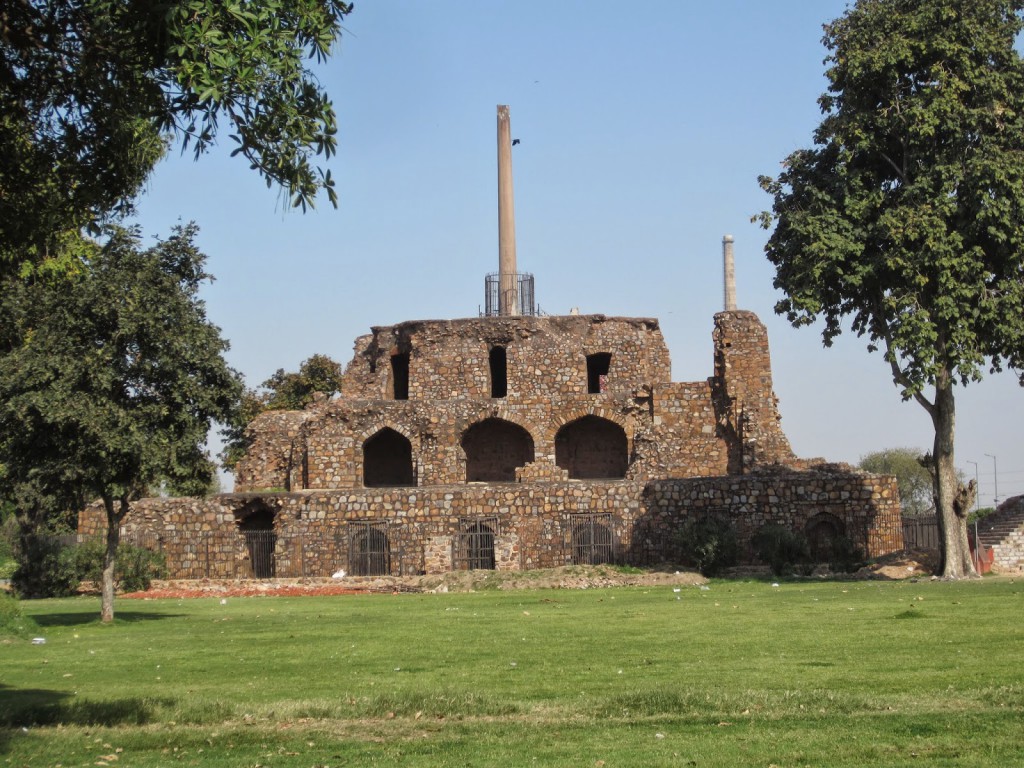 The Feroz Shah Kotla Fort was built by Sultan Feroz Shah Tughlaq in 1354. This magnificent walled city within the fort was a royal symbol of the opulence of the Tughlaq era (1320-1412) in Delhi. The prime attraction of this fort is the 13 metre high Ashoka pillar and is engraved with principles of King Ashoka, emperor of the Mauryan dynasty that ruled India from c. 268 to 232 BCE. As per historians, this Ashoka pillar was erected by King Ashoka. Within this fort, you will also see huge gardens, madarsa, step wells, mosques and palaces.
Timings: 06:00 am to 06:00 pm (Closed on Mondays)
Location: Feroz Shah Kotla Fort, Balmiki Basti, Vikram Nagar, New Delhi
22. Laxminarayan Temple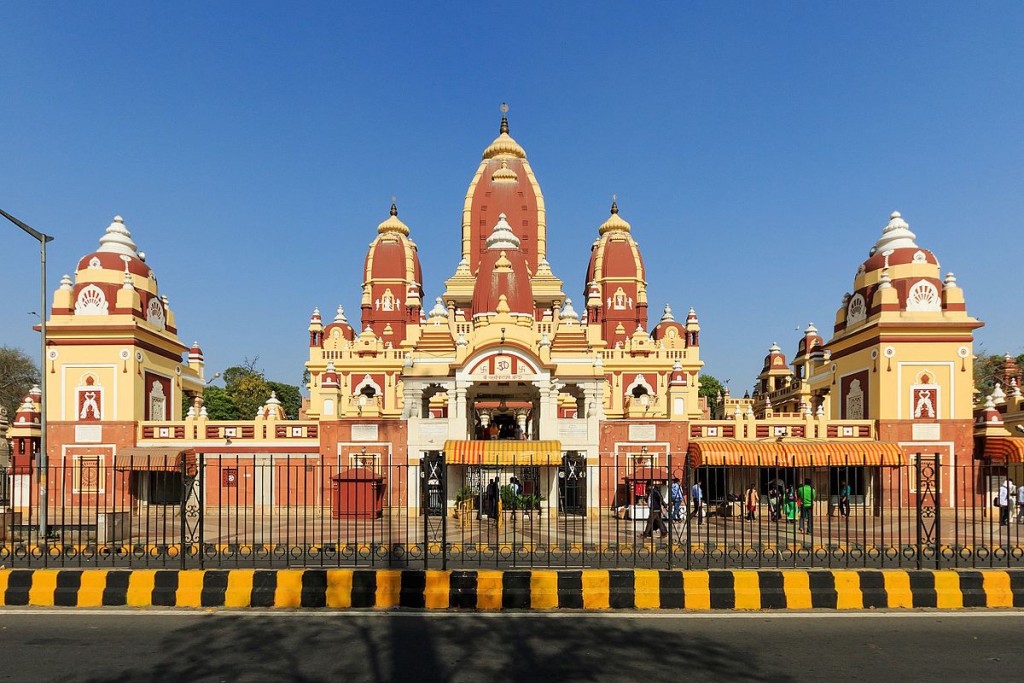 The Laxminarayan temple, popularly known as Birla Mandir, was built in the year 1938 by a rich industrialist BD Birla. The presiding deity is Lord Vishnu (preserver of the world) and Goddess Lakshmi (Goddess of good fortune and consort of Lord Vishnu). The walls of the temple are adorned with holy symbols in Hinduism and quotes from the Bhagavad Gita (a 700 verse Hindu scripture in Sanskrit). Every year, this temple attracts hordes of visitors on the occasion of Janmashtami said to be the birthday of Lord Krishna (8th incarnation of Lord Vishnu).
Timings: Open on all days (except Mondays)
Location: Mandir Marg, Near Golmarket, New Delhi
When is the best time to visit Delhi?
The best time to visit Delhi is October to March during which you'll enjoy a crisp and pleasant weather.
Closing Thoughts
Delhi is a land of heritage monuments, mosques, tombs and other numerous sites that perfectly exemplifies the history of Delhi. So if you're planning to this vibrant city soon then these heritage sites will definitely add invaluable charm to your trip.