Magical India! A gigantic land of rich cultural heritage, historical royalties and myriad sites of natural beauty, India tops the list of world's hot travel destinations. Travelling to India has stretched beyond leisure and business travels to exclusive adventure and romantic vacations. When I say romantic travel, I do not mean mere honeymoon, but travel related to weddings too. Lots of couples today travel to India from distant lands to celebrate the most eventful occasion of their life, i.e. marriage. In fact one of the excellent ways to taste India's rich royal past is a palatial wedding. As far as theme weddings are concerned, palace theme weddings are one of the most expensive and grandest affairs.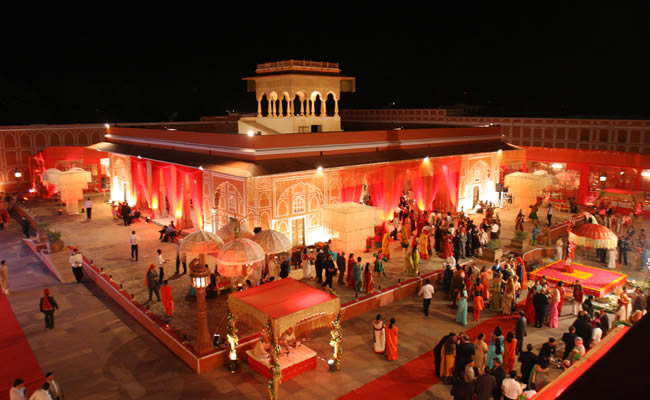 The pomp, show, glory and opulence of the bygone era are brought back to light with royal palatial weddings. The couples exchange vows bejeweled like an imperial prince and princess in a regal backdrop. Processions, traditions and royalty mark the setting of a traditional rich Indian wedding whose moments are captured to preserve forever. Regal Indian marriages are exclusively attached to Mughal and Rajput traditions, may be because of the rich heritage the country has gone through over the passage of time. Still as the touch of colonialism flowed parallel with Mughal and Rajput rule, there are some who want to exchange vows in an Elizabethan style.
Elegance is exemplified in the venue of such Indian marriage ceremonies. A palatial ambience is created with chandeliers, decorative golden pillars, elegantly bejeweled stage, rich fabric draperies, floral walls and royal sofas for the couples like the ones used by the Maharajas. Interestingly, the stage décor can be chosen from golden white to pink and white background recreating a splendid Udaipur Palace or Taj Mahal. With a plethora of choices ranging from horse drawn golden carriages to whimsical castles, royal weddings in India make a couple's fancies and dreams come true. Colors for decoration are chosen as per the custom made palace background and bridal wear. Nowadays people are also opting for contrast color decoration. Fireworks, floral rangoli, flower décor and grand lighting add to the aura and grandeur of the celebration. Caparisoned elephant, camel and horse, butlers, soldiers stay at service to make people feel like a king and queen all through.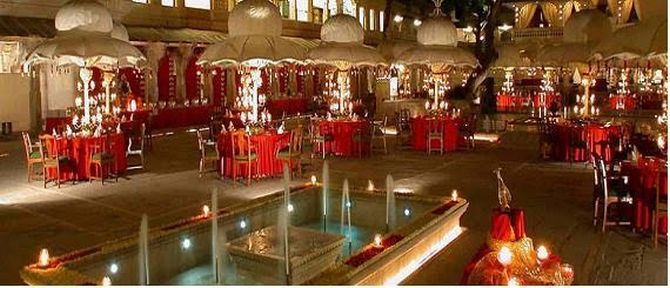 The celebration doesn't stop here. Traditional rich Indian weddings are always supported by entertainment extravaganzas. Folk dancers, musicians, fire eaters, palmists, royal messengers, percussions, dholaks, nagadas and Arabic dance reminds people of court performances that used to happen during the time of Akbar and Birbal. The epicurean grace also harmonizes with the theme of the marriage. These extravagant weddings always make sure that couples feel special and their dream fairy tale weddings come true. Also rituals play an important royal in Indian marriages. Baraat, mehendi, mehfil and mahila dastoor are essential rituals that are performed with sheer uniqueness.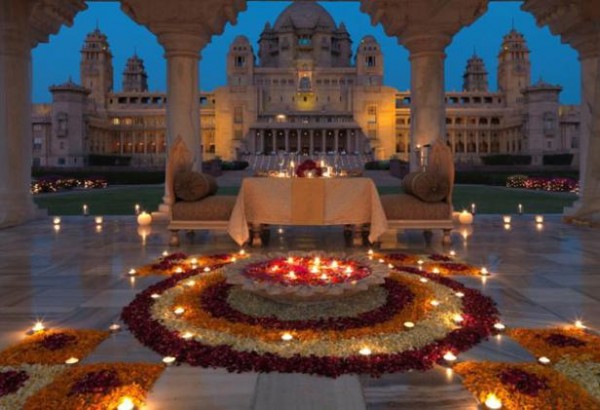 Destinations like Rajasthan, Kerala, Goa, Kolkata, and Bangalore possess abundant venues of regal marriages. Old palaces, forts and bungalows have been transformed into heritage hotels and resorts which today hold a plethora of grand Indian marriages to meet the enthralling dreams and ideas of worldwide couples. Once the budget is fixed, venue is decided and rituals are taken care of, wedding planners like GeTS Holidays take complete care to make the affair the most memorable, royal and extravagant. After all, wedding is that moment of life whose every drop is an album of remembrance. So, why not you give us the chance of that special drop in your life?