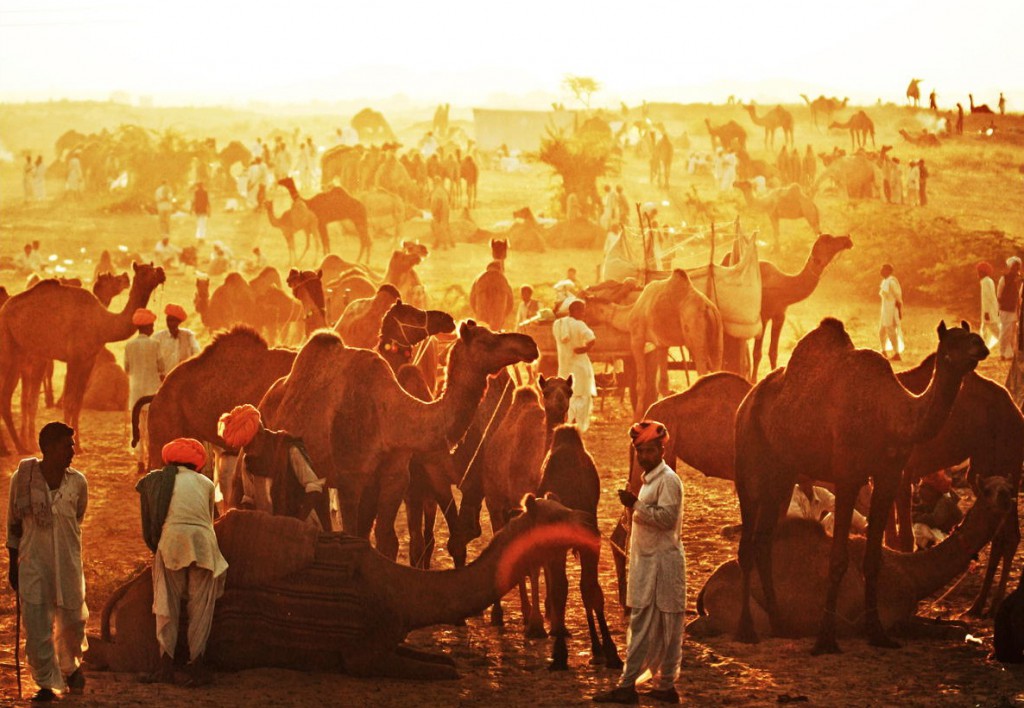 The world's largest camel fair – PUSHKAR FAIR is celebrated every year around October-November that includes buying and selling of cattle, especially camels, cows, sheep and goats, and exciting competitions. This fair is celebrated during October-November and its main day is Kartika Purnima (full-moon day). As per legends, it is the day when Lord Brahma performed the worship and Pushkar was born. Once you reach here, you will be welcomed by thousands of traditionally-dressed nomads of Thar desert and beautifully-decorated camels.
Pushkar is a city that has the magnetism of its own, which is hard to find in Rajasthan. Its existence has been linked to various stories and one of them goes that a lotus flower fell from the hand of Lord Brahma while on his search for a place to perform Yagna (worship). Considering the falling of flower as a good omen, he performed the worship here and named the city as Pushkar wherein Push means "lotus flower" and Kar means "hand". This city not only has a strong spiritual background but also enlightens tourists with its festivities. It attracts an eclectic mix of people from different walks of life for its sacred lake, the only prominent Brahma temple in India and much more.
 When is the best time to visit Pushkar?
The best time to visit Pushkar is during the Winter season (October to March).
Pushkar Cattle Fair in 2019: 4th November to 12th November
Below are a few things you must experience at the Pushkar Camel Fair:
You will find numerous camel and cattle traders buying and purchasing camels, sheep, goat, horses amidst the golden sands of Pushkar. Here traders are entertained with the best breeds of cattle and since camels have been used as a prime mode of transport in Rajasthan since ages, this festival emphasizes on camel trade. This is why it is said to be the world's largest camel fair.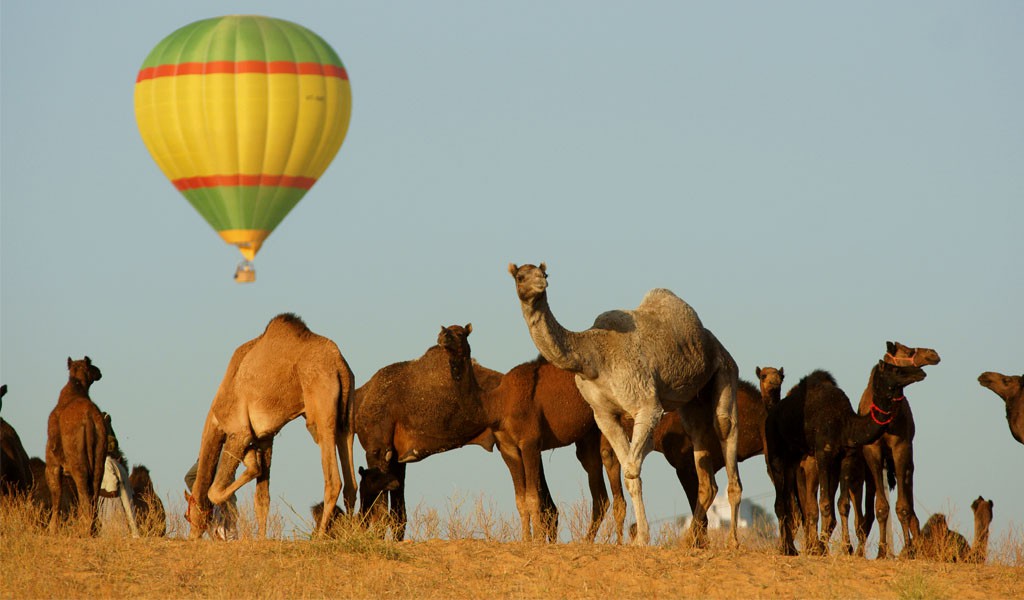 Another striking feature about this festival is that it hosts longest moustache and turban tying competitions, beauty contests for the best-bedecked camel, traditional rural games, hot air balloon rides, camel rides and much more. All these activities add a unique touch to the traditional camel fair that is enjoyed by almost every tourist here. If you take a camel ride or hot air balloon ride, keep your camera lens ready to capture amazing vistas of the fair and the city. You can also spend time at the Pushkar lake or even take a holy dip in this sacred lake, which is said to have medicinal and curative properties.
Any festival in Rajasthan is incomplete without music and folk dance performances and so is the camel fair. Folk dancers from all over Rajasthan gather to perform on songs played in a symphony of musical instruments. Be it, the fire dancers or folk singers, its charm leaves every visitor mesmerized.
Food is not for the BODY, Food is for the SOUL!
So while you soak in the vibrancy of the Camel Fair, the finger-licking Rajasthani delicacies are something you can't afford to miss. Cherish a wide variety of street foods like Samosas (a savory filling filled with spiced potatoes, peas, onions and much more), Dal Ki Kachori (hot, crispy puris stuffed with lentils and spices) served with sweet spicy tamarind chutney, Malpuas (a pancake prepared from Maida (Cake flour) and Semolina, dunked in sugar syrup and topped with pistachios.
Closing Thoughts
Pushkar Fair is a perfect event to witness the culture, traditions and lifestyle of the locals of Pushkar and have a glimpse of how festivals are celebrated in Rajasthan. So next time you plan a visit to India, don't miss on Pushkar Fair.