Delhi the capital city of India has many feathers to its cap. From age-old monuments to new architectural wonders, from scrumptious food options to diverse culture, its vibrant street bazaars, Delhi has it all. It also enjoys the unique distinction of being the only city in the world having not one but three UNESCO world Heritage sites within the city boundaries. Delhi never ceases to amaze its visitor's wonderful things to do and see. The city is full of colourful bazaars, fun places, artistic contents. Let's explore 10 great things to do in Delhi.
1. Humayun's Tomb: for a fantastic photo tour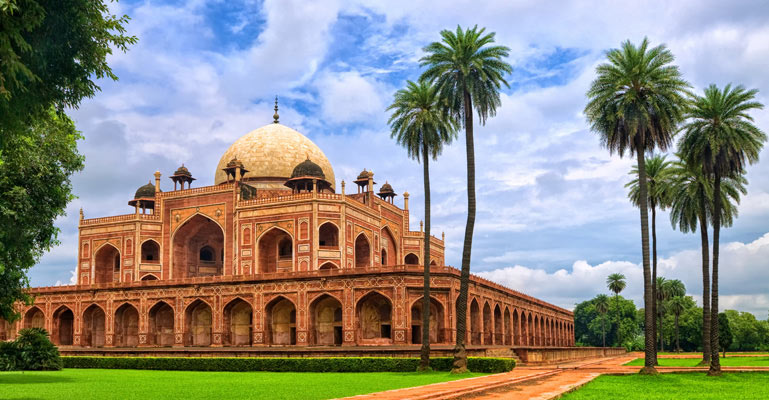 This tomb was originally built as a tomb of the Mughal emperor Humayun in the 16th century. It is a striking combination of elaborate Persian style with local craftsmanship. The UNESCO listed Heritage site provides great photo-op to its visitors.
2. Nizammudin Dargah: To lose oneself to soul-stirring Sufi music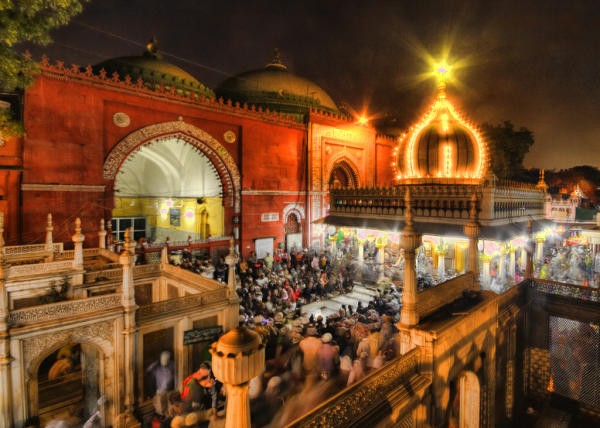 If you are into traditional soul uplifting music, then the Qawwalis or devotional lyrics sung at the Dargah of Nizamuddin every Thursday evening will leave you amazed. The song session is attended by people of all religions from around the world. The place is also a popular Bollywood shooting location. The Sufi music in the background will leave you wanting for more.
3. Gawk at the towering Qutub Minar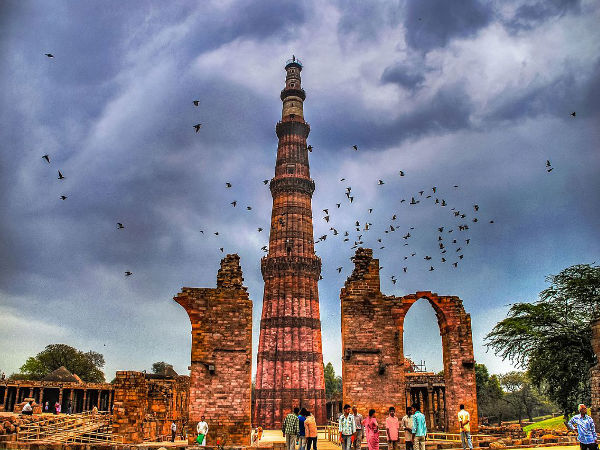 The sky-high, 240 ft tall structure of Qutub Minar is one of Delhi's top attraction and a renowned UNESCO World Heritage site. This minaret is named after its creator Qutub-ud-din-Aibak, the very first Muslim ruler of Delhi. Constructed in 1192, this striking five-storey monument, with its towering minaret resembling an ornate factory chimney, is built from marble and red sandstone and consists of a spiral staircase which takes you through 279 steps to the top. However, access to the stairs has been closed to the public since 1974.
4. Pay homage to Mahatma Gandhi's tomb at Raj Ghat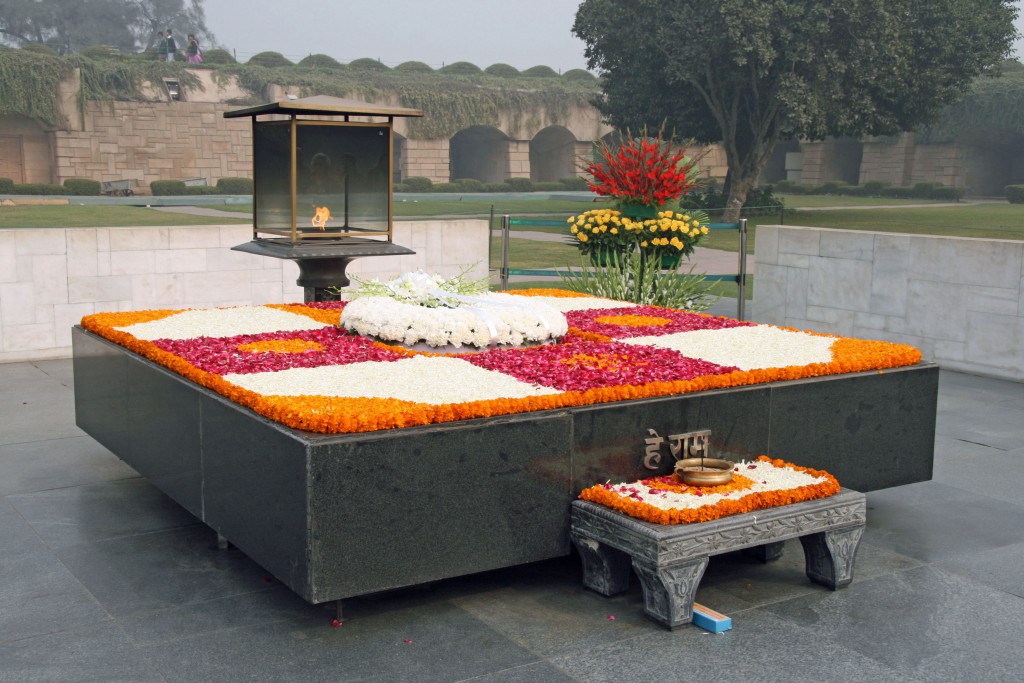 Raj Ghat marks the cremation site of The Father of the Nation ????? Mahatma Gandhi. The memorial is located amidst beautifully landscaped gardens and an eternal flame burns perpetually at one end paying homage to the great man who laid down his life fighting for the freedom of India.
5. Visit the magnificent Rashtrapati Bhawan (President's House)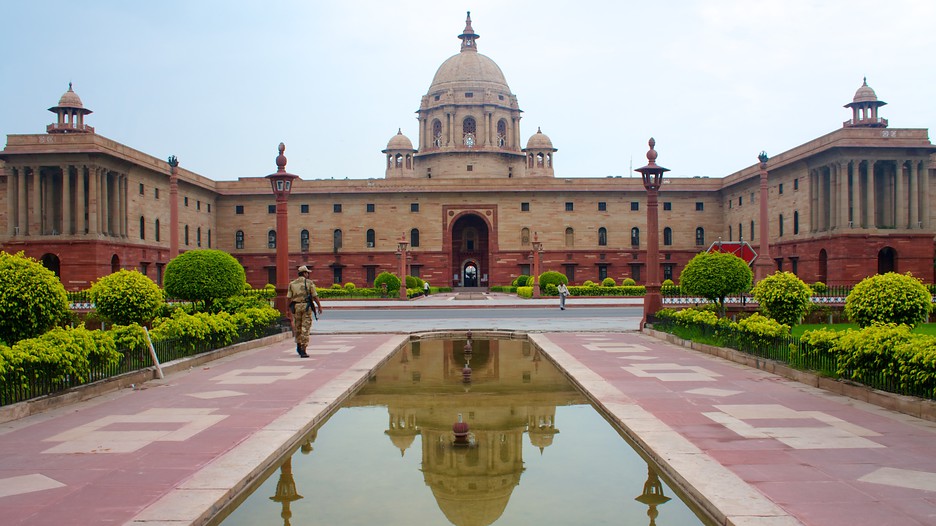 The official residence of the President of India is a splendid palatial building with more than 400 rooms. The President's estate also has huge presidential gardens, large open spaces, offices, the residence of bodyguards, staff, stables, etc. The estate is spread over a huge area of 320 acres, now that makes it one of the largest residences of a head of a state in the world.
6. Take a stroll around the massive Jama Mosque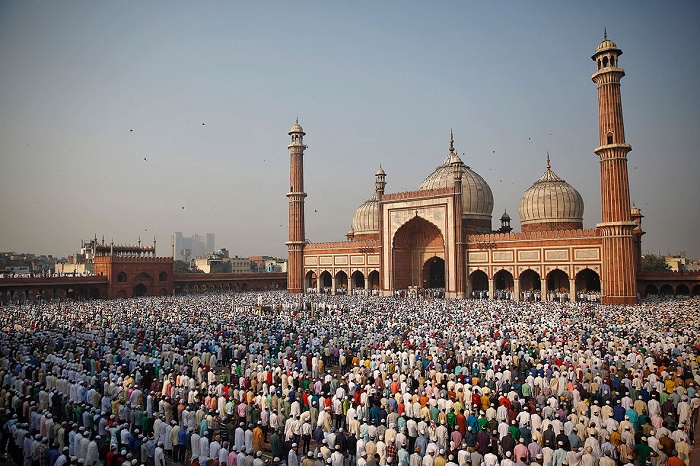 Jama Masjid, in Old Delhi, is the largest mosque in the city, perhaps the largest in entire India. The imposing building is an iconic landmark of Delhi and an important place of worship. The courtyard of the mosque is capable of holding up to 25,000 people devotees, the sight of such a number is to behold, especially during Friday prayers. Entry to the mosque is open to all nationalities.
Special Mention: You need to cover up decently from head to toe. If in case you are not, you may also hire robes at the northern gate of the mosque. It is the best opportunity to dress like a local.
7. Take a Rickshaw ride through the bustling streets of Chandni Chowk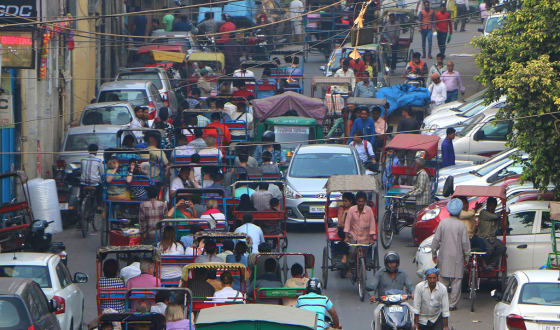 Chandni Chowk, which translates to Moonlight Square, is the commercial heart of Old Delhi. It's one of the oldest markets of India, dating to the 17th century. Travel back in time as you explore the rich cultural heritage of the streets of this ancient Mughal-established city on a fun ride hopping onto a three-wheeled cycle rickshaw.
8. Marvel at the beauty of Akshardham Temple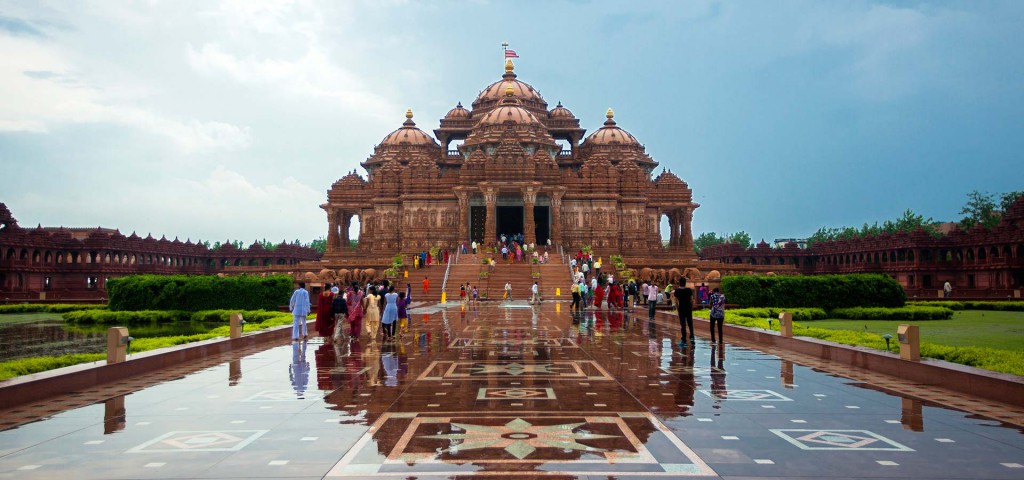 A place of worship, features exhibits, boat rides, musical waters shows, lush gardens and splendid architecture. The Akshardham temple situated in East Delhi is unparalleled beauty, not only in India but the entire world. It is considered to be among the largest Hindu temples in the world. The architectural beauty and ornamentation of the temple and its surrounding is sure to leave you spellbound.
9. Pick choice spices at Khari Baoli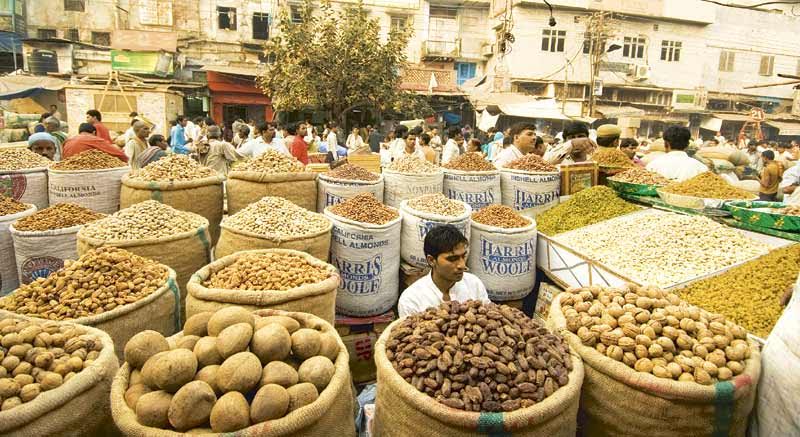 The largest spice market in Asia, located close to the Red Fort and adjacent to Fatehpuri Masjid, Khari Baoli is a wholesale market for a variety of spices. Sights lines of stalls selling a wide variety of local as well as an exotic range of spices displayed in mini pyramid shaped heaps. Apart from the spices, you'll also find various herbs, grains, dry fruits, etc. Bustling with people, sights, smells and colours, this place is pleasant chaos for sure.
10. Experience India's cultural diversity at Dilli Haat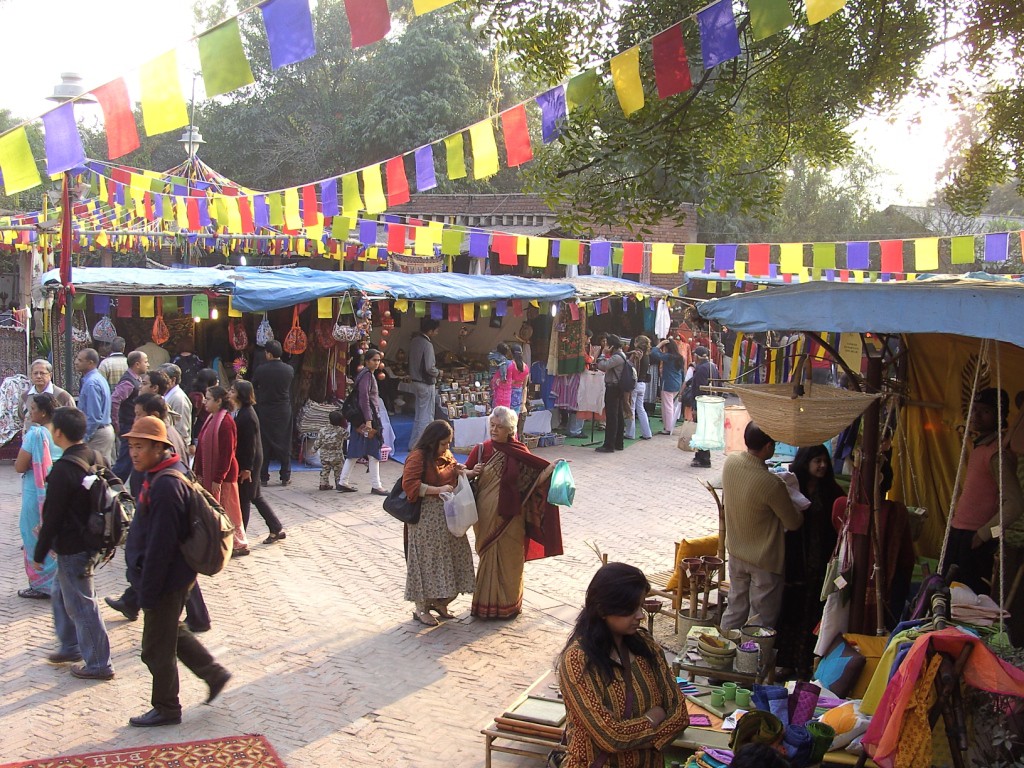 If you love handicrafts, then a visit to Dilli Haat is highly recommended. It is an eclectic handicrafts bazaar where the diverse culture and art of India is showcased at one place. Dilli Haat is an open air craft bazaar and food plaza, displaying item of sale from different regions of India. This place is the destination for arts, crafts, cultural activity, and food; a one-stop for colourful Indian culture.
11. Try scrumptious Dilli-ki -Chaat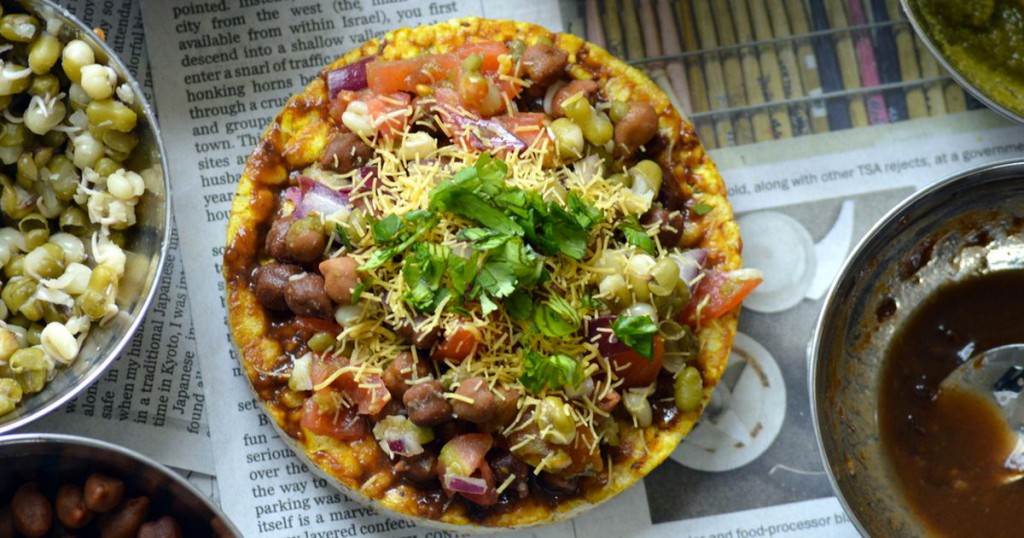 Delhi and old-Delhi particularly is a heaven for food lovers. The street food here is what is most talked about. The flavours of Dilli ki Chaat is an enticing factor, the amalgamation of tangy, crispy, sweet and spicy flavours of Raj Kachori (stuffed , Chaat papdi (fried wafers loaded with potatoes, chickpeas, yoghurt and chilly), Golgappas (fried hollow dough filled with chickpeas and spicy potatoes) and more, are sure shot winners.
Check this space for more such interesting things you can indulge in while in the capital of India. You can even take up some guided tours if you want to truly delve into Delhi's exquisite charm.