India is a land of many religions, faith and beliefs. The diverse landscape of the country is interwoven with various spiritual places. Every nook and corner of this incredible country speaks volumes about legend and myth connected to it. The immense faith of its people has led to a number of pilgrimage places where lots of devotees flock to pay homage to their Gods. Here are the five places in India that has a spiritual importance connected to them and are famous for pilgrimage.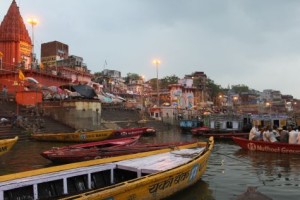 Varanasi
The oldest living city in the world, Varanasi is also the spiritual center of Hinduism. The place has found a mention in the mythology and it is believed that Lord Shiva and his consort Parvati were standing here when time started ticking. Bathing ghats of the Ganges are the most alluring feature of the city. Do not miss the enchanting sight of evening aarti. Kashi Vishwanatha temple popular for its jyotirlinga of Shiva, is a must visit spot on your trip to Varanasi.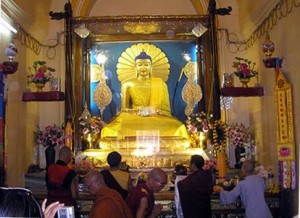 Bodhgaya
Most important pilgrimage site for Buddhists, Bodhgaya is the place where Lord Buddha achieved his enlightenment after three day and three nights of meditation under the Bodhi tree. The Mahabodhi temple complex with the monastery is the most important structure of the town. It is also a world heritage site. Besides this, there are also a number of other monasteries built by people from different countries like Nepal, Myanmar, China and more.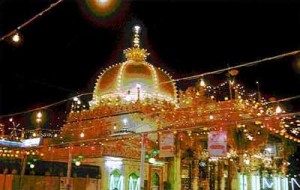 Ajmer Shariff
The shrine is dedicated to the Sufi saint Khwaja Moin-ud-din Chishti whose tomb is situated in the dargah complex. This revered shrine is a fine example of India's religious tolerance and symbolizes the unity in diversity. The shrine has three entrance gates erected by Mughal emperors and Nizam of Hyderabad. The best time to visit Ajmer Shariff is during the Urs festival held every year to commemorate the death anniversary of Khwaja.
Vaishno Devi
A pilgrimage place for Hindus, Vaishno Devi is the most visited holy shrine in India. Located at a height of 5300 feet on the holy Trikuta Hills of the Shivalik Hill Range, the holy shrine is dedicated to Goddess Vaishnavi who is believed to be the manifestation of Goddess Laxmi, Goddess Kali and Goddess Saraswati. Every year millions of devotees flock to these hills to get a glimpse of the image of Goddess. They undertake a trek of around 12 km from Katra to the holy cave. It is believed that the vibrations of the presence of Goddess can still be felt inside the cave.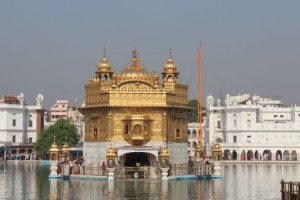 Harmandir Sahib
One of the most popular Sikh pilgrimage site, Harmadir Sahib or Golden Temple is visited by thousands of Sikh to pay respect to the almighty. The panoramic view of the temple surrounded by the Amrit Sarovar lake mesmerizes the visitores. The day is spent in prayers and taking bath in the lake.