The Golden City of India is known for famous forts, palaces and the might Thar Desert. But the month of February deserves a special mention, specially the first timers to Rajasthan. The barren soils of Jaisalmer goes for a complete makeover during Desert Festival.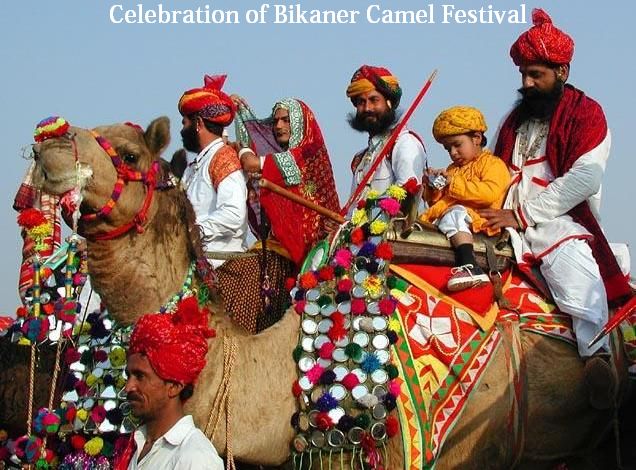 Indian Culture at its best. The desert festival brings to you a surprise package of sports and entertainment with a rural touch. Colors, unique contests, folk music makes the this carnival wanted.
Gair and Fire dancers groove to traditional tunes. Women decked up in colorful local costumes, ghagras (long skirts embroidered with bright threadwork and mirrors) and men in vibrant kurtas, matching turbans and dhoti dance to folk beats.
The king of the desert undoubtedly shares a bit of spotlight. Yes, I am talking about camels. Be it camel dance, camel race or camel polo, they won't leave a single stone unturned to entertain you. Masters who are seen decorating their camels in the best possible way. The most tastefully decorated camel walks away with the prize.
Another highlight is the rib-tickling event of longest moustache competition. Locals of Rajasthan are usually seen with moustaches! And now, they have a perfect platform to flaunt their style quotient. Turban tying contest looks cool where the winner is seen tying the complex turban in seconds neatly with ease.
Up next is Mr. Desert competition. A dashing blend of looks and brains, hold on to your hearts, ladies!
Music and dance are a major part of this carnival. Folk artistes, acrobats, Folk performers such as snake charmers, puppeteers and acrobats add life to the happening fest. Puppetry with folklores tells you about the history of the land.
Folk music and dance keeps the festival in tune. The locals are warm enough to extend their hands to get you on the dance floor. Join them, try grooving with them, it's fun! If you want to know Indian culture, you have to be here.
The three-day extravaganza ends on a full moon night. The Desert fest next year will be from February 12 to February 14. You have to book your tickets well in advance.
Bikaner Camel Festival – The department of tourism, art and culture, Government of Rajasthan organizes the Bikaner Camel Festival in January.
A lot of foreign nationals come to be a part of this festival. Camels get the audience cheering with it's elegant dance moves in rhythm. Camel races, are equally pulsating.
Camel Pageant marks off the carnival. Owner's give their pets a vibrant makeover with bridles, saddles and bright jewellery. The list of competitions follow — best decorated camel, milking, camel with best hair cut!
Folk artistes take over the stage on evenings. As they say, no event is complete without sweets in India. Sweets made of camel milk are at guests' disposal. You have to taste this to take home the aroma with pleasant memory. Traditional dance and fireworks grace the rest of the evening.
Extra ordinary fireworks light up Bikaner night sky. The fest is scheduled on January 15 and 16, next year.
Don't waste time, log on to our website, www.getsholidays.com to be a part of the celebrations. You won't get a better chance to be a part of camel carnivals in India!