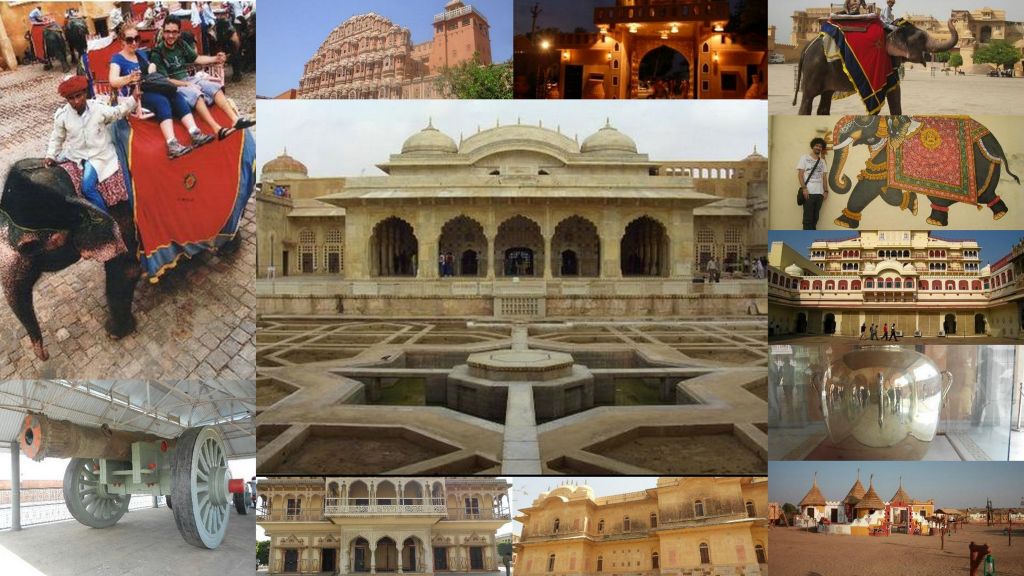 India's Pink City comes with myriad forts, palaces, monuments and age-old markets. Calling historians, archaeologists, nature lovers, foodies — the majestic aura of Jaipur won't disappoint you. Home to Rajput dynasties, the heritage buildings of the city reflect the valor of bygone era.
Let's start our tour of Jaipur with City Palace. This royal complex is an amalgamation of Mughal, European and Rajput architecture. The premises of the palace are dotted with gardens, smaller palaces, courtyards. The royal family is said to reside in Chandra Mahal. The museum inside the palace is open to domestic and foreign tourists. Artifacts, weapons, royal wardrobe are on display here which gives you an overview of Rajput lifestyle. The well-carved interiors, art galleries, arched gateways bear testimony of Rajput royalty.
Nahargarh Fort built under the patronage of Maharaja Sawai Jai Singh II aimed to protect Jaipur from external aggression. Amber and Jaigarh Fort together with the said fort was constructed to defend the city. Built atop rocky terrain on the backdrop of Aravallis, Nahargarh Fort offers a spectacular view of Jaipur. If you happen to visit this site at sunset, the panoramic view of the floodlit city is bound to leave a mark on your memory card.
The Amber Fort is regarded as a gem on Rajasthan's architectural crown. The adorned interiors, arched pillars, halls,doorways reflect Muslim and Hindu architecture. Rich paintings (depicting hunting scenes of Rajputs) inside palaces and halls reflect the courage of Maharanas. The fort overlooking Maota Lake has ornamented pillars, ceilings and walls. Drawing inspiration from Mughal craftsmanship, Amber Fort too has Diwan-e-Aam (hall of public audience) and Diwan-e-khas (hall of private audience. Other structures inside the fort include Sheesh Mahal (palace of mirrors) which is mostly made of glass and Sukh Niwaas carved with sandalwood and ivory. The sprawling complex is too huge to be covered on foot. Hence, hop onto an elephant to tour Amber Fort.
Up next is Hawa Mahal (Palace of Winds) built by Maharana Sawai Pratap Singh in 1799. The pink sandstone five-storied structure is marked by small windows, which are over 950! Interestingly, these windows or jharokhas allow plenty of cool breeze to enter the palace premises. The castle shaped palace housed royal ladies who were not allowed to venture into public. Hence, they kept in touch with the outer world through these windows. The entire design and layout reflects a touch of modernity.
Astronomers, here's something for you —The Jantar Mantar. This astronomical observatory is stacked with devices to keep a track of time and celestine objects.
To sooth your soul, you can visit Birla Temple. Made of white marble, Goddess Lakshi and Lord Narayan are principal deities here.
You can't miss out on shopping in Jaipur. Age-old markets like MI road, Bapu Bazaar, Chaura Rasta, Tripolia Bazaar, Johri Bazaar sell jewellery, souvenirs, ethnic wear, footwear, bags, puppets, home decor items. For big brands, approach shopping malls. So let go of your purse strings and splurge!
Foodies can enjoy local delicacies at roadside kiosks. To be on safe side, keep a tab of hygiene. Head to Chokhi Dhani, Rawat Mishran to enjoy delectable Rajasthani cuisine. Chokhi Dhani showcases cultural shows for tourists. Rajasthani music, semi-rural ambiance with lip-smacking food — a complete celebration!
Jaipur receives scores of domestic and global tourists round the year. High summer temperature does not deter tourists from flocking the fort city. Winters are ideal to explore the gems of Jaipur. It's December already, what are you waiting for? Plan your trip now, before sultry summers haunt India!