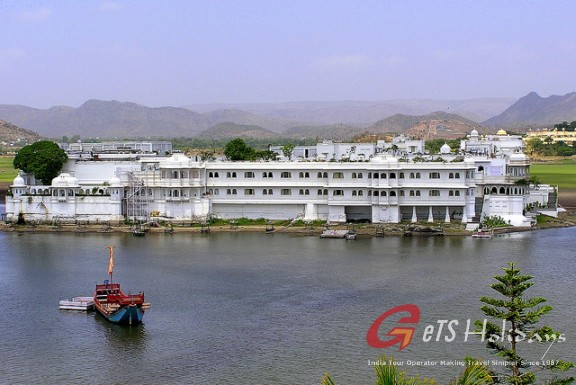 Rajasthan is home to a number of stunning palaces and magnificent fort. Many domestic and international tourists have been mesmerized by the beauty and grandeur of these palaces. With their remarkable architecture and lovely decor, palaces are perfect for a luxurious stay and to experience the royal lifestyle and splendor. Almost, every city of Rajasthan is dotted with wonderful forts that are worth visiting on your Rajasthan Palace Tour. These structures have endured the test of time and continue to astonish people with their magnificence.
Here is the list of the famous palaces of Rajasthan that would stun you with their grandeur and are worth making a visit.
Rambagh Palace, Jaipur
Earlier the residence of the Maharaja of Jaipur, Raja Sawai Mansingh, Rambagh palace has been converted into a heritage hotel and is undoubtedly one of the most luxurious places to stay. With a royal ambiance, it takes you back to the bygone era in the times of kings and queens. You not only learn about the golden time but also have a chance to relive those moments of history. With decorated halls and well-laid gardens, Rambagh palace truly stuns you with its magnificence. The whole palace is embellished with beautiful paintings and wonderful chandeliers. The decor of every room is admirable and truly reflects the style of royalties.
Umaid Bhavan Palace, Jodhpur
One of world's largest private residences, a part of Umaid Bhavan palace still houses the royal family of Jodhpur. It was also called Chittar palace because of its location on Chittar hills. The palace was constructed to provide employment to thousands of people during famine. It is divided into three parts, the hotel managed by Taj group of hotels, royal residence and a museum exhibiting the history of the Jodhpur Royal Family. A visit to Jodhpur is incomplete without experiencing the luxury stay at this finest heritage hotel.
City Palace, Udaipur
The largest palace in Rajasthan, City palace was built on a hill top and offers the panoramic views of the city. The nearby places like Lake palace in Pichola, Jagdish temple and Monsoon palace could also be seen from here. It is a spectacular palace complex, built by Maharana Udai Singh on the banks of lake Pichola. Later, various other rulers added buildings to it. The architecture of the structure is a fusion of Rajasthani and Mughal styles. City palace is truly a marvelous structure with beautiful courtyard, magnificent rooms and splendid hanging gardens. It is the most visited tourist attraction in Udaipur.
Udai Vilas Palace, Udaipur
Located on the Brahmapuri island in Lake Pichola, Udai Vilas palace spreads over an area of 30 acres. It is famous for its decorated fountain pavilions and well- laid gardens. A fine example of Mewar architecture, it took more than 10 year to build this palace and was once the hunting resort for the royal family. The palace has now been converted into a heritage hotel and offers a luxurious stay. A stay at the palace is truly an exhilarating experience which just leave guests craving for more!
Experience the lifestyle of a royalty on your Rajasthan tour by staying at one of these stunning palaces and get a glimpse of the life of kings and queens of the bygone era. You will be charmed by the stunning architecture and the luxuries that these heritage hotels offers!