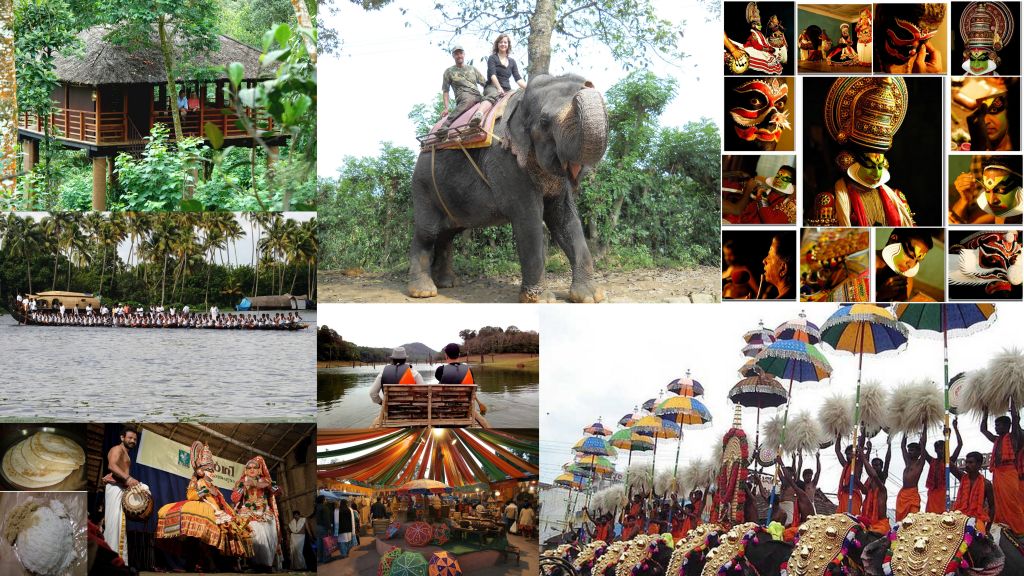 The jewel box of south India — Kerala, has a lot in store for tourists apart from scintillating landscapes. Romance, thrill, culture treat — let's take a quick look at some fun filled activities to spice up your vacation in God's Own Country.
Stay On a Treehouse, Nestled In Nature's Lap: Houseboats in Kerala are ideal for lovebirds! But, try to spend a night on a tree house, an eco-friendly shelter! Amidst green surroundings, lodge yourself in a bamboo hut atop a tree. Trust me, this one's going to be unique and exquisite. Sip into cardamom tea or cool coconut water, found in abundance. Away from population, these is ideal for those who wish to spend a silent vacation.
Elephant Pageant, Check Out The Style Streak: Elephant population flock Kerala. Ever tried exploring their fashion quotient? Well, here's a chance. Elephant pageants at Thrissur and Palakkad are a must see. Check out the gigantic mammals flaunt their fashion statement. The mammals get a vibrant makeover with jewellery and colorful designs on face and body.
Kathakali Dance, Enchanting Expressions: This traditional dance form of Kerala is all about vibrant costumes, bright make ups and unique gestures. Legend has it, Kathakali originated from royal rivalry between kings.The dancers try to explain the folklores of the regions through facial expressions and unique postures. The ancient dance form is several centuries old.
Theyyam Performance: Theyyam performance has a spiritual significance. Decked in bright costumes, the dancer represents God, where-in prayers are offered to maintain communal harmony, peace and usher in prosperity. Beautiful dance moves with hymns praising the Almighty completes the culture show.
Bamboo rafting in Periyar Lake: This one's thrilling! Cruising the lake on bamboo sticks tightly tied to make a boat, is an enthralling experience. It takes you across Periyar Wildlife sanctuary adjoining the lake. Keep an eye on the banks, you can spot a predator on prowl if you're lucky!
Go Canoeing: You can take a canoe ride to get the rural feel of Kerala. Explore the livelihood of the locals in hamlets. Cut away from the rest of the world, enjoy your ride and spend time with people in these remote villages to get a touch of warmth and Indian hospitality.
Feast On Exotic Southern Delicacies: Tea and coffee at roadside stalls are heavenly. Tickle your taste buds with idli, dosa, papad, sambar, payasam (a sweet dish). Indulge into fried vada — made of pulses, coconut chutney, fish curry, karimeen pollichathu (fish fry).Surprise! Try getting high on toddy, a sweet liquor, simply intoxicating!
Get charmed by Mohiniyattam: This is one of the most elegant dance forms of India which originates in Kerala. Women dancers mostly in bright white saris bejeweled with gold charm you with graceful moves and expressions. In ancient times, Mohiniyattam was performed in royal courts and temples. The postures reflect the royal origin. Floral hairdo makes the dancers look more beautiful.
Watchout, Kalaripayattu Bout: This is a Chinese martial art form of Kerala. The art form aims at self defence, use of weapons and strikes a perfects co-ordination between heart and mind. A lot of people are taking it up in recent times as a part of fitness regime and ancient dance form depicting cultural heritage of India.
Majestic Elephant Ride: An elephant ride is a must. Exploring wildlife in Periyar forest on elephant back is thrilling. You can chalk your route out. Elephant rides across countryside can be arranged. Another chance for you to discover rural Kerala. Or you can ride across plantations, a green ride.
Buy Buy: Traditional Indian handicrafts made of jute, sandalwood and choir works mark Kerala markets. Bamboo paintings, coffee, tea, cinnamon, pepper are must buys. Scented candles and perfumes are also seen. Home decor items made of wood, artifacts made of rosewood are always in demand — the best of fine craftsmanship. Traditional dresses, mostly white saris with golden border or white lungi-kurtas rule handloom stores. Don't forget to buy medicinal herbs and spices which can be used in cooking — cinnamon and cardamom. Masks of Kathakali dancers are largely bought by foreign nationals here.
You can also opt for ayurvedic massage for complete relaxation. Paragliding in Munnar is not a bad idea. Try to learn a few Malayali words, or accentuate your hair with white flowers and team it up with an ethnic wear, to take home a complete of Indian culture with pleasant memories.