To those who love Jaipur, take a break from forts and palaces to visit Chokhi Dhani village. Wondering why am I stressing on rural backdrop, when you're enjoying the regal charm of Pink City? Well, Chokhi Dhani is an artificial village which showcases macrocosm Rajasthani culture. The tradition and heritage of Rajasthan breathe here. Sprawling over 10 acres amid scenic surroundings, scores of global and domestic tourists come up with positive testimonials of this place. The rural ambiance comes alive through traditional huts, wells, cow dung! Tacky? Not at all.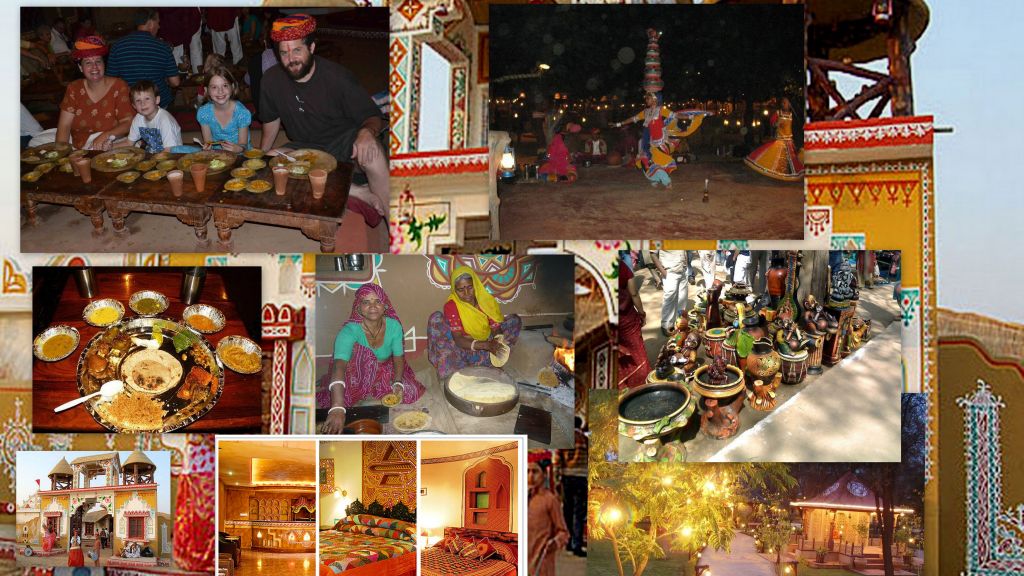 Folk artistes from tribal villages perform on machaans with never ending Fests and feasts. Dressed in ethnic costumes and accessories, these dancers add color to festivities. Evenings are illuminated with dance performances, village fair which gives you a chance to see rural artifacts, art and crafts of Rajasthan.
Chokhi Dhani's village concept is a boon to tribal villagers who are employed here. Folk artistes get a perfect to flaunt their talent in front of the world! Magicians, acrobats, puppeteers, astrologers, parrot-turned-fortune teller, delectable Rajasthani vegetarian delicacies — all under one roof. Most guests can't resist shaking their legs with catchy folk tunes. Let your foot lose and join in.
A fantastic blend of past and present, Chokhi Dhani promotes the lifestyle of Indian villages. For example, cow dung comes with healing powers, which most of us are unaware of. You can hop onto a camel or horse to tour the place. There is an artificial forest which comes with roars of animals — sheer entertainment. A heritage tonga ride will also be at your disposal. Love boating? Cruise on Tal Talaiya, a lake in the village complex.
The village tour will take you across Panghat which depicts the age-old ways of drawing water from a well. Tel Re Ghani features bullocks taking rounds of a mechanical system to get oil. The toil of Indian blacksmith is shown in Garadiya luhar. This is not it! Mever Re Dhani upholds Mevar culture through crafted huts while Registan Re Dhani houses huts which are supercool without air conditioners even in scorching heat.
Craft's bazaar — National Haat, exhibits rich artworks, boutiques from Bengal, Sikkim, Kerala, Tamil Nadu, Rajasthan, Jammu and Kashmir, Maharahtra, Goa and Gujarat. It also celebrates the culture and culinary of all these states in rounds. Mehendi artists can adorn your hands with henna designs, which Indian women prefer during festivals and weddings.
Four dining halls serve traditional Rajasthani food. Sangri serves delicacies on leaf platter, with seating arrangements on floor — that's how villagers feast. If floor is a problem, try Chaupad Jeeman Ghar. The huge hall has four rows with a sitting capacity of 20 persons which converge in the center. Gorband, an open air dining hall shaped like Ghagra (traditional skirt) is equally comfortable. If you want it to be grand and posh head to air-conditioned Royal Rajasthani which serves local food in silverware with folk performances.
Chokhi Dhani employs female villagers from surrounding villages, which is a brilliant idea to make them financially independent. Located on National Highway, it is a spectacular village, crafted with native artifacts and stacked with modern amenities. Chokhi Dhani has five star resorts too. Finger licking food, entertainment, shopping zone — a haven of culture retreat, Chokhi Dhani is now spreading wings in different Indian states, ready to fly abroad!