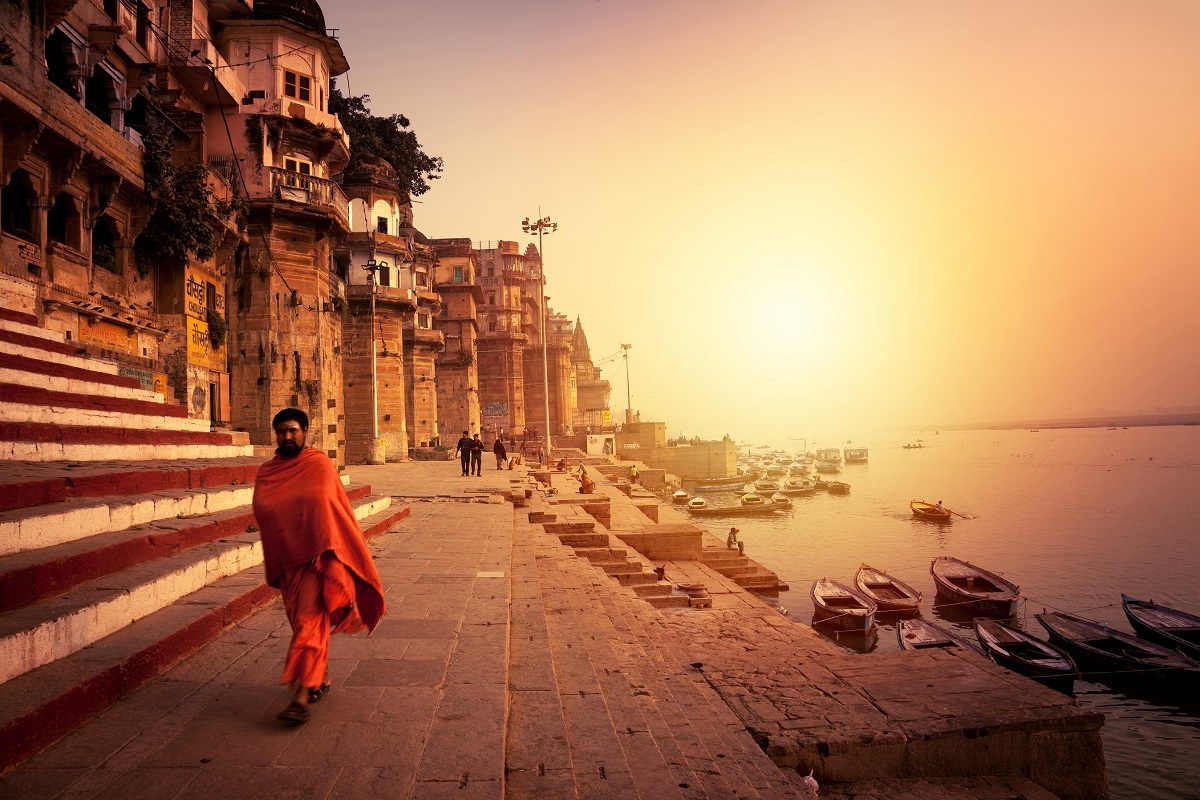 There are many things that make Varanasi the land of spirituality. We can start by calling it the oldest inhabited city in the world. Its mystic ambience starts from the first ray of the sun where the pilgrims pour tiny strain of water into the river till the sunsets and the Ganga Aarti at the bank is held. Although the origins of Varanasi are yet unknown, it is an abode to the Hindu deity Lord Shiva and Goddess Parvathi. It is strongly believed that the cycle of birth comes to an end and one can attain salvation "Moksha" if they are cremated here. Varanasi evokes a religious notion that will urge you to dwell amid its mesmerising ghats, seek blessings at their many holy shrines and get wonderstruck exploring their narrow lanes and bustling markets. Varanasi has so much to do and see, it can get pretty overwhelming. So, in order to get the best out of this historic city, you can select some of the best-guided tours that will give you an insight into the roots of Varanasi.
Places to See in Varanasi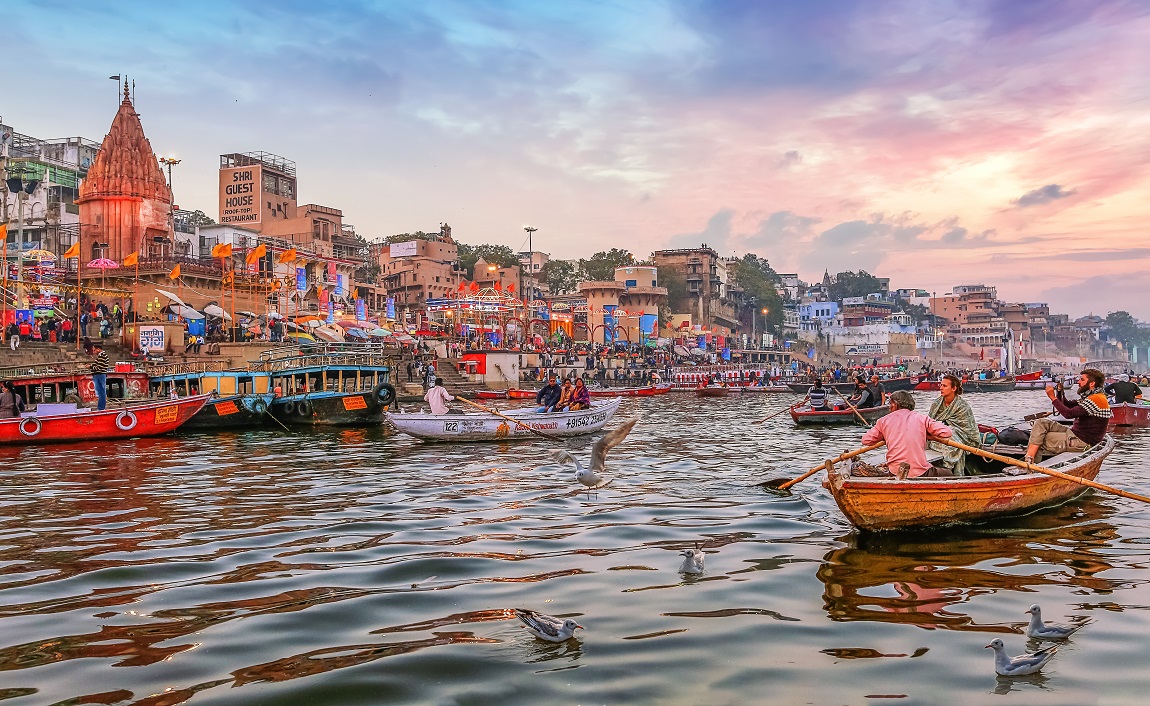 Varanasi has tons of rich attractions that will baffle you by its historically rich architecture. But amongst the many, the ghats are of utter importance, some of the affluent ones are.
Ghats in Varanasi:
Dasaswamedh Ghat is where all the action happens. This is an important and religious ghat where Ganga Aarti takes place every evening. With a constant flow of pilgrims, getting a perfect place to see the ceremony can be a hassle. You can either watch the aarti from the boat or from the balcony of a hotel or a restaurant.
Assi Ghat is located at the southern end of Varanasi and it is not very crowded as compared to Dasaswamedh. However, this ghat is amongst the important ghats for the pilgrims to bathe and also for tourists as it has tons of interesting shops and many charming cafes.
Man Mandir Ghat is blessed with an exquisite Rajput architecture built in the 1600s. It provides a great photographic ambiance along with an expansive terrace from where you can get an uninterrupted view of the Ganges.
Manikarnika Ghat is an infamous ghat which is a burial ground for the deceased. It is believed that who so ever will be cremated here can gain moksha, meaning, breaking the cycle of rebirth. Hence, you see many Hindu come to Varanasi for their last rites.
Things to Do in Varanasi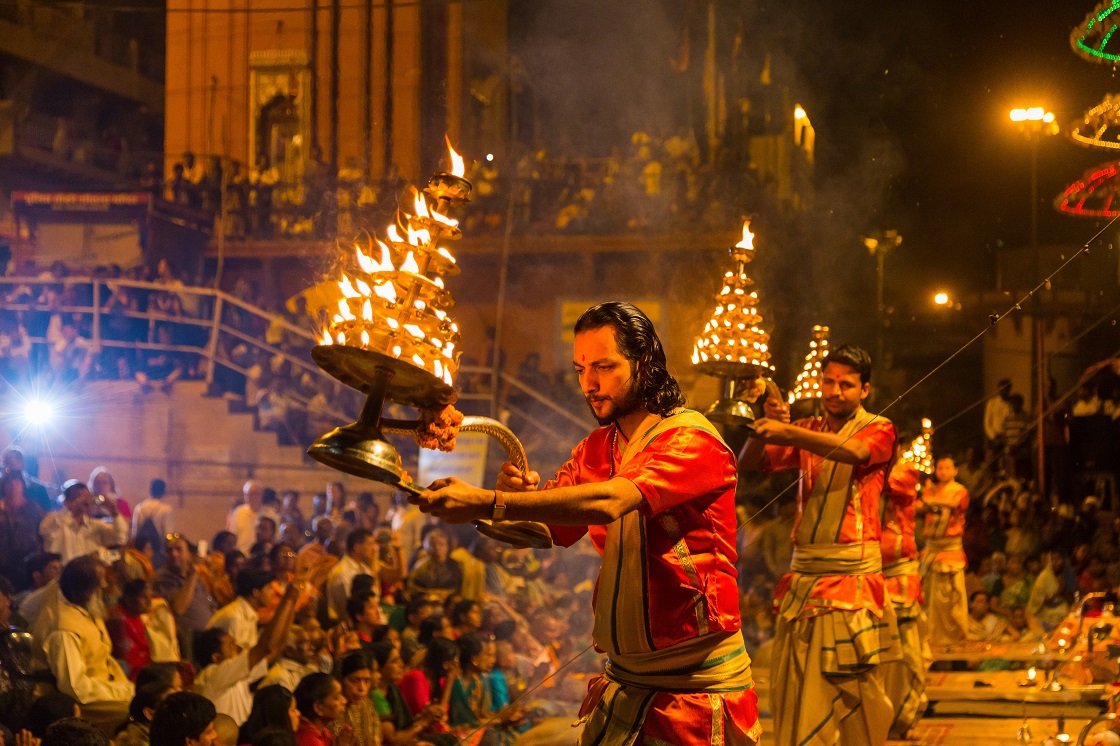 There are so many exciting things to do in Varanasi, and amongst the many is taking a river excursion on the Ganga.
Boating tour is one of the famous activities in Varanasi. By doing a boating excursion, you get a feeling of peace and serenity. You can take in the picturesque view of the different ghats and the people doing their daily chores. You can even enjoy the scenic sunset or sunrise.
Shopping, on the other hand, is one of the joyous things to do no matter wherever you travel. In Varanasi, there are many market places featuring silk saris, ornate jewels, carpets, bangles, stone inlay work, and miniature idols of Gods and Goddesses.
Temples are plentiful in Varanasi; the temples here are adorned in the beautifully detailed architecture. You can explore the Kashi Vishwanath Temple which is amongst the most popular temples in Varanasi.
Ganga Aarti is without a doubt the true purpose of visiting Varanasi. There are two main ghats where the aarti is performed. The Assi Ghat aarti is held every morning and the evening aarti is performed at Dasaswamedh Ghat.
Places to Explore Nearby Varanasi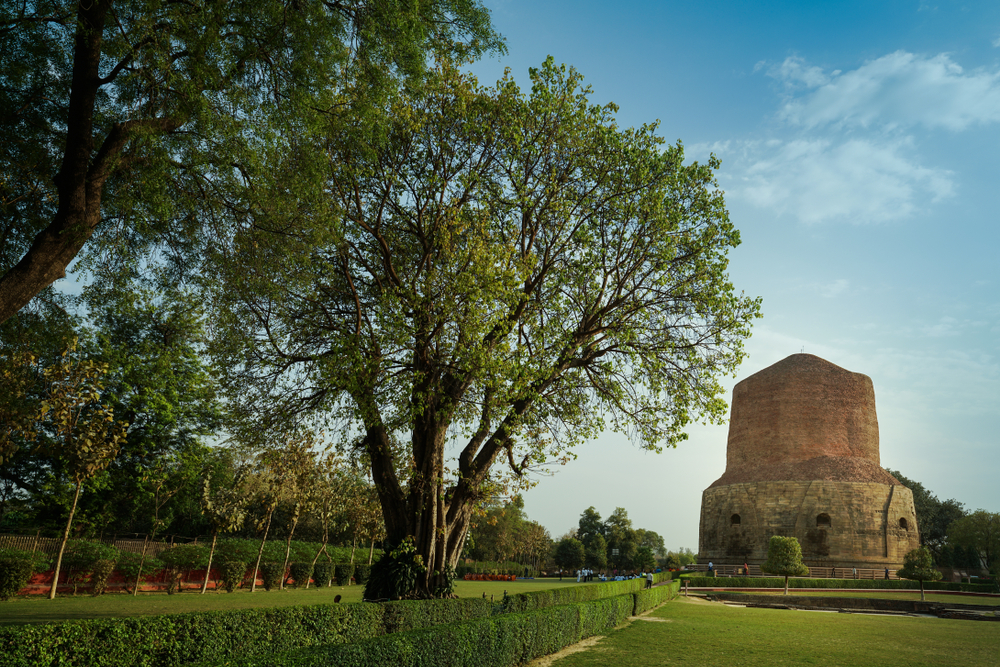 You do not necessarily have to limit your stay in Varanasi itself, there are many nearby places you can visit for a one-day tour.
Sarnath can be a fabulous place to explore the fascinating ruins and the archaeological museum. This holy destination of Sarnath was the place where Lord Buddha taught Dharma after his enlightenment in Bodh Gaya in Bihar.
Sarai Mohana is also a fascinating place to visit. You can take a village tour at Sarai Mohana which is a weavers' village famous for its silk weaving. One of the finest Indian sarees called Banarasi sarees are made by the waivers of this village. You can explore the village lifestyle and learn about the craftsmanship of the weavers at Sarai Mohana.
How to Reach Varanasi
Varanasi is easily accessible from almost all parts of India. It has a major Railway Junction, an airport and plenty of roadway connectivity.
Air: Lal Bahadur Shastri International Airport is one of the important airports that receive a majority of tourists.
Rail: The Varanasi Junction is a bustling railway station which connected to major cities across India.
Road: You can find many government and public run bus transport that ply to and fro Varanasi.