Welcome to the land of 'vada pao' roadside shopping, Ganesh Chaturthi and last but not the least the hometown to Bollywood. Yes Aamchi Mumbai, they call it, meaning my Mumbai in English. I welcome you to this dream destination that captures the soul of every visitor who comes to the city for the very first time. Often referred to as the "City of Dreams" or a "city that never sleeps", Mumbai happens to be India's New York encapsulated with multistoried buildings, corporate towers, nightclubs, restaurants and high-end shopping joints. Once a hub of fishing grounds, Mumbai now became the financial capital of India. Though a considerable amount of Mumbai's population lives in slums, Mumbai is India's most populous city boasting of a metropolitan culture.
Every time I visit Mumbai I just get swayed away by the fragrance of the city. The streets of Bandra touch my heart while the Juhu beach drives away my isolation. Usually I am a person who stays away from heavy traffic and congested roads, but I must say that the sea of people in Mumbai has a magical charm in it. The chores and rush of people running across the railway platform be it Monday or Sunday and the heavy traffic outside Victoria Terminus catches my attention. It makes me smile and feel confident with the words buzzing inside my ears "this is life!'. Yes this is what life is all about, and if you want to feel the essence of life, do visit Mumbai once. I am sure it will pull you back within its bosom.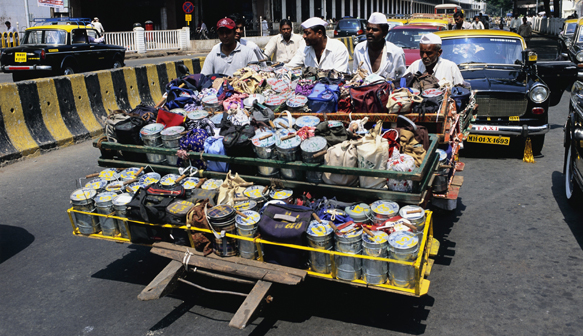 Have you ever heard of Mumbai's local trains or have just seen them in newspapers or movies like 'Lunchbox'? Now it is time for you take a ride. Connecting the city from one end to other and considered to be one of the convenient means of transport, Mumbai locals boasts of a completely different identity. You will see some people hanging on the gates of the train and trying to adjust themselves within the overcrowded compartment. Honking from far off as the train approaches the platform, a sea of people gets inside it. Be it 10:00 a.m. in the morning or 10:00 p.m. in the evening, Mumbai railway platforms are always crowded. The city also takes pride in being one of the safest cities of India.
Every time you step out of your home Mumbai will offer you something exciting. In the morning once you step out and make your way towards Churchgate Railway Station, you will be surprised to see the world famous dabbawalas and their herculean task. Carrying dabbas (lunchboxes) filled with homemade food and delivering them regularly to office goers involves a lot of toil and management. It is just because of their unity and time management skills, these dabbawalas are successfully feeding more than a lakh of Mumbaikars.
Mumbai is a city of islands and I am a beach lover since birth. Mumbai's beaches attract me to the core. After a day's toil, I feel privileged to take a stroll across Marine Drive in the evening while my eyes are taken aback by the beautiful reflection of the garland of lights that fall of the blue sea water. Called the "Queen's Necklace", this view will never fade away from your eyes. If you want to hangout with your friends then Juhu beach is the ideal option for you. Sit on the rocks of the beach, let the time flow on its own, play your guitar to the tunes of friendship and you will rediscover the essence of the relation. But if you want peace and solace, want to lie on the lap of your loved ones, then move to Aksa beach. Amidst the nature, the music of love will heal all your pain and give a new reason to smile again. On the other hand the crowded Dadar Chowpatty, the famous beach in Mumbai will give you a feel of the existence of multi-cultural community in the city.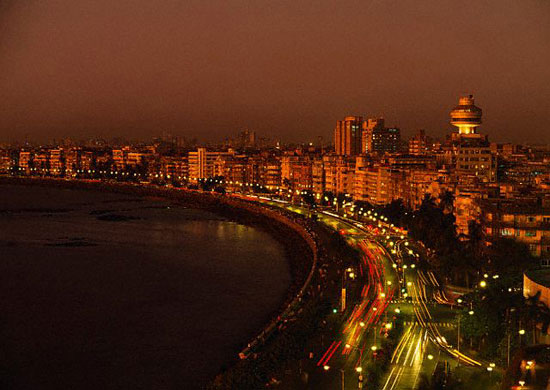 Mumbai is a place for every religion. One of the famous Dargahs in the world, the Haji Ali stands almost 500 yards away from the Mumbai shoreline in the middle of the Arabian Sea. Withstanding thousands of people every day, Haji Ali is believed to make your prayers come true. Built on a creek, the Mahalakshmi Temple, dedicated to Mata Lakshmi is every theist's destination. Also, you should not miss the Siddhivinayak Temple dedicated to Lord Ganesha. Millions of people from all over the world come to offer prayers here. And if you are in Mumbai during Ganesh Chaturthi, you will get to enjoy a royal vacation. This time I was there during the festival and I was surprised to see that a city which never stops working and earning, during these three days come together to utter only once sentence "ganpati bappa morya mangalmurti morya". The city gets decorated with lights, with people decked up in new clothes, exchanging greetings and treating sweets, very similar to Kolkata's Durga Puja. This is the only time when schools and offices remain closed and people take a break from their daily routine to celebrate the festival.
As I said, Mumbai is for all, from a history lover to a party freak. If you are a late night party freak and is in search of adventure, then be ready for the hot and happening Leopold Cafe in Colaba. It just intoxicated me with its light, music and dance. As I non- stop tapped my feet to the heart-throbbing music; I felt like bringing all my friends here and give them a real time party feeling. So you also don't miss out on tapping your feet to the music with a glass of wine here. And what can be best than to enjoy an auto rickshaw ride at night with friends along the sea shore. This heavenly land will give you a feel of the broad stretched European roads when you enjoy a long drive across the Bandra Worli Sea Link. I am sure you will not be able to move your camera from shooting this picturesque beauty.
And then let me come to the point especially meant for girls. Mumbai is a shopper's paradise. After my every visit, I return with a bag full of goodies. Clothes, shoes, junk jewelry, bags, Mumbai offers it all. Be it Linking Road, fashion Street or Bandra Bandstand, Mumbai will give you the ultimate street shopping. So just "shop till you drop"! With the hills on one side and the sea on the other, with culture and tradition twinkling like the stars and modernity forming a blanket over it, with the crowded buzzing streets creating an out of the world scenic beauty and the British and Portuguese buildings still holding the English culture, Mumbai is a heavenly destination for every visitor. It will greet you from the core of its heart, will make you reside within its soul and will paint fond memories in your mind. Mumbai can make you a celebrity overnight, bring you to the limelight and can make you a rich Indian. The strength of the city lies in the friendship and love it shares with the human world. Come to Mumbai and have a look at this majestic metropolis.