The idea of enjoying a camel ride is indeed a great way to experience the traditional Indian life in desert. The best place to enjoy a camel safari in India are Rajasthan and Ladakh covered with huge spread deserts. You may not have known that Camel Safari is also available in Ladakh. Camel riding is not only a major attraction for tourists but also a prime mode of transport in Ladakh and Rajasthan. 
The best part about camel rides in India is that you are accompanied by a guide who are the best ones to help you understand the culture of the place with a personal touch. To discover the true essence of Ladakh and Rajasthan then a camel safari is the best way. While you enjoy a spectacular camel ride, the arid deserts, flowy sand dunes, will leave you overwhelmed.
When is the best time to go for a camel safari?
The best time for Camel safari in Rajasthan is during September to March and in Ladakh, July to September is the most ideal time.
Camel Safari in Rajasthan
Jaisalmer – Most popular for Camel Safari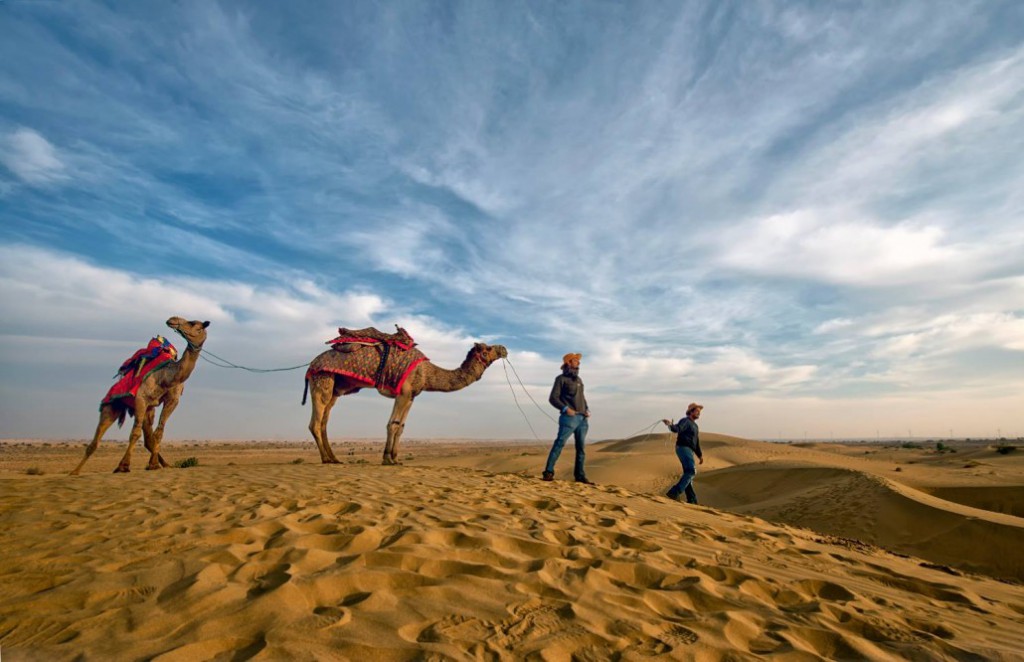 Jaisalmer has the renowned Thar desert (also called the Great Indian Desert) that is known for its amazing camel ride offering glimpses of traditional Rajasthani music, dance and charming natural vistas. Not only this, you will sight forts and ancient Hindu temples as well, depending upon the safari tour you choose. A visit to Roopsi village and architectural ruins of Lodurva set are included in a typical camel ride here. Tourists who want a more relaxed schedule stretch their camel safari duration to two weeks and some prefer camel safari at the time of sunset. After a camel ride, tourists can also enjoy authentic Rajasthani dinner along with folk dance performances at the desert campsite.
Cost of Camel safari in Jaisalmer: Depends upon the group size and duration of ride.
Pushkar – Known for best sunrise camel safaris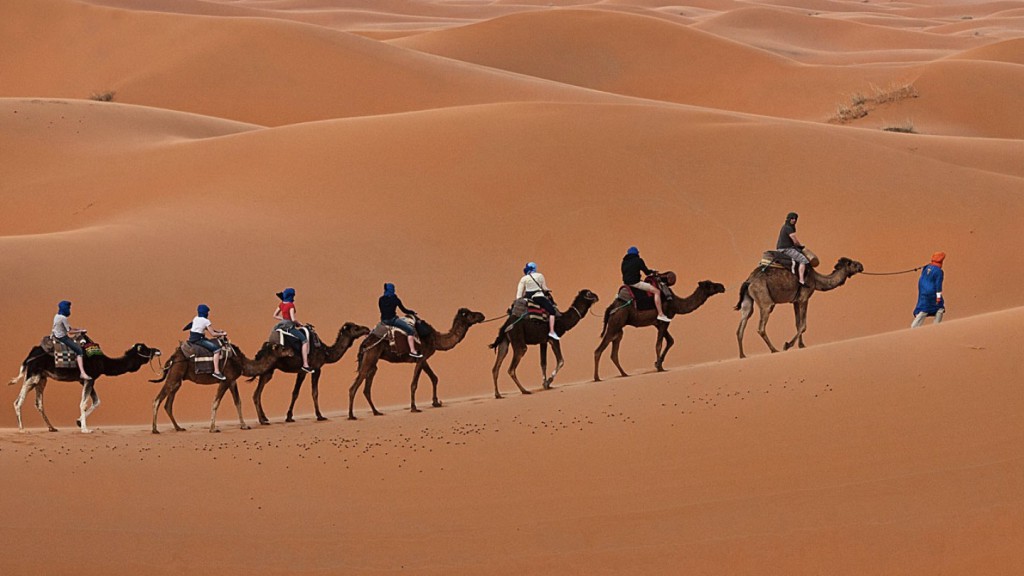 If you adore camel rides, Pushkar is a must add-on in your Rajasthan travel diary. Here, tourists are recommended to opt for long-hour tours that include desert treks to Mandawa, Nagaur and Jaisalmer, for an unparalleled experience. A Camel ride in Pushkar offers views of of small villages, beautiful sunset, Rose garden and so much more. For food lovers, there are ample tempting food options available along with accommodation/tents facility during the camel ride.
Cost of Camel safari in Ladakh: Depends upon the group size and duration of ride.
Bikaner – The City of Camels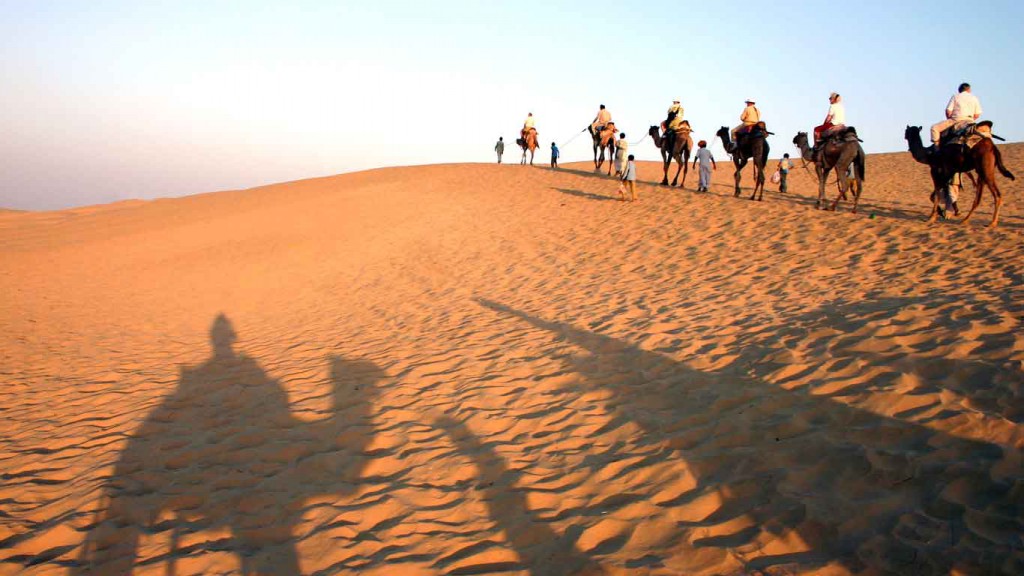 The camel ride in Bikaner is popular for its splendid sightings of Junagarh fort, one of the finest forts of Bikaner. It is a fort that comprises of antique structures, beautiful temples, four deep wells, lush gardens, an old Jail and a lot more. This camel ride heads to south where you will trail through the small villages and towns, on the way to Jaisalmer. The cool breeze flowing around will be an added advantage. During the ride, you can also communicate with the localites and get to know intriguing folk tale stories.
Cost of Camel safari in Bikaner: Depends upon the group size and duration of ride.
Jodhpur – Camel ride through the villages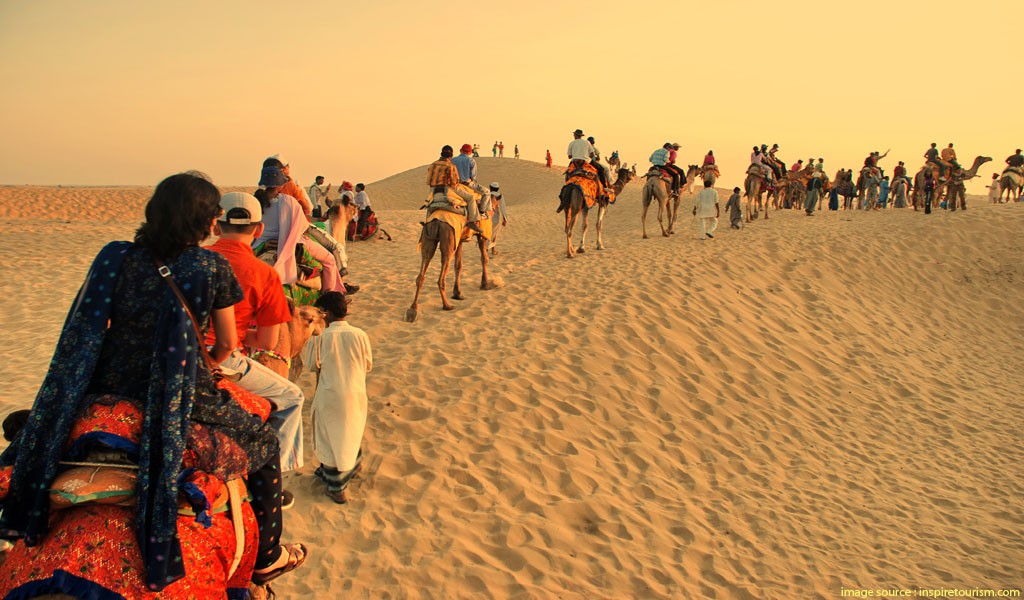 A Camel ride in Jodhpur will remain etched in your mind forever as you trail across the deserts that reflect the affluent culture of Rajasthan. During a camel ride in Jodhpur, you can spot Umaid Bhawan Palace, Moti Mahal Palace, Jaswant Thada and Mandore Gardens. Simply put, it should not be missed on your trip to Rajasthan.
Cost of Camel safari in Jodhpur: Depends upon the group size and duration of ride.
Camel Safari in Ladakh – the home of cold deserts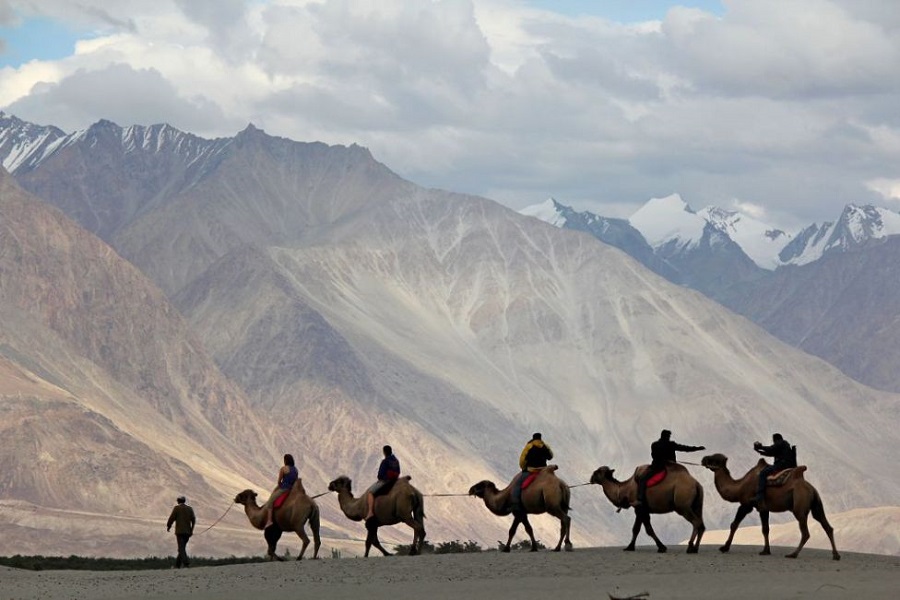 Camel rides aren't restricted to deserts to Rajasthan. Ladakh is a charismatic place in itself and to go for a camel safari here is definitely one of the best things you can do. You will get double-hump bactrian camels, not found anywhere else in India, to explore the cold deserts of Ladakh. During the camel safari, you will get ample chances to connect to nature as you visit the Nubra Valley. The Nubra Valley is knows for its scenic orange berry, apple and apricot orchards amidst rolling sand dunes and snow-capped mountains. You will also trail through the quaint valleys of Diskit, perfect for capturing photographs.
Cost of Camel safari in Ladakh: Depends upon the group size and duration of ride.
Closing Thoughts
Camel Safaris has always been the most ideal time to spend time in Rajasthan and Ladakh as this gives an overall description of their culture in a short span of time.
If you are planning to visit Rajasthan or Ladakh then don't miss out on having an amazing camel ride to add cherishable moments to your trip. You can checkout our tours on https://www.getsholidays.com/fort-palaces-tours.asp and https://www.getsholidays.com/leh-ladakh-tours.asp to make your trip – a worthwhile one.