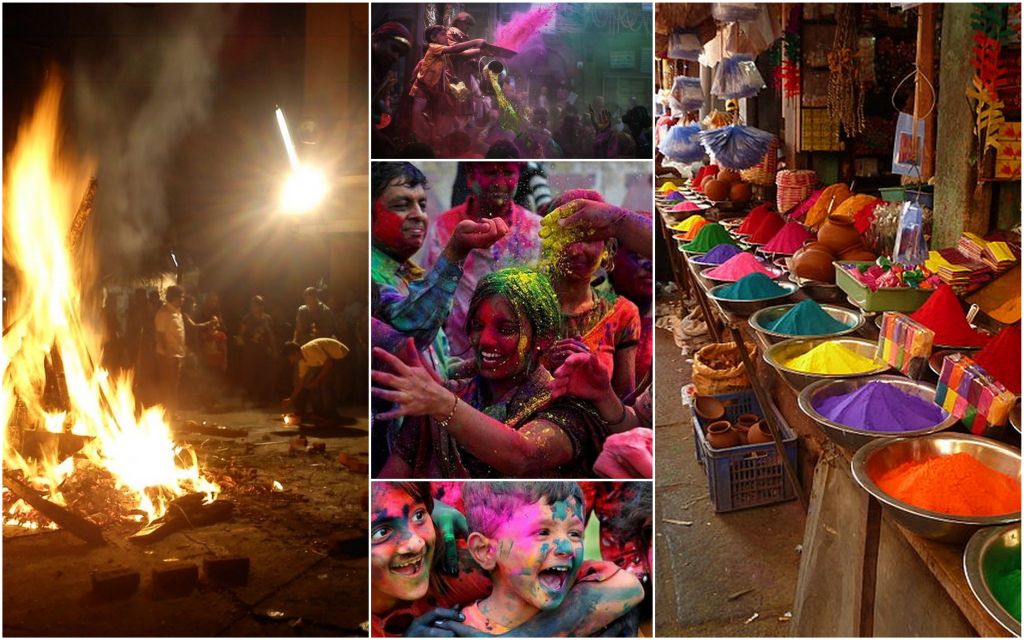 Holi is one of those festivals when India plunges into celebrations, ignoring religious boundaries to promote social harmony. Generally observed in the auspicious month of Phalgun (March), the festivities get going on a full-moon day. Holi marks off a national holiday, with streets full of people dabbing colored powder (gulaal) and non-toxic dyes on each other. Musical extravaganza, high calorie diet and a small puja is hosted in every Indian family.
Celebrations kick off a day before Holi, wherein villages light up a bonfire and inhabitants sing and dance around it. We residing in cosmopolitan, usually light a bonfire at cross roads or in a park. Mythology relates the origin of this holy pyre as a triumph of good over evil. Demon king Hiranyakasipu tried to burn his son Prahlad after knowing the latter's devotion to Lord Bramha. The evil king's sister, Holika, boasted of a boon, according to which fire could not harm her. When she misused her power and sat with the little boy on her brother's request — there was a miracle. Holika was reduced to ashes where as Prahlad suffered no injuries!
Schools, colleges and government organizations are closed for two days during the festival. Young college students play with colors well in advance. We Indians eat and drink Bollywood, hence a few of us sway to Hindi songs (to suit the occasion) played by DJs! It is mandatory to worship Lord Krishna and Radha, touch elders' feet with colored powder before dabbing friends and family with dyes. Community gathering features rain dance, throwing balloons at each other, sipping bhang, thandai, munching on malpua, ladoos, gujhiya and quick bites. Mumbai plunges into celebrations at RK Studios (owned by deceased Raj Kapoor) and Pratiksha (Amitabh Bachchan's bungalow in Juhu). Today, the colors of Holi come alive with screen idols at respective residences.
Bengal hosts Holi in similar way, spreading the message of fraternity. Shantiniketan, the hometown of Rabindranath Tagore, observes the carnival with an ethnic fervor. Students of Vishva Bharati University are joined by locals to recite Tagore's poems, his songs, dances. Women usually wear yellow saris, adorn their hair with orange or white flowers teamed with costume jewellery. Men flaunt traditional dhoti kurta. The Nobel Laureate initiated the celebrations during his lifetime and culture carnivals sway on a grand scale till date. A lot of foreign tourists are seen taking part in the harmonious activities. The entire town joins hands, inviting visitors to join the cultural extravaganza, with gulaal. The rich legacy of Tagore moves every heart.
Mathura and Vrindavan get a lot of devotees to worship Lord Krishna and Radha. In contrast with other Indian destinations, the locals celebrate a week-long Holi here. Vindavan's Bakai-Bihari Temple gets spiritual people immersed in devotion. Gulal-Kund (a lake) in Braj is regarded auspicious, next to Govardhan mountain. Children are seen enacting street plays which depict Lord's tales for visitors. The devotees, drenched in water throng temple premises round the day.
I still love splashing colors with closed ones, especially school friends who dispersed to different states because of personal and professional commitments. Eagerly waiting for March 17, 2014, when the capital city New Delhi will immerse in merrymaking and we'll unite once again to break-free from an entertainment starved lives.