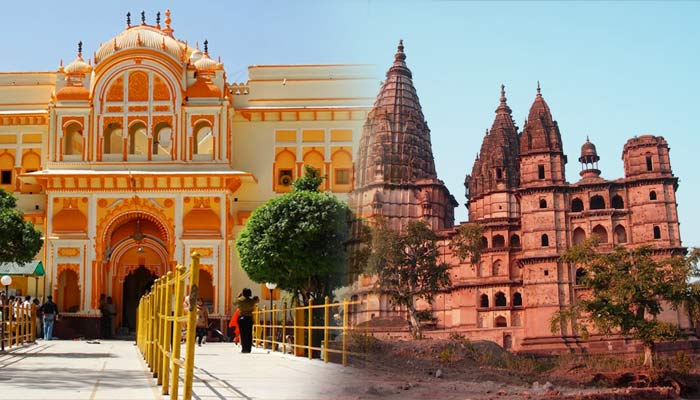 Situated on the banks of river Betwa, Orchha is an ancient city in the Indian state of Madhya Pradesh. The place was founded by the Bundela rajput, Rudra Pratap in the 16th century and is renowned across the globe for its palaces and temple which still retain its original grandeur. It showcases the magnificence of Bundela dynasty. The architecture of the palaces and temples is spectacular and is a testimony to the rich cultural heritage of the Bundela rulers. The city really lives up to its name which literally means the hidden city. Surrounded by forest from all sides, Orchha is filled with marvelous structures. A photographer's delight, the city is all about ruins, ancient temples, forts and palaces. A visit to this place will take you to the ancient times of kings and queens when everything was grand and regal.
Most of the the monuments and temples are spread around the Betwa river and the reflection of these ancient wonders under the sunlight make for great picture shots. These silent testimonies in stones still sing about the war, love and destruction. Renowned for the world class murals , these marvelous monuments display outstanding frescoes and spellbound its visitors with wonderful paintings. Orchha is also home to many sacred templea where thousands of devotees throng to seek blessings. Orchha fort is one of the most prominent structures of the city. Many palaces decorate the fort complex. Raaj mahal, Jehangir mahal, Sheesh mahal and Rai praveen mahal are some of the beautiful palaces in the complex which attracts travelers from every corner of the country.
Raaj mahal was built by Madhukar Shah in the later half of 16th century and is known for its religious mural paintings. Jehangir mahal was built by Bir Singh Deo in 17th century to welcome Emperor Jehangir during his stay at Orchha. This 3-storeyed beautiful palace has a grand courtyard with a fountain in the center. Sheesh Mahal has been converted into a heritage hotel. It shares a part of Jehangir Mahal. Rai Pravin Mahal is the palace of a beautiful and exceptionally talented queen, Rai Pravin who also had a great taste in art. All these palaces built during the time of different kings completes the fort complex.
Discover the ancient city of Orchha and explore all its palaces and monuments filled with grandeur and beauty. These places still retains its old world charm and literally takes you to the bygone era. You will be stunned by its amazing architecture and intricate carvings. Being near to the capital city, it is a great weekend getaway. You will enjoy your stay at the city and would love to photograph these architectural beauties. Visit the wonderful ancient city of Orchha and get a chance to experience the royal past of India.
Book your India tour packages with GeTS Holidays and explore the ancient city of Orchha. We offer you customized tours according to your need and requirement. Hurry now and avail exciting offers.