One of the most religiously diverse nations in the world, India is beautiful even with its imperfections. The celebration of culture is constantly running with impeccable seasons and varied regions, we are high on festivities and jollification throughout the year. One such fiesta is the "Surajkund Crafts Mela", celebrated during the spring season every year, from 1st to 15th February in the state of Haryana.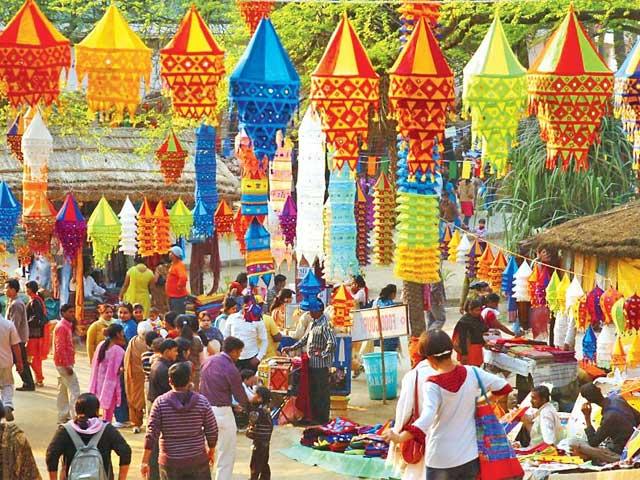 This fair was first started in 1987 and followed like a tradition ever since. Traditional craftsmen like artists, sculptors, weavers and painters from all nooks and corners of the country get together to participate in the fest and showcase their unique talent. The fair is held with a different theme every year based on India's rich cultural heritage and distinctive craftwork.
Indulge in the rhythmic folk tunes, experience the rural culture and participate in the revival of ancient craft. Exotic curios, exquisite handlooms, ethnic fabric, multi cuisine satiating food, adventure sports and joy rides, displaying India's cultural heart and vibrant colors, the Surajkund Mela is a sole epitome of everything India.
In 2013, the fair was reborn and revitalized internationally. Over 15 European and African countries including SAARC nations, took part in the 28th Surajkund International Crafts Mela. This year Chhattisgarh has been chosen as a Theme state, with the state showcasing its tribal heritage and culture.
Location and How to reach- At Surajkund, Faridabad(Haryana). It lies 8 kilometers from South Delhi and is best connected with roadways, railways and airways.
By Metro: Board a Metro from Central Secretariat till Badarpur via Sarita Vihar and Mohan Estate. Badarpur lies close to the interstate border amid Delhi & Faridabad.
By Road: Surajkund is well-connected to Delhi, Gurgaon and Faridabad by your own conveyance, taxis & private coaches. 
By Air: The location is about 25 km from Palam Airport & 35-minute drive from the Indira Gandhi International Airport. 
By Rail: Delhi is the nearest Railway junction & Faridabad and Gurgaon are both linked to Delhi via Railway lines.
Take out some time, to visit the splendor of "Surajkund Mela"