In a religious and spiritual land like India, people are conservative and strong followers of their religions as in this democratic republic people are free to worship and follow their own religions. Buddhism has become one of the major religions which are followed by a good number of people in India. There are many religious places which has become Buddhist pilgrim sites. India has numerous numbers of monasteries and Buddhist temples. The oldest and world famous of all is the Sanchi Stupa, which is located in the city of Sanchi in the Indian state of Madhya Pradesh. The stupa is the main attraction of the visitors traveling to Sanchi, infact there is a group of Buddhist Monuments at Sanchi.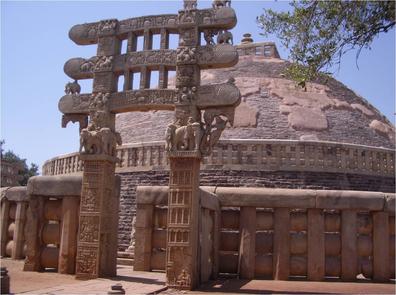 All major ruling dynasties of early India like Maurya, Sunga, Kushana, Gupta, Pala and Sena dynasties contributed immensely in the construction of various Buddhist structures. 50 Buddhists monuments surround the great stupa and the carved artworks are something not to be missed. The different intrinsic carvings narrate various phases of Lord Buddha's life. The stupa was started to be built by the great king Asoka but got completed after a long span of years. The great stupa at Sanchi is the oldest stone structure of India. It holds major spiritual significance and is considered very holy and sacred. It is a masterpiece of classical artwork. The Stupa's are believed to have the relics of Gautama Buddha and are highly auspicious.
Sanchi stupa is the oldest and most significant of all the Buddhist religious centers. It is visited by many throughout the year, making Madhya Pradesh a popular tourist destination.