Ladakh, with its widespread beauty and incredible vistas, is the travel destination of many. Bikers, explorers and globetrotters from all around the world, take the less travelled path and reach Ladakh via various difficult ways available. Enthusiasts charge up there engine and take on travelling, sometimes all the way from Pune and Delhi to Leh on bikes or hopping from buses to buses on local transit.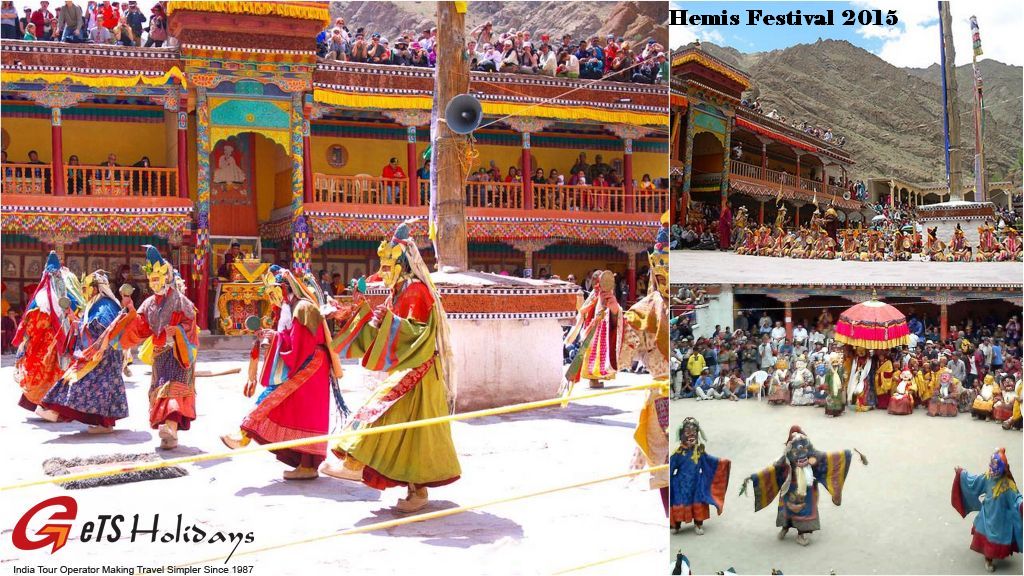 Incredible topography, breathtaking landscape and the highest peaks and roads, there are a million reasons to visit Ladakh, but the most sort-after are the colorful festivals held in the Buddhist monasteries. The most popular event of the valley, Hemis Festival is celebrated to commemorate the birth anniversary of spiritual leader Padmasambhava, the founder of Tibet Tantric Buddhism. It's a two day affair that falls on the 10th day of the Tibetan Lunar month. The venue for this amazing fiesta is the courtyard of Hemis Gompa, which homes around 500 monks and is the biggest monastery in Ladakh.
This year Hemis festival is celebrated between June-July, every year. In 2018, it will be celebrated on 23rd-24th June. To know more about the Festivals of India, click here.
There are so many colors, mud masks, long horns, drums and cymbals played by the monks. The splendid masquerades, the chants and culture will sweep you off your feet and transport you to a different zone altogether. Performer's flamboyant decoration and curious outfits and the intense masks are all complementary with the peculiar music, mostly a combination of trumpets, cymbals and heavy drums.
Hemis monastery is located in the town of Hemis around 45 kms from Leh. Transportation is easily available with buses and taxis and bikes according to the preferences of the traveller. Accommodation is a problem in Hemis, but one can always stay at Leh and visit the monastery for the festivity. Empty your calendar for this unique festival and prepare your camera lens to capture the most off beat cultural revelation you are about to encounter.
Enjoy!