Dev Bhomi Dharamshala
Dharamsala in Himachal pradesh is known as Dev bhomi that is land of God. On one side It has the dense Deodar, pine and himachal Oak forest, on the other side it has snow covered Dhauladhar ranges rivers and streams. It is divided in to two parts. Upper Dharamsala which is at a height of approx 6500 /7000 ft. Tibetan settlement started in Mcleod ganj or upper dharamsala in 1959. In 1960 central Tibetan administration was moved here. And it is the home of Dalai lama. His presence has made Dharamsala a popular destination for tourists looking for india tour. In and around Meleodganj there are many monasteries, temple and schools. The town is very famous for the study in Buddhism and has many meditation centers.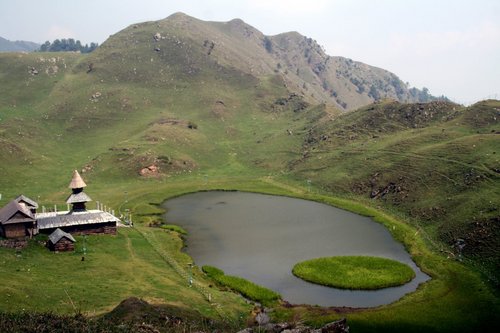 Lower Dharamsala is at approx 2500 ft. It is the winter capital of Himachal Pradesh and the Secretariat is at Sidhbari. Next to this is the famous Chinmaya Ashram. Dharamsala also has the cricket stadium of international standard. IPL and other international matches have been held here. I must have visited Dharamsala at least thirty times in the last seven to eight years.
For stay I would recommend Dev cottages in Dharamkot which is one and a half miles from Mcleodganj it is beautiful drive through Devdeor forest. During one of our visit my husband and i were as usual sitting in the balcony and admiring the awesome Deodar forest and the mountains. The beauty is breath taking.Suddenly we heard the melodious voices of young village girls singing songs and dancing. I immediately knew that there was a marriage ceremony some where in the hills, as these songs were apart of the ceremony. The pahari folk song are based on the beautiful and soft 'Pahari Rag'. Mohamed Rafis memorable evergreen song 'Sohani rat dhal choki na jaane tum kab aaoge" is based on this rag and Naushad ji was the music director. It was an unforgettable evening. The memory is still very fresh.
You can take a day trip for Triund. Dharamkot is the starting point for the trek. Bhagsu waterfall is walking distance. Ask the hotel to arrange for the taxi for the day trip for the following places, it is very safe.
Naddi – it gives a spectacular view of the snow covered mountain in winter and beautiful view of the Kangra velly, Chamunda temple, Norbulingka institute, Chinmaya Ashram.
Palampur – Famous for the tea garden. You drive through the pine forest and the river and streams are flowing side by side.
Sidhpur – Karmapa lama is based here.
Historic fort of Kangra and kangra temple. It is approx 20 km from lower dharamsala. It has witnessed the ravages of Ghazni and the worst Kangra earthquake of 1905 and was rebuilt in its present form in 1920.
Connection to Dharamsala
From Delhi it is approx 525 km. By car it takes about 11hours and you can easily make it in one day. Airport is Gagal -it is 18 km from Dharamsala.
Railway station is Chakki bank / Pathankot, from there it is two and half hours by taxi or bus.
Regular air conditioned bus services from all major cities.