The beauty of the planet Earth cannot be described in mere words. In the variety of serene and beautiful landscapes, there lies two secluded twin islands in the bunch of Andaman and Nicobar islands. The two majestic islands are connected to each other by a thin strip of sandbar. They definitely present and shows us new world which is far away from the humdrum of the city life. Situated in the north Andaman, in the island named Diglipur, which is known for the lush green tropical forests. It is 185 kms from Port Blair. It is around 20 kms from the jetty in Diglipur an can be reached by ferry.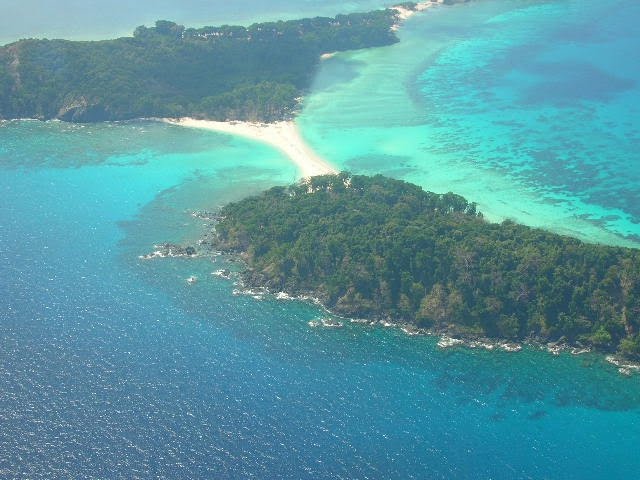 It is an ultimate destination, you would get the feeling as if you have kissed some other world and the beauty of the islands would definitely enchant you. The Ross island is the virgin island bordered by a tropical forest. If you are lucky you can spot some wild elephants. Smith island offers a similar experience, the purity and view which these twin islands offer is breath taking. One can feel the innocent beauty of village life everywhere in Diglipur. You will have to take permission from the forest officer to enter these islands.
The speciality of these islands is that you can simply walk from one island to the other. The clean, peaceful, serene and spell binding beauty of the silky sand strip and the crystal clear ocean water will definitely take your breath away. If you are lucky, there would be low tide and you can walk from one to the other island and if its high tide, you would be able to even see the bewitching sandbar that separates the twin islands. Apart form the scenic beauty, you can also enjoy some of the water sports here like scuba diving and snorkeling.
You can locate some of the most brilliantly coloured and rare shells and corals here. Ross & Smith islands are home to the Olive Ridley turtles which means, being the right place at the right time, one can even witness the turtle nesting. Grab the majestic chance of regally walking from one island to another with nobody around, where no city sound can reach. This wondrous place is a must visit as the divinity of the place lies in everything that it presents, from the pristine blue sea to the white sand, from the luscious green forests to the colourful shells and corals. The beauty of the place is simply unexplainable as no word can define the picturesque view of this divine piece of artwork by nature.