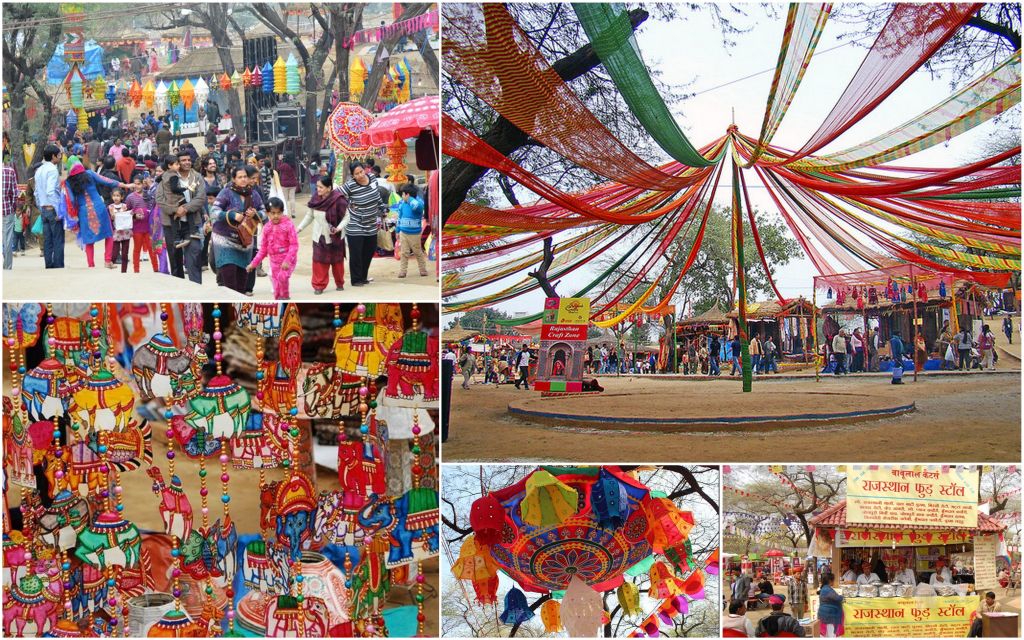 Haryana Tourism Department organizes Surajkund Crafts Mela, an annual fair at Faridabad in Haryana. This has been serving as a perfect platform to showcase handicrafts and cuisines of India, since 1987. An ancient Sun Temple drew worshipers during AD 1000, the remains of which are now considered auspicious. The place draws its name from Surajpal, a Tomar chieftain and devotee of Sun God. I was lucky enough to be a part of fortnight long 28th Surajkund Crafts Mela this year. Owing to population explosion on weekends, I chose last Monday to explore the site, around 8km from south Delhi
The fest displays classic exhibits of offbeat handicrafts, handloom and cuisines from remote corners of SAARC countries. Neighboring Sri Lanka is a partner nation this time, showcasing the best of Sri Lankan culture in rural Indian backdrop. Every year the fair is themed according to an Indian state and Goa bagged the merit this time. A charming colorful ambiance engulfs visitors with foot tapping Sri Lankan music at Chaupal and open-air theatre Natyashala, on Surajkund premises
From a viewpoint of an avid observer, the fair aims to enlighten domestic and foreign visitors about the skills and techniques required to create crafts. The craftsmen can directly interact with buyers and help them find their patrons. Most importantly, this is a wise move to save dwindling crafts of the country and preserve it for posterity. The food court tickles tastebuds be it with flavors of China, Punjabi dishes or delectable south Indian food. There are special kiosks stacked with traditional food of Goa and Sri Lanka.
The ethnic Indian bazar sees metal workers, embroiders, folk painters, carpet and loom weavers, sculptors, tie dye craftspersons and jewelers execute and exhibit their skills. Rhythms of folk theatre, street plays and Goan cultural extravaganza enthrall guests 11am onward. Audience can marvel at ballads, epic tales, simple life of rural India reflected through music and dance. A complete essence of ethnic Indian livelihood comes alive through these performances.
The handicrafts kiosks display bamboo and cane crafts along with rosewood carving and sandalwood from Southern states and Punjab, Goa's lace and crochet, Kalamkari from Andhra Pradesh, West Bengal and Tripura's Kantha stitch, Rajasthan's phad paintings, Chikan textiles from Lucknow, Odisha's temple paintings. A perfect portrayal of diverse Indian craftsmanship attracts visitors. Northeast India's tribal textiles, Bengal's pure cotton fabrics, oxidized junk jewellery, Kanjeevaram and temple silk of South India catch female attention and weighed heavily on my purse.
Around 400 stalls highlight the richness Indian culture with must buy items. Children are spotted bustling with life as they take turns to enjoy rides at amusement zone. A macrocosm Indian village with bountiful skilled artists from various backgrounds and content curious guests make this fair a grand success every year. Surajkund has a vast network of transport and is easily commutable from Delhi. Be a part of the unique celebrations, as the fair continues till February 15. Grab your chance, right away!