Mumbai, apart from being the hub of Hindi Film Industry and heritage halts, is marked by lavish shopping malls like any other metropolitan. A tour or vacation without loosening purse strings on shopping and street food looks incomplete. Mumbai comes with amazing street kiosks with sell fashionable clothes and accessories. For first timers in the city, here's a brief look at street shopping sites with a package of most tasty-tangy snack bars.
Fashion Street is one of the most infectious open-air shopping arcade here. Fashion is all about carrying any outfit with poise and dignity, be it street clothes or branded wears. Young crowds mainly college and school goers can be seen bargaining hard and stacking their bags with 'fashionable' outfits, costume jewellery and footwear. Fake brands rule and shopkeepers quote higher rates knowing well, that they'll be compelled to sell their goods off at half the rates.Trendy readymade clothes at cheap prices are the highlights of these shacks. Tops, tees, jeans, leg-ins, skirts, kurtas, beachwear, night wear, shorts, capris — a complete run for choices. Cool sandals, slip-ons, heels, traditional Kolhapuri chappals grace shoe kiosks. Fashion street is near to Bombay Gymkhana club. Hence, hit it!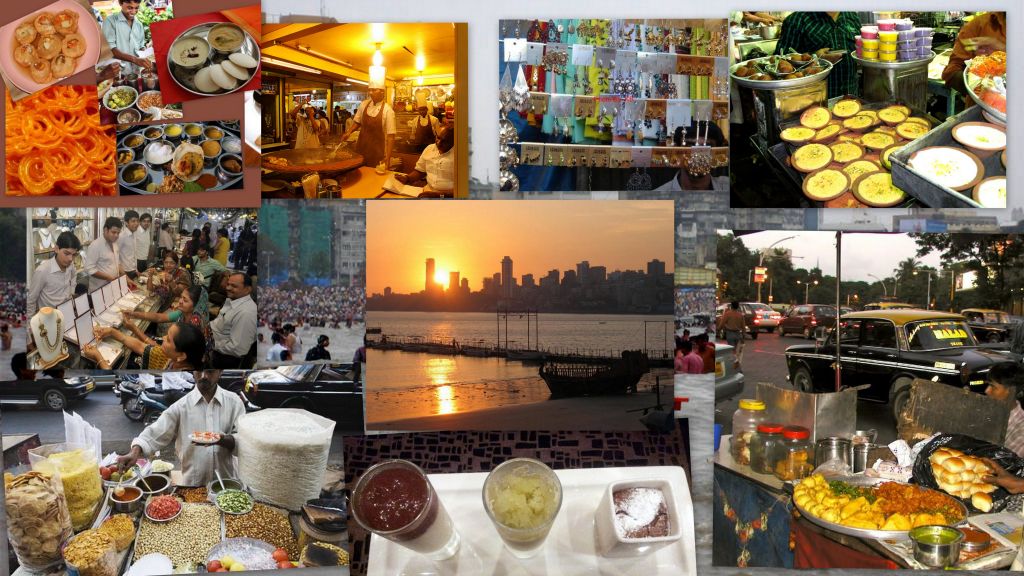 Bandra Market is another favored halt here. Bandra is one of the posh localities of Mumbai, where top-notch businessmen and celebrities live. Dotted by shopping malls with big brands, Bandra spares a thought about commoners too. Hence, small but nice street marts. You'll come across both Indian and western wears of all sizes here, very cheap but stylish. Surplus stocks from exported garments can be seen here. Hair accessories, local cosmetics, belts, home decor items can be spotted in the cluster of 50- 60 odd shops.
Zaveri Bazaar in South Mumbai always bustles with crowd, reason — jewellery.
Hundreds of shops cluttered in narrow lanes sell precious and semi-precious stones. If it's jewellery, it has to be women's haven! Small tip for tourists, if you pick up stuffs from here, get them from government approved shops to avoid over expenditure. Pure gold ornaments are a high of these jewellery marts.
Linking Road Market in west Bandra is heaven for accessories. Don't worry about the prices, as they depend on your bargaining ability. This area is accentuated with shops selling footwear, designer bags, eye wear, skirts, salwar-kameez. Be careful to check whether your buys are flawless — as in watchout for tiny holes in the newly bought wardrobe classics. Given, the items are cheap and very stylish, you can't blame the sellers for tiny mistakes.
Coming to food, vada pao is the stable snack here. For the best bite, go to Anand, opposite Mithibhai College. Potato mashed with chillies, garlic and coriander are dipped in chickpea flour. These are golden fried and stuffed inside white buttered bun. Indian version of burger!
Pani puri, is another favorite munch. Vendors weave magic. They stack in crispy fried wheat sphere with a paste of mashed potatoes, chickpeas, sprouted lentils, chillies dipped in a tangy mixture of jaggery and tamarind and dip it in liquid blend of coriander, mint and spices. If you're worried about hygiene, go to Elco Pani Puri Centre at Bandra west. This stall uses mineral water to prepare the liquid blend.
Bhel puri is also a local's favorite. Crunchy puffed rice tossed in tangy jaggery and tamarind sauce is blended with mashed potato chillies, onions, tomato topped with sev. It has to be eaten on the spot. Sharmaji or Badshah's at Chowpatty serves this lip-smacking delicacy with hygiene. Thousands of Bhel puri sellers flock the city.
Bachelorr's near Chowpatty Sea Face is famous for milk shakes and fresh juices. Beat the heat with cream-strawberry shake, Chocolate shakes with ice-cream or freezing seasonal fruit juices.
Take a day out for street tour to get the local flavor! Pocket friendly shopping and mouth-watering snacks at such cheap prices will keep you wanting to be here again!