South India Ayurveda Tour – Ayurveda is based on the traditional Indian medical practice that had evolved in mid-second millennium BCE. The institution of Ayurveda also focuses on exercise, yoga and meditation.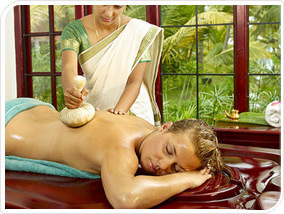 This ancient medical system restores the balance in the body and frees it of all the strains, fatigue and stress. This medical theory also treats even those diseases, which modern health care systems have declared terminal or incurable. South India is the heart of Ayurveda, where this medical system had originated and flourished and improved over centuries. Normally the Ayurvedic therapies are conducted for 1-2 hours over a period of 1 or 2 weeks.
Ayurveda does not include injecting chemicals or pursuing the modern medicinal technology, but instead it adopts the purely natural way. The institution of Ayurveda is based on plant-based medicines, herbal medicines, animal products like milk, bones, gallstones and minerals, herbal steam baths and detoxifying body massaging.
Among all, here are a few most sought after Ayurvedic treatments, that tourists from all across the world opt for:-
Rejuvenation Therapy (Rasayana Chikitsa)- Rejuvenate and strengthen your whole body system by this treatment that 7 to 14 days Body Purification Therapy (Shodhan Chikitsa)- Detoxify and de-stress your body in time of 5 to 10 days Slimming Programme- Get well-proportioned body within a period of 28 days Body Immunization and Longevity Treatment (Kayakalpa Chikitsa)- A special anti-ageing therapy that slows down the ageing process and enhances your body immunizations. It gives better results if taken for complete 28 days.
Psoriaris treatment programme (Sidhma Chikitsa)- An effective treatment that cures all types of psporaris and various other skin diseases. The programme stretches to cover 28 days Spine and neck care programme- If you are suffering from pain and strain in spine and neck regions or if you have certain problems in your lumbar and cervical regions of vertebral column, then undergo this treatment for 10 days and feel the magic. And thus similarly, there are Ayurveda treatments for eye and ear problems; beauty care programme and much more, all in the way of nature. Ayurveda is rooted in South India (like Kerala, Karnataka, Tamil Nadu) and is being followed by expert medical practitioner with great dedication.
So, come visit India and have all your tensions, ailments and worries lifted away…