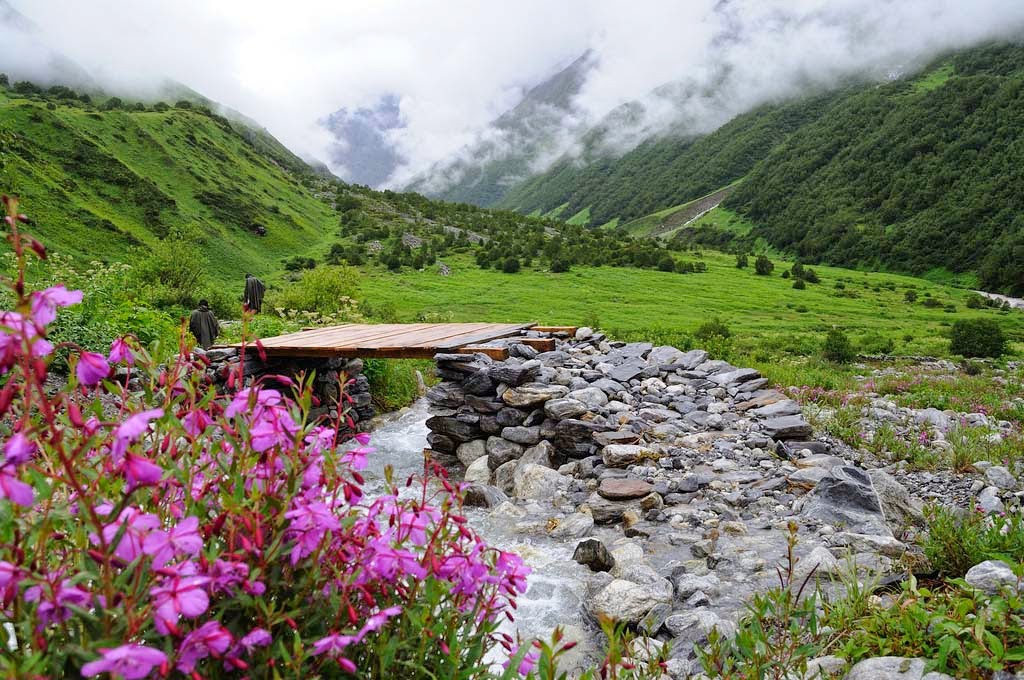 The virgin beauty of the Valley of Flowers, a UNESCO World Heritage Site located in the Chamoli district of Uttarakhand, is a rare sight to behold. This mystical beauty has lured tourists, nature lovers from around the world. In the month of July, this region is dotted with more than 650 species of flowers. Visitors usually opt for a trek to the Valley of Flowers for an incredible expedition. Enveloped by the mighty Himalayas, it is surely a place that should not be missed!
This fairyland lies at the conversion point of Himalayan ranges, Zanskar Valley, Western and Eastern Himalayas and is surrounded by snowy mountains, magnificent and sparkling glaciers, that adds more charm to it. Untouched by human invasions, this land sheds its tranquil nature and glistens like a colorful carpet, during monsoon. The best way to capture the stunning vistas of this place is by taking a tedious stroll. The crystalline streams amidst this park, cascading waterfalls and most importantly, the flowery meadows are a spectacle. The Valley of Flowers has topped the list of many photography enthusiasts that offers breathtaking views, taking them into a state of trance.
This valley is said to have huge significance as the magical herb 'Sanjeevani' still grows here, which was used by Lord Hanuman to save Lakshman from dying in the Ramayan epic.
How to reach here?
By Air:
The nearest airport is Jolly International Airport located in Dehradun. From here, you can board a cab or taxi to reach Govind Ghat and begin a 16 km trek to this Valley. This airport is well-connected to major cities of India.
By Rail:
The closest rail head is Rishikesh that is well connected to major cities of India. From here, you can book a cab or taxi to reach Govind Ghat and further, take a 16 kilometer trek to this Valley.
When is the best time to visit here?
The enchanting Valley of Flowers National Park is worth a visit for only a short duration in a year. The best time to plan trek to the Valley of Flowers is from July to October as it has a salubrious climate during this time.
Attractions near the Valley of Flowers
1. Shri Hemkund Sahib
Shri Hemkund Sahib is one of the most sought after pilgrimage for both Hindus and Sikhs. This star-shaped Gurudwara is located amidst picturesque landscapes and is dedicated to Guru Gobind Singh (10th Sikh Guru), who is said to have meditated here. This sacred site is also mentioned in the epic Ramayana.
2. Joshimath
Joshimath is a popular hill station and a sacred town highly revered by Hindus as it boasts many temples namely Narsingh Temple, Shankaracharya Math and and Bhavishya Badri. Also called Badrimath, it is the "winter seat" of Lord Badrinath (referred to Lord Vishnu, preserver of the world). It is a famous gateway for trekking and Himalayan expeditions.]
3. Auli
Located around 10 kms away from Joshimath, Auli is a fascinating tourist spot for skiing and paragliding activities and stunning vistas of the lofty mountains like Nanda Devi (2nd highest mountain in India) and Kamat Kamet (3rd highest mountain in India). Auli can be also accessed via a ropeway ride from Joshimath.
Closing Thoughts
India is widely known for its miraculous places dotted with rich flora and fauna for you to explore and the Valley of Flowers is one of them. If you are true nature lover then this place should be your next travel destination. We hope you have an experience that lasts for a lifetime!