A visit to the city of Udaipur will always hold a special place in my heart. A small yet pretty town, the beauty and the calmness of the city is something which I can never forget. The leisurely evening stroll around the lakes especially Fateh Sagar, the beautiful hotels, a vast heritage, the vibrant colors and the festivities- everything about the city attracts you. Time just seem to stand still here in Udaipur. It is where the charismatic romance of Rajasthan lies.
The city has been put on the international tourist map because of the various luxury resorts like Udaivilas and Lake Palace set on Udaipur's serene lake Pichola overlooking the beautiful Jagmandir and City Palace. Staying in these heritage hotels is undoubtedly a lifetime experience. Within in the utmost comfort and luxury, attendants will make you feel pampered.
One of the most romantic cities in the world, Udaipur is also popular as a great wedding destination. Numerous weddings of Indian and International celebrities including Liz Hurley and Arun Nair, Virendar Sehwag and Aarti Sehwag, Raveena Tandon and Anil Thadani, took place in Udaipur. It been featured in many Bollywood and Hollywood movies including the Bond film Octopussy and Gandhi. The beauty of the city have been portrayed nicely in both the movies. However, Udaipur is not only about luxurious heritage hotels and glamorous weddings. The spectacular palaces, serene lakes, ancient temples and majestic forts, traditional Rajasthani cuisine and the Mughal inspired architecture provide an insight to the vibrant Rajputana culture and its vast heritage. The grandeur of the city would really mesmerize you while enjoying a boat ride on the lake Pichola soaking in the majestic views of the palatial buildings alongside the lake. It gives you a glimpse of both the royal heritage and rural life of the city. You can see the stunning City Palace, the spectacular Lake Palace Hotel and love Jag Mandir island alongside the daily routine of the local people bathing, washing cloths on the ghats.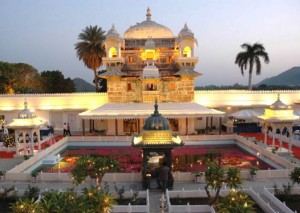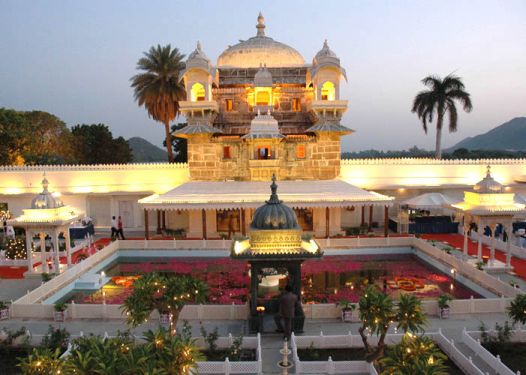 Make a stop at the stunning island of Jag Mandir which has some interesting facts attached to it. It is believed that Jag Mandir was the inspiration behind the world-famous Taj Mahal. It served as a refuge for Shah Jahan in his youth when he was a mere prince against the wrath of his father. The island has well laid-out gardens and dining with a great view looking out to the City Palace. The murals are beautiful with vibrant colors and have well-sculpted elephant structures.
A trip to Udaipur is filled with both grandeur and romance. You would not only love exploring the Rajputana architectural gems but also get impressed with the colorful culture and grand festival celebrations. The moments spent on this place will remain etched to your minds for a very long time.
To book your tour, log on to www.getsholidays.com and win exciting offers. Make you dream come true by making a trip to the incredible land of India.