India's royalty is inscribed in every corner of Rajasthan. From royal palaces to heritage hotels, all architecture in the state is a symbol of India's rich and regal past dominated by royal Rajput families. To maintain such heritage properties and restore their royalty, the royal palaces have been converted into heritage hotels whose grandiose and elegance have attracted thousands of national and international tourists. Isolated from busy market areas, these resorts are located in serene secluded locations that offer the perfect setting for a lone romantic vacation.
The medieval city of Jodhpur, also known as the blue city, lies in the western part of Rajasthan towards That Desert. Two striking sights of this city are the stunning Meharangarh Fort and Umaid Bhavan Palace. After a royal excursion to the historical Meharangarh Fort and witnessing picturesque sights of indigo blue washed city of Jodhpur from its top, a cozy night amidst the plush décor of Umaid Bhavan palace does a justified end to a romantic stay. Every couple who plans a trip to Rajasthan plans to spend a night in this towering resort of Jodhpur. History, peace, elegance and romance all come together to let couples fall in love again and rediscover themselves like never before. The eloquent Maharani suites take them back to golden Rajput era and let them weave their love story like kings and queens of the time.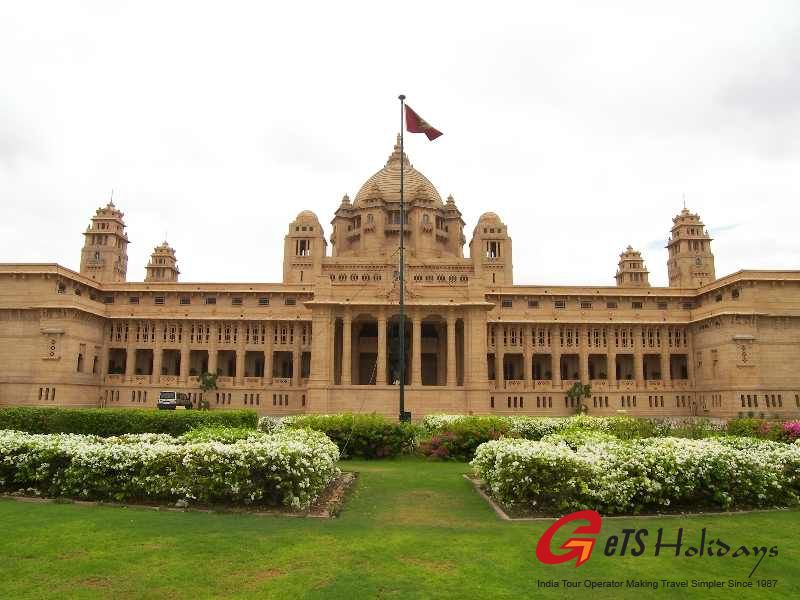 A perfect architecture of Indo- Colonial style, which got completed in 1943, today became internationally renowned as one of the largest private residences of the entire world. Every feature of Umaid Bhavan Palace makes it special for a romantic night stay. A property with 374 rooms set in almost 26 acres of garden area is a real fairytale abode for love birds. The grand gates show the way to a horse drawn buggy sprinkled with royal petals. The buggy gently takes them to the reception area where all furniture, walls and entire interior is constructed in Rajput style. A hassle free check in gives them a heavenly feeling and gradually let them enter the royalty embellished suites. Manicured lawns, Jive spa, private balconies, outdoor dining and swimming pool and courtyards are unimaginably romantic.
Striking shades of pink, black and chrome and art deco styled Maharaja and Maharani Suites make a perfect environment for a secluded pampered romantic night. While the Italian marble cut bath tub refreshes their mind and soul, a private terrace attached to every suite, offers spectacular views of Meharangarh Fort and Jodhpur City.
Jive spa is for couples to immerse in a romantic candle-lit Indian body massage. Rose petal bath, bottle of champagne and an extensive spa menu are exclusively set for them to come and enjoy a heavenly body rejuvenation treatment together. A collection of international wines and champagnes is a perfect combination with a royal dinner in the resort's romantic restaurant. As silent music plays at the backdrop, couples get a chance to look at each other's eye and sip their favourite drink together. Vintage cars and uniquely framed pictures of Maharajas' families are best admired and appreciated together. All royalties and elegance clubbed up together, Umaid Bhavan Palace in Jodhpur is the ideal destination for couples to enjoy an unforgettable night in an ambience of royal Rajasthani culture.