Being the seat of Mughal history, Old Delhi has a long and deep history with food and Indian culture. Today the old narrow lanes of Old Delhi are full of culinary secrets that satisfy the atste buds and hungry stomachs of thousands and thousands of visitors. A walk through its by-lanes will acquaint you with countless food joints that spread an unending aroma of freshly cooked mouthwatering dishes ranging from sweet to sour and salty. For all those foreign travelers who have only learnt about Chandni Chowk in Indian history, must take a tour across its old lanes and try out the plates of sweet, sour and salty dishes the age old shops are to offer. To make your gastronomic tour easier, have a look at this list of top eateries in Old Delhi.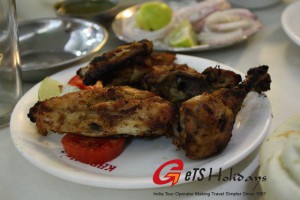 Karim's: since 1913, this authentic Mughlai restaurant is bringing smiles to millions and millions of local and foreign visitors to Delhi. Its menu ranges from tandoori bakra, mutton nihari, sheermal to lamb stuffed with chicken, chicken burra, firni and lot more. You might have to wait in a queue to get a table, but the wait is worth it. Once you are in, start with light yet yummy appetizers like shammi kababs and mutton burras and gradually move on to the main course comprising of mutton biriyani, keema naan, Jahangiri korma and Badshahi badam pasanda. Dining in Karim's always ends on a sweet note because of its traditional breads like sweet baqarkhani and firni (made of rice powder) in an earthen bowl.
Paranthewali Gali: the famous Paranthewali Gali is full of small and big parantha stalls that meet the wishes of hungry visitors as well as mere finger lickers. Several famous eateries like Pandit Kanhaiyalal Durga Prasad Paranthe Wale are found in this narrow alley. The deep fried paranthas range from the basic potato stuffed to the delicious paneer, raddish, onion-tomatao-potato mix, peas, cauliflower and lemon stuffed. The plate comes with giant paranthas, spicy potato curry, mix vegetable curry, pickles and chutney. A bowl of sweet rabri is the best way to end your meal.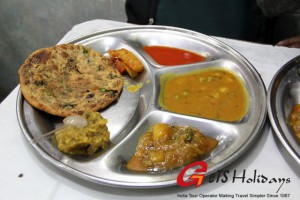 Natraj Dahi Bhalla Wala: the moment you come out from one of the exit gates of Chandni Chowk Metro Station, this small shop in one corner of the street will greet you with the aroma of desi ghee and huge crowd. The only two dishes on the menu- dahi bhalla and aalo tikki chat are strong enough to pull in food lovers. The crisp tikkis garnished with coriander and tamarind chutneys and the soft dahi bhallas accompanied by cool curd are excellent appetizers spiced with real perfection. Don't get scared of getting pinched by your pocket and grab a plate from here while you are on a tour to Chandni Chowk.
Chaina Ram Sindhi Confectioners: since its inception, this award winning sweet shop has retained its status of a 'one-stop-shop for all kinds of sweets'. All sweets are cooked in pure ghee and its variety ranges from doda barfee, balu shahi, gajar ja halwa, moong dal halwa to pateesa motipak, Karachi halwa and a lot more. The giant pure ghee laddoos top the lost sweets in Chaina Ram. You can also go for a delicious breakfast consisting of halwa, puri and aloo subzi.