I was on a quest to find solace but I had no visual inspiration to go anywhere but that's when I was asked to visit ISKCON Temple in New Delhi. Although this was purely an official event, I did find solace as soon as I entered the complex. The holistic music and sweet smell of flowers completely teleported me to a peaceful place.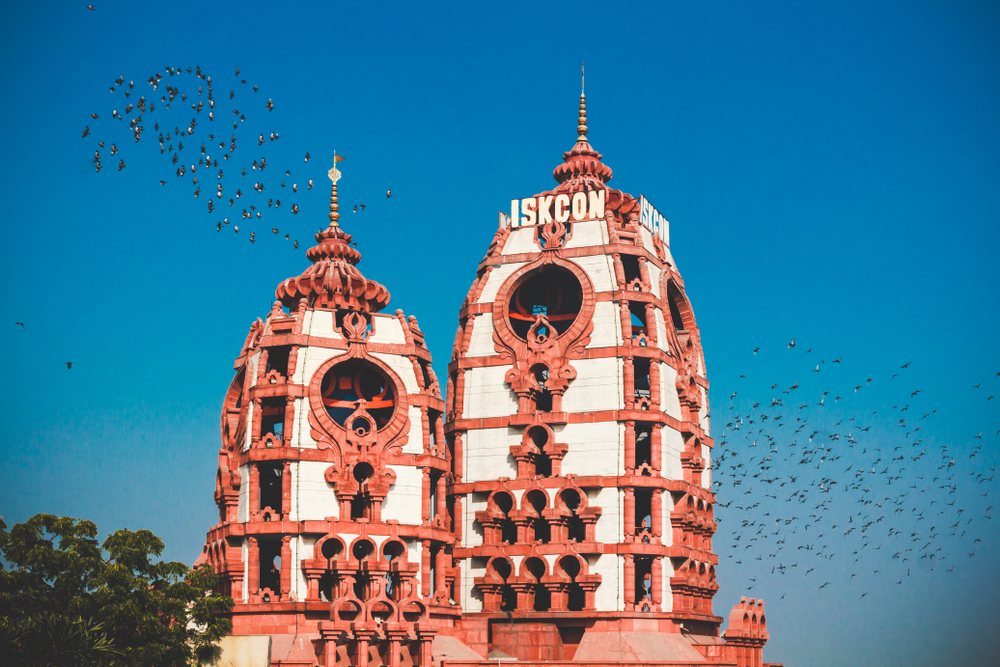 On the 28th of September, an Indian Association of Tour Operators (I.A.T.O.) organized a special event providing knowledge of the Indian Vedic Culture that is based on the Vedic scriptures of Bhagavad Gita. People from various tour companies gathered in the main temple before the event began. I was offered tilak before entering the temple. It is a Hindu tradition used in all religious gatherings, ritualistic worship of God. But what intrigued me the most was when sweet fragrance was applied on the upper palm of my hand. It smelled so sweet, I felt relaxed instantly.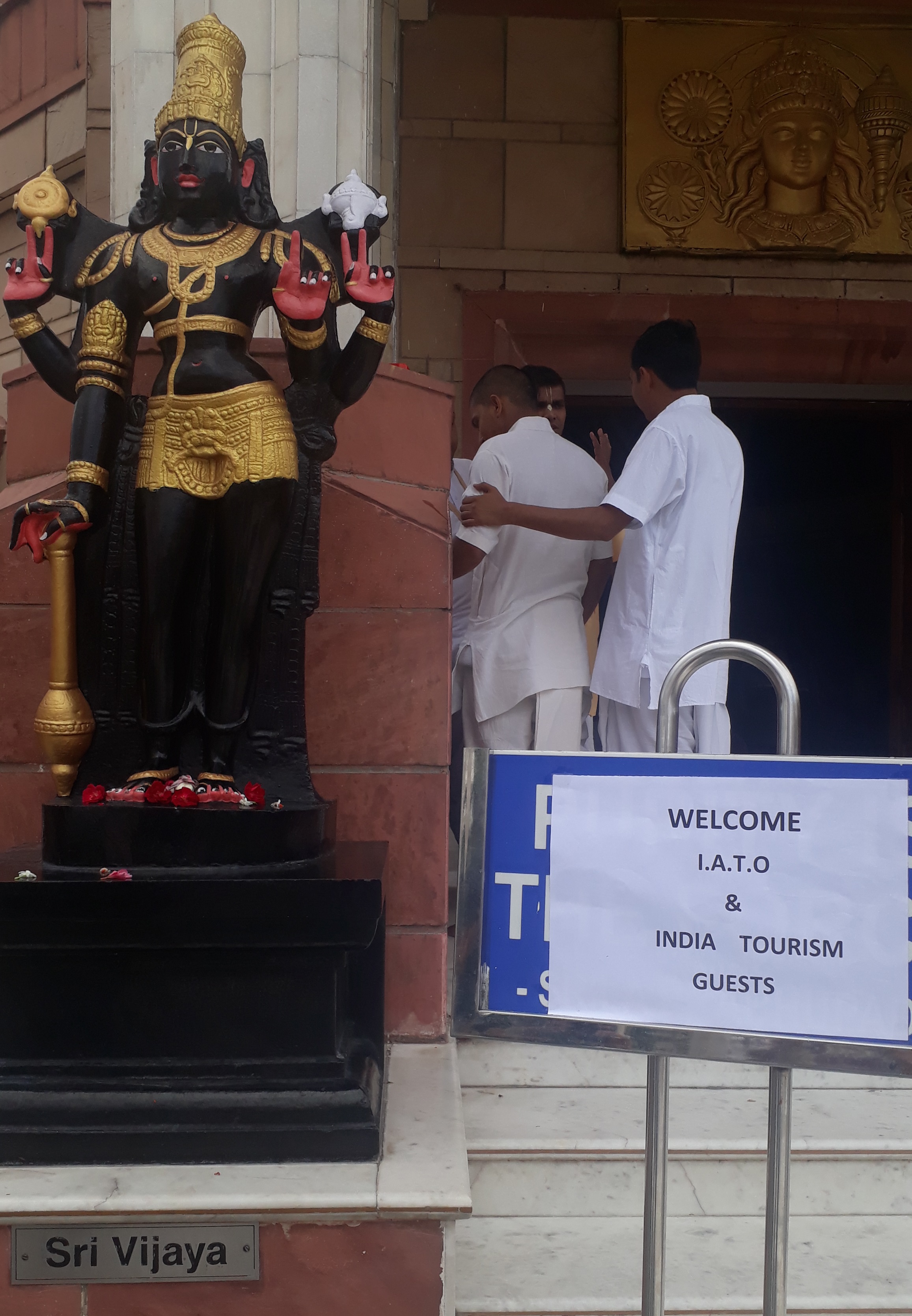 "Entrance to the main ISKCON Temple"
After deity darshan, the tour began with an introduction to ISKCON further taking us into the ISKCON Museum. Here lies the largest Bhagwad Gita with over 2.8 meters in length and over 800 kg in weight. The Bhagwad Gita was unveiled by Indian Prime Minister, Shri Narendra Modi on 26th February this year. We were then taken inside the Vedic Culture Museum. The museum is separated into two floors; it features sections like the Ramayana and Mahabharata Art Galleries. It also has Bhagwad Gita Animatronics Robot Show with interesting narration.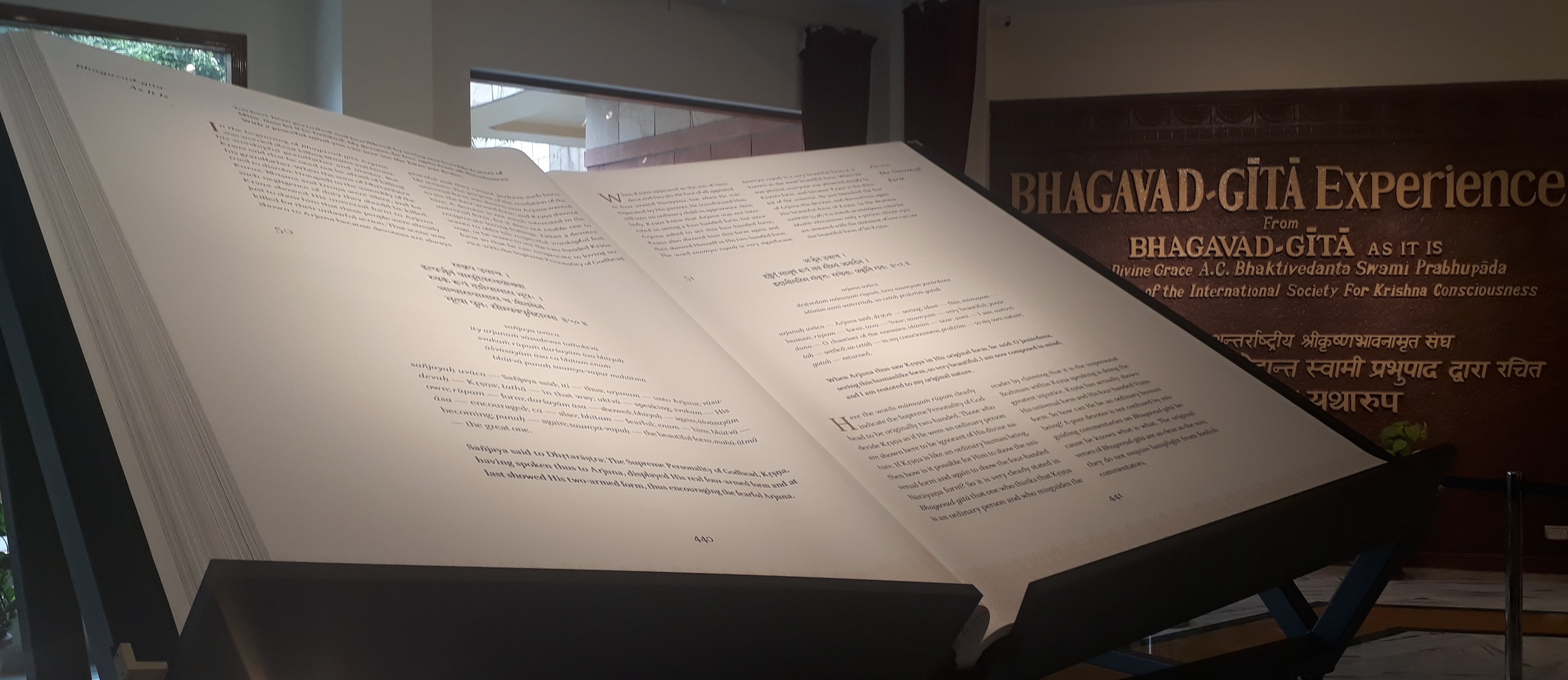 "World's  largest Bhagwad Gita"
During the tour, various stories were foretold using the light and sound effect, 3D video globe that displayed an animated video of religious teachings of the Gita. The original painting gallery of Lord Rama and Sita really took me by surprise. All the paintings were hand-painted by devotees from around the world. There was a brief interval where we were provided with cold drinks, tea and biscuits. Followed by the main event which took place inside the auditorium, people present were a group of tourism members and Ms Bidisha Sengupta from the Ministry of Tourism.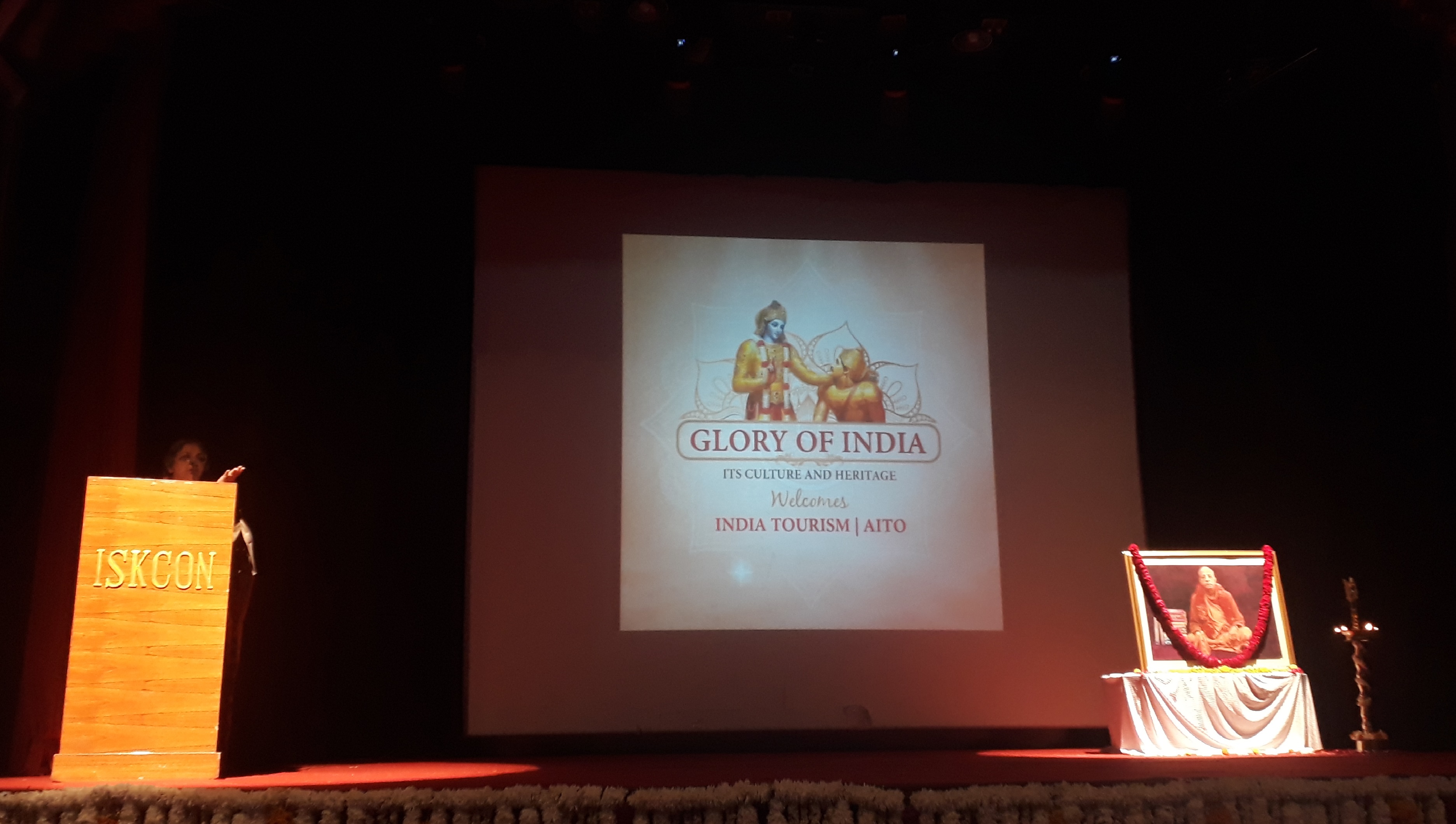 "Ms Bidisha Sengupta from the Ministry of Tourism delivering her speech"
The Talk about ISKCON in Tourism
Spiritual tourism in India is a huge market. Many people from across the globe come to India to be spiritually awakened through meditation, yoga and devotion to the almighty. ISKCON being the largest spiritual centre it attracts many western societies thus making them ponder over the idea of visiting India. Through this, the companies can link spiritual tourism with ISKCON. ISKCON provides teachings, guest houses and also various activities.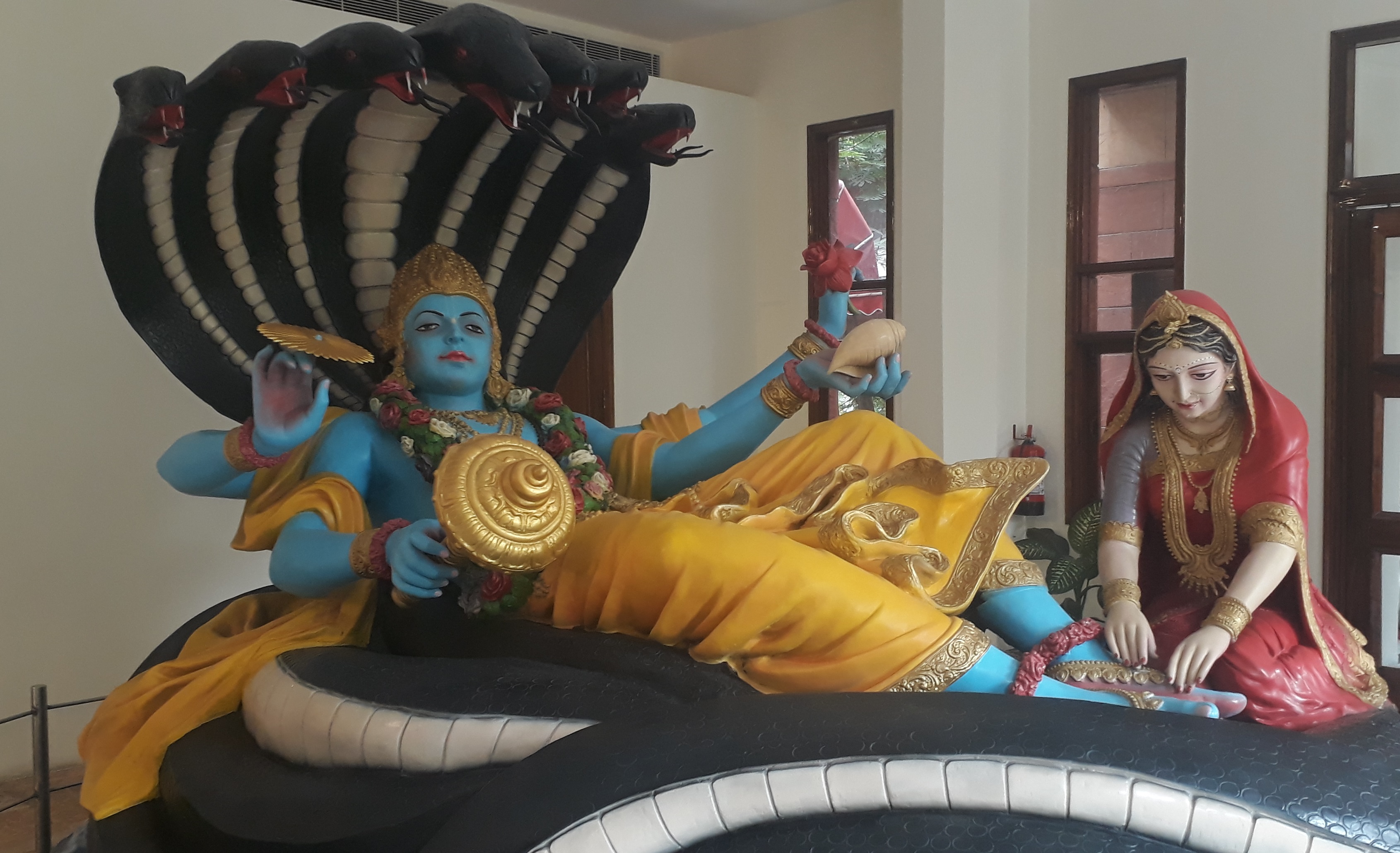 "A large statue of Lord Vishnu and Goddess Lakshmi"
What is ISKCON all about?
ISKCON is an abbreviation of International Society for Krishna Consciousness, this temple dedicated to Lord Krishna is a famous society for Krishna devotees. Ever since the first ISKCON was founded in the year 1966 in New York City by A. C. Bhaktivedanta Swami Prabhupada, there has been a rapid growth in the Hare Krishna movement. Today, there are more than 700 temples and Vedic Cultural Centres across the globe each providing engaging events and lively festivals. The largest ISKCON or better known as Temple of Vedic Planetarium which is under construction is located in West Bengal, Mayapur. It will sum up its construction by the year 2022 after which this grand structure will be known as the largest temple and cultural centre in the world. The most significant ISKCON Temple in India is the one located in Vrindavan, Shri Krishan Balram Temple. One of the fascinating facts is that this temple has a 24-hour kirtan (devotional songs) that has been playing non-stop for over 30 years.
But either you wish to visit ISKCON in New Delhi for spiritual tourism or simply to explore the Vedic Museum, I bet, you'll be swayed away by its structure, hospitality and their pure vegetarian Govinda's Restaurant. The next time you plan to visit the capital city of India, make sure to add ISKCON Delhi to your itinerary or take help from us to plan your sightseeing.