Rajasthan is a vibrant city that brings you up close to the rich culture and deep-rooted history of India. This vividly-beautiful state perfectly depicts the royalty of the Rajput Kings as it is ingrained with spectacular sand dunes, courteous people, bustling bazaars selling exquisite jewellery and cloth fabrics, camel safaris, string of forts, palaces, havelis adorned with Rajput style of architecture, rich collection of paintings, frescoes for you to explore.
It has been a highly-favoured tourist destination amongst tourists in and outside India and this is why, we bring to you the 3 delightful places of Rajasthan – Bikaner, Jodhpur and Udaipur – that you must visit!
1. BIKANER
Founded in 1486 AD by Rao Bikaji, Bikaner became an impressive striking city born from a barren land called Jangladesh. It is popularly called the "Camel's land" as it is renowned for the world's best riding camels and is home to one of the world's largest camel breeding farms. In ancient times, traders navigating to and fro between Central Asia and the Gujarat coast, stopped here for thirst quenching. This city being the 4th largest city of Rajasthan, holds strong connections with the Rajasthani culture and traditions and is one of the exponents of Rajasthani folk music and art.
Places to visit in Bikaner?
Junagarh Fort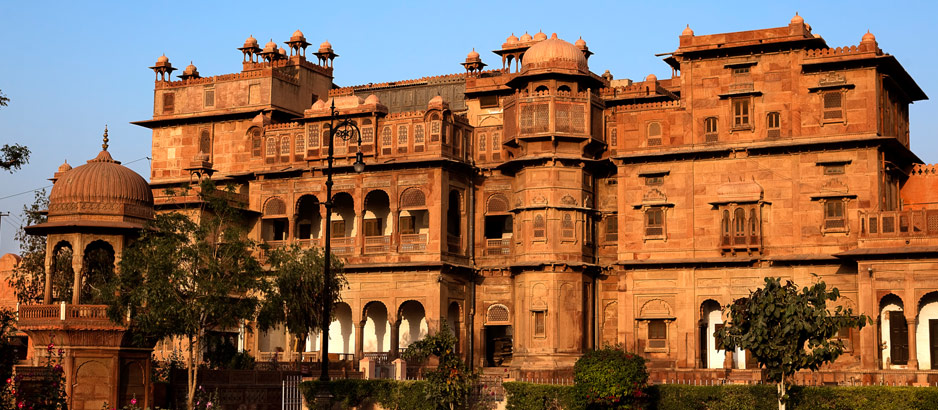 Formerly called Chintamani, the Junagarh fort was initially built by Raja Rai Singh in 1589 A.D inspired from the Mughal, Gujarati and Rajput architectural styles. The later rulers contributed in the beautification of this fort. Few major attractions inside the fort are Anup Mahal, Chandra Mahal, Hawa Mahal, Dungar Mahal, Diwan-e-khas and Ganga Mahal. The Zenanas (secluded quarters for women) in particular, capture the attention of tourists as they depict the craftsmanship of that time. Also, the beautiful mirror work, frescoes and artistically-designed courtyards, balconies and windows add charm to this fort.
Lalgarh Palace and Museum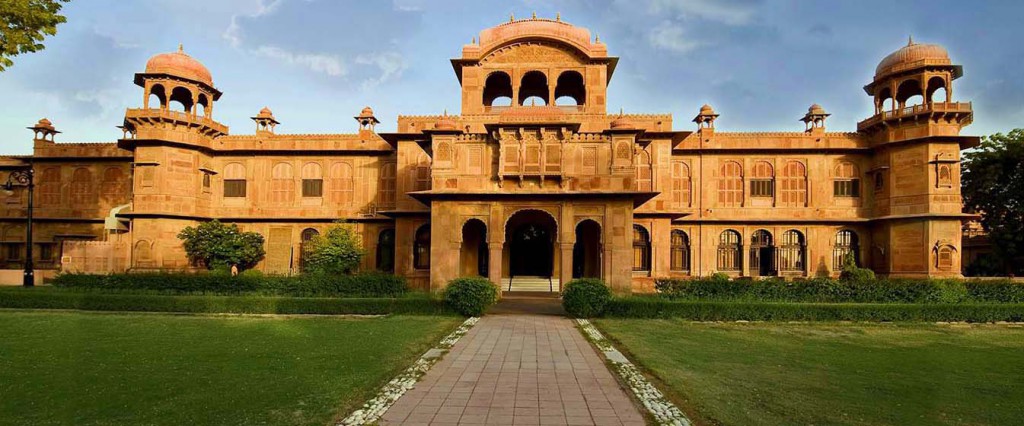 This red sandstone edifice was built by Maharaja Ganga Singh (ruler of Bikaner) in 1902 and designed by a British architect Sir Samuel Swinton Jacob. This palace features magnificent pillars, fireplaces, Italian colonnades and intricate latticework that are worth exploring. The King Ganga Singh named it after his father Lal Singh. The two wings of this Palace are now a part of a heritage hotel. It also comprises of a museum called the Shri Sadul Museum which consists of a well-preserved array of archaeological discoveries from prehistoric Harrapan and early Gupta period, ancient photographs and individual sections to view art & crafts, pottery, paintings, coins and lot more.
Camel Research Breeding Farm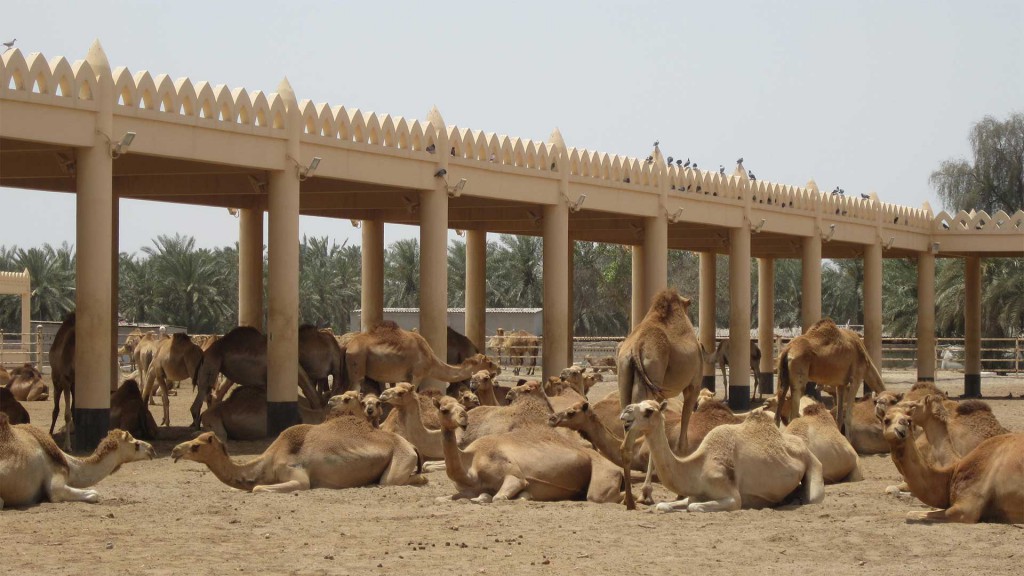 Founded in 1975, the Camel Research and Breeding farm is the only breeding centre of Camels in India. Spread over 2000 acres of land, this farm is located around 8 kms from Bikaner. Here you can taste the refreshing thick camel milk to cool yourself down in the scorching heat and also enjoy a camel ride. This farm consists of stables, enclosures that are specifically engaged in carrying out researches on Camels in order to get the best breed.
Rampuria Haveli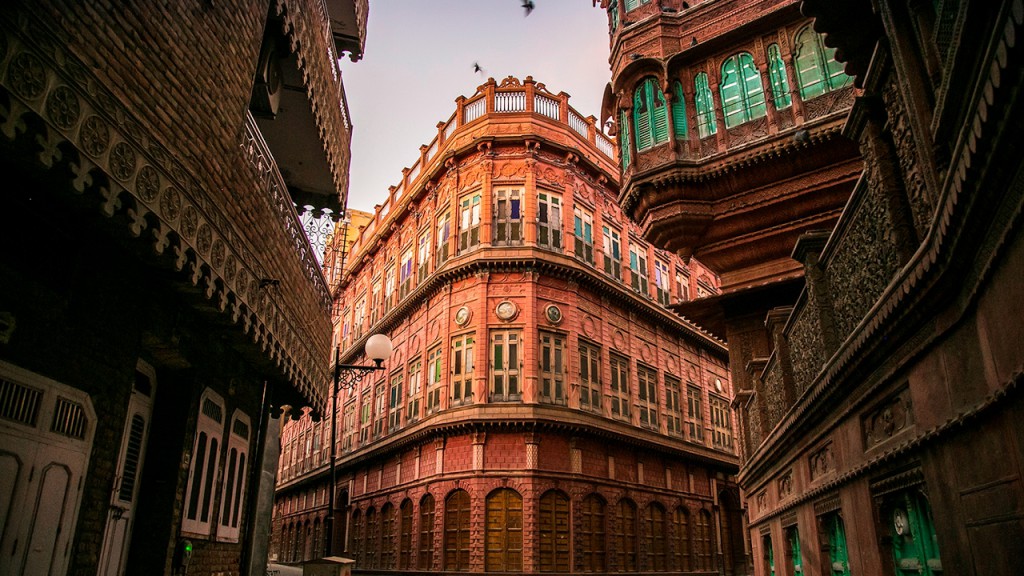 The Rampuria Haveli constructed in the 1400s is one of the most spectacular heritage sites of Bikaner. This Haveli demonstrates artistic craft of its era and the halls and rooms here are adorned with aesthetic art. It is a perfect example of a blend of Mughal and Victorian architecture with a touch of stonework, stone chajjas and projecting balconies.
Deshnok Karni Mata Temple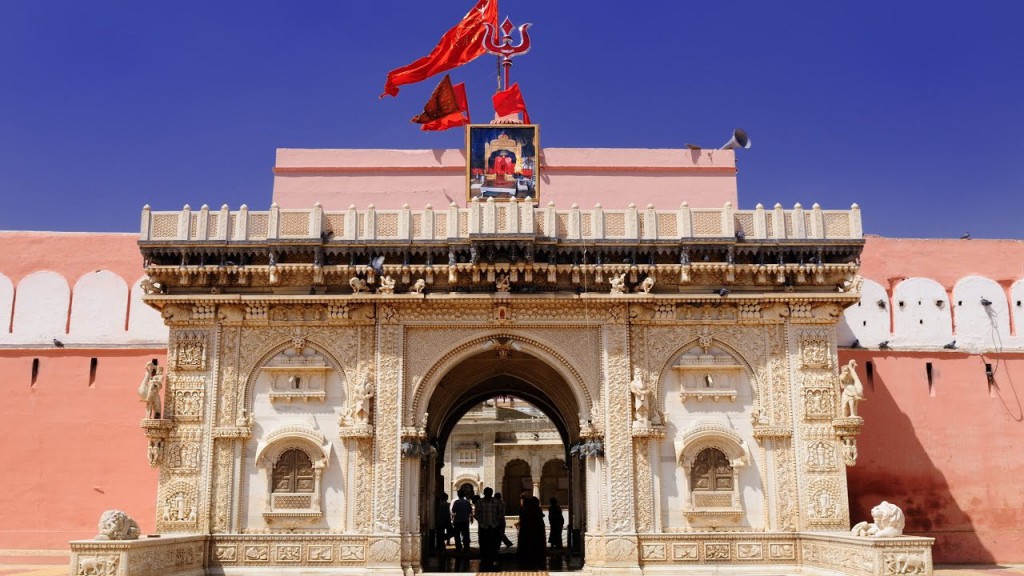 The Karni Mata Temple built by Maharaja Ganga Singh of Bikaner, is an unusual shrine of India that is widely known for its around 25,000 holy rats (called kabbas) roaming freely within the premises of the temple. This temple attracts visitors from across the country to seek the blessings of Goddess Karni (an incarnation of Goddess Durga). As per legends, when Goddess Karni lived here during the 14th century, she performed many miracles here. She also laid the foundation of the city of Deshnoke and was committed to the welfare of the poor and backward communities. If you're thinking why this temple is home to a huge number of rats then visit this temple to unravel the mystery on your own!
Jain Temple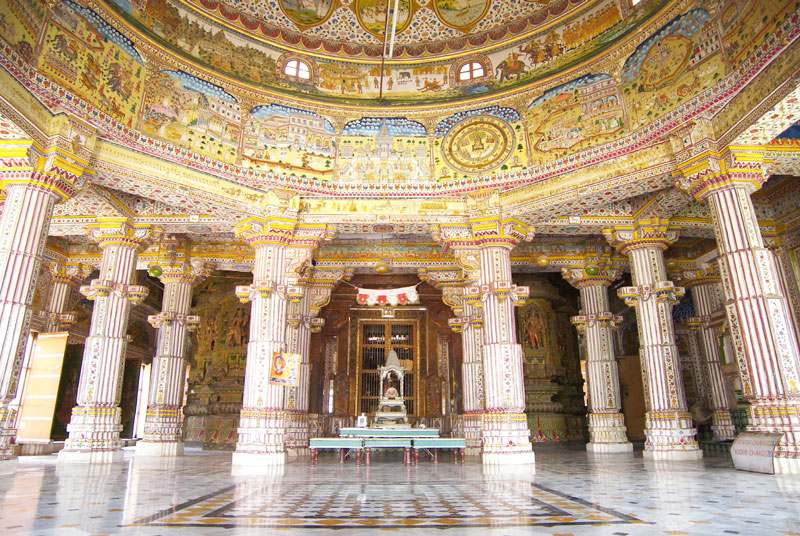 The Jain Temple in Bhandasar, Pushkar, dates back to the 15th century. The main presiding deity here is Lord Sumitanathji (the 5th Tirthankar of Jainism). A Tirthankar is one who has achieved salvation from the cycle of life, death and rebirth. This temple comprises of intricate carvings, mirror work and gold leaf paintings and depictions of the life of the 24 Tirthankars of Jainism.
Gajner Wildlife Sanctuary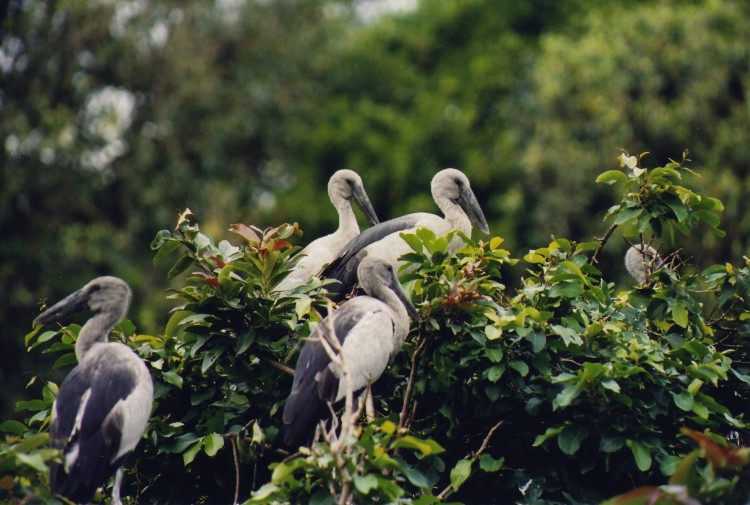 The Gajner Wildlife Sanctuary is situated around 32 km from Bikaner. It was a former hunting preserve of the Maharajas of Bikaner. Tourists can explore the flora and fauna of this sanctuary through a jeep safari accompanied with an informative guide. Apart from a huge variety of wildlife, it is home to rare bird species like Waterfowls, Indian Houbara Bustards and Demoiselle Cranes etc.
How to reach Bikaner?
By Air: The nearest airport is Jodhpur Airport. On arrival, you will get ample cab facilities to reach Bikaner.
By Rail: Board a train to Bikaner Junction railway station, which is well connected to Delhi, Jaipur and Jodhpur and other parts of India. On arrival, hire a cab for your onward destination.
Best time to visit Bikaner – November to March
PUSHKAR
Pushkar is a city known as the "King of pilgrimage sites" as it is among the 5 main pilgrim sites in Hinduism. The Pushkar Lake is the main attraction of this city where pilgrims take a holy dip before visiting the Brahma Temple located close by. Also, this city is known for flower farming and this is why, it is called the "Rose garden of Rajasthan". Another major highlight is the Pushkar Camel Fair, which is Asia's largest Camel fair. The history of this city dates back to around 4th century B.C. As per history, this city was formed out of the petals of the lotus flower that fell on earth when Lord Brahma used it to kill the demon "Vajra Nabh".
Places to visit in Pushkar?
Brahma Temple

The Brahma temple, dating back to 14th century, is believed to be around 2,000 years old. Located in close proximity to the Pushkar Lake, it is a highly revered holy shrine among Hindus. This is the only temple in India dedicated to Lord Brahma and inside the temple, you will see a four-faced idol of Lord Brahma.
Pushkar Lake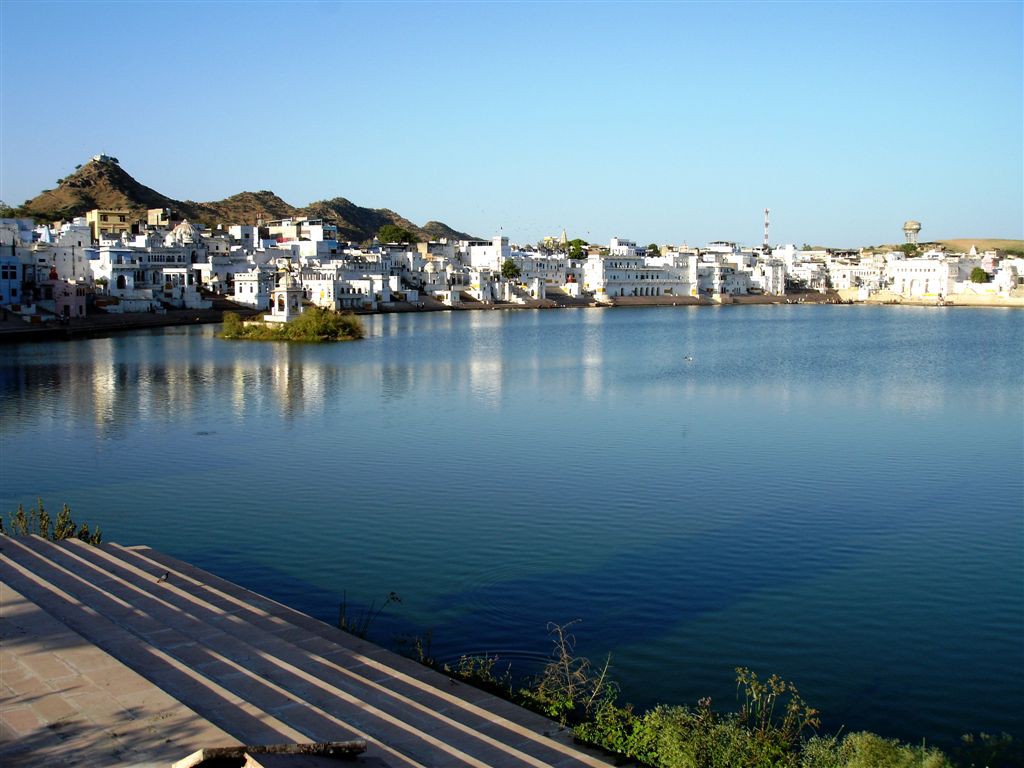 The Pushkar Lake, believed to be 4th century old, is considered to be sacred as its water is said to have miraculous healing abilities. This is why, thousands of pilgrims who visit Pushkar stop at this lake for ablution to attain salvation (Nirvana) before visiting the nearby temples.
Rangji Temple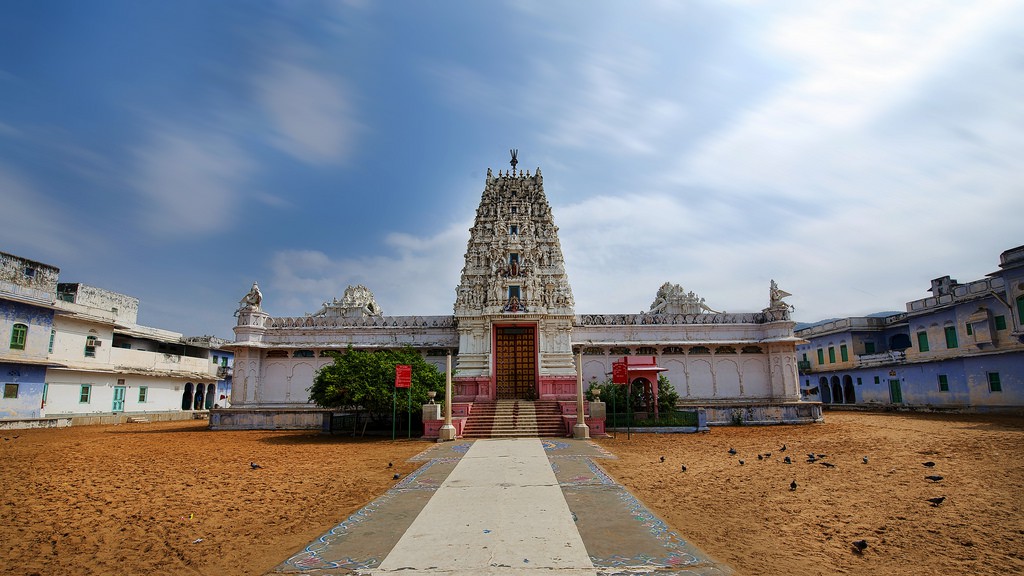 The Lord Rangji Temple is a temple dedicated to Lord Rangji, incarnation of Lord Vishnu (God of creation). It was built in 1823 inspired from the Rajput and Mughal architectural styles with a touch of South Indian (Dravidian) architecture style. This temple showcases idols of Lord Rang ji, Lord Krishna, Goddamaji, Shri Ramanujacharya and Goddess Lakshmi installed in the complex. It is one of the holiest shrines in Pushkar.
How to reach Pushkar?
By Air:
The closest airport is Jaipur International Airport. On reaching, you will find ample cab facilities to reach Pushkar.
By Rail:
The nearest rail head is the Ajmer railway station. On arrival, book a cab to reach Pushkar.
Best time to visit Pushkar –  November to March
JODHPUR
Jodhpur, founded in the year 1459 AD by Rao Jodha (chief of the Rathore clan). It is the 2nd largest city of Rajasthan that comprises of houses painted in blue and this is why, it is called the blue city of Rajasthan. These blue-painted houses are overlooked by a magnificent fortress. This city is known for the rare breed of horse species – Marwari or Malani – which are not found anywhere else.
Places to visit in Jodhpur?
Mehrangarh Fort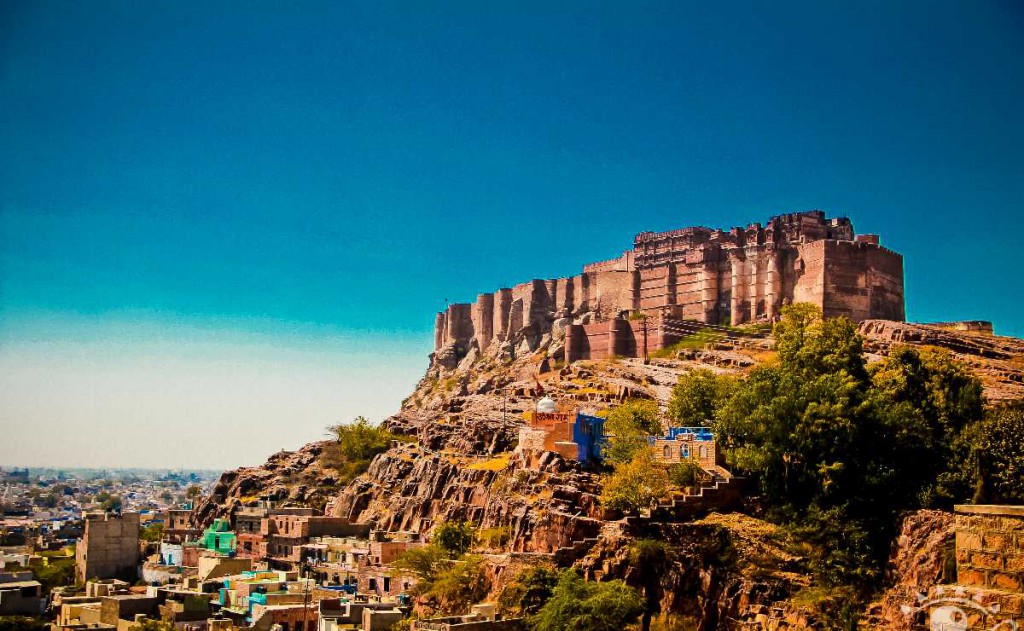 The impressive Mehrangarh Fort located at a hilltop in the city of Jodhpur is a true visual delight for every visitor. It was built by Rao Jodha in 1459 when he changed his capital from Mandore to Jodhpur. At the time of sunrise, this edifice changes its color from sandy brown to shining gold that leaves everyone beguiled. This fort has seven massive gates namely Jai Pol, Fateh Pol, Loha Pol, Amruti Pol etc., 117-ft elevated walls and inside the fort's complex, several palaces, temples, Moti Mahal (a palace of pearls), Hall of mirrors (Sheesh Mahal), Palace of flowers (Phool Mahal), private residence of Maharaja Takht Singh (Takht Vilas) etc. and courtyards depicting the grandeur of its time. Don't miss the spectacular views of the Jodhpur city from the top of this fort.
Sheesh Mahal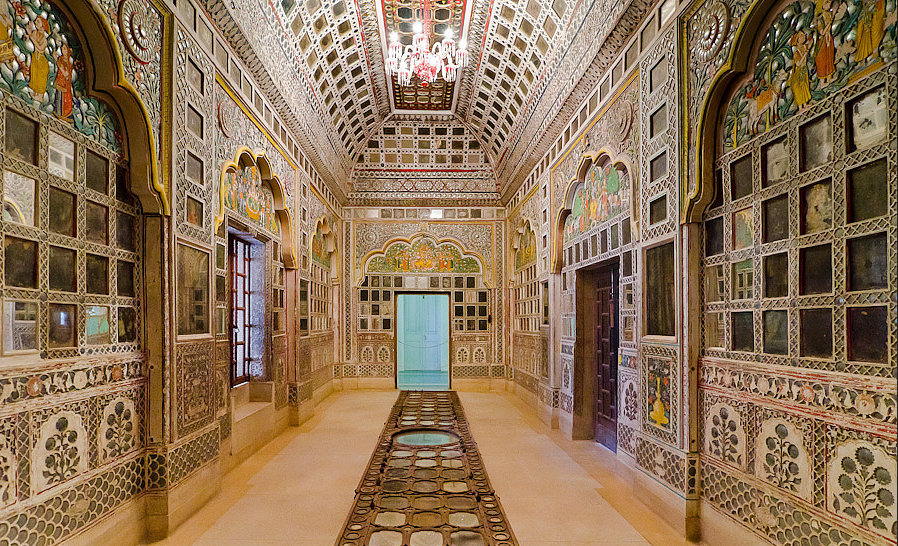 The Sheesh Mahal is located within the Mehrangarh Fort. This complex showcases the brilliance of skilled craftsmen of its time through intricate mirror work of religious figurines, which attracts huge number of visitors in and around India every year.
Chamunda Mataji Temple

The Chamunda Mataji Temple is located on the south of the Mehrangarh Fort. It is dedicated to Chamunda Mataji – most revered God by Rao Jodha. In the year 1460, Rao Jodha placed an idol of Chamunda Mata in the fort. On the occasion of Dussehra, this temple attracts huge number of devotees.
Jaswant Thada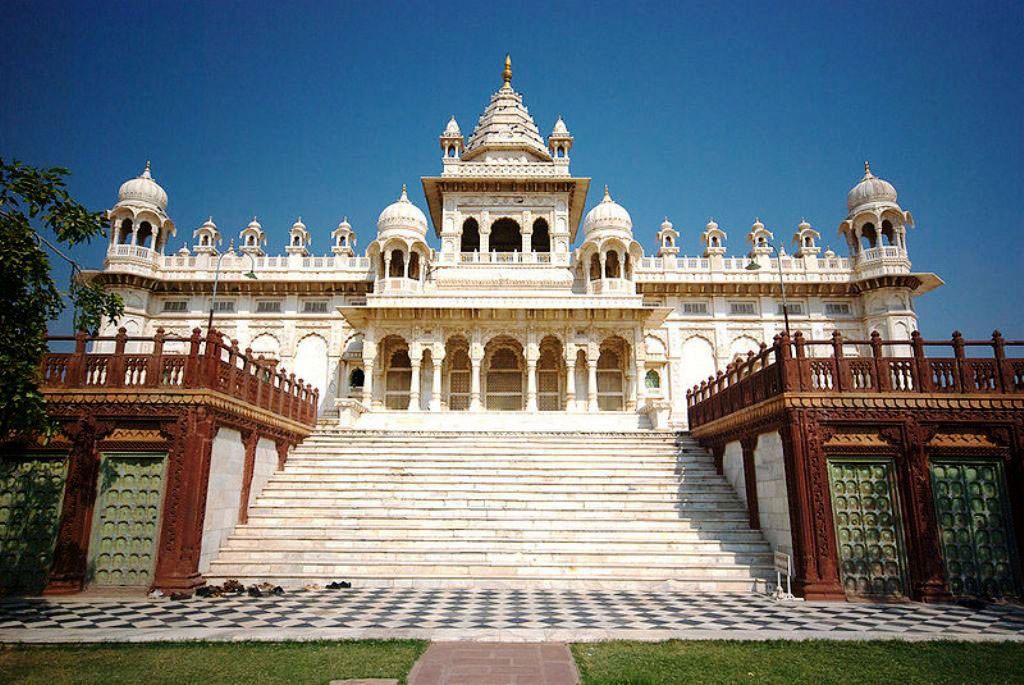 Jaswant Thada is a well-maintained temple built in 1899 by Maharaja Sardar Singh as a token of respect to his father Maharaja Jaswant Singh II – the 33rd Rathore ruler of Jodhpur. Inside the temple, you will see portrait and paintings of the historical rulers of Jodhpur. It is one of the topmost architectural brilliance in India.
Mandore Gardens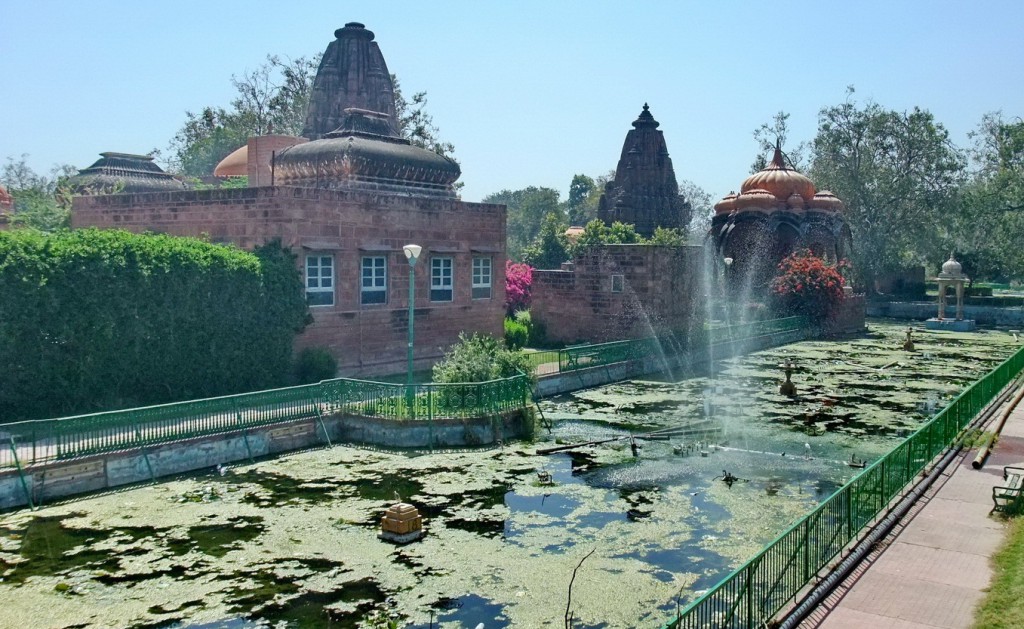 Mandore was once the capital of the Jodhpur rulers. The Mandore Gardens in Jodhpur is a heritage site that displays 'The Shrine of the Three Hundred Million Gods', cenotaphs made from red sandstone that resemble the Hindu temples, memorial dedicated to Maharaja Ajit Singh (a ruler of the Marwar region) and a lot more for you to explore. This well-maintained garden is a must-visit on your trip to Jodhpur.
Sardar Government Museum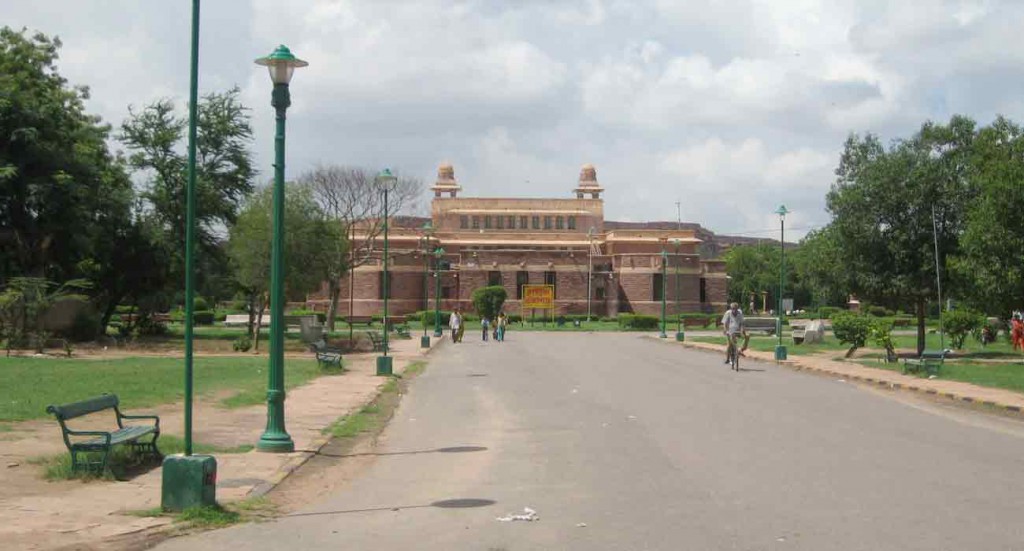 Established in 1909, the Sardar Government Museum is named after Maharaja Sardar Singh (1880-1911) of Jodhpur. This museum boasts a vivid collection of textiles, miniature portraits, weaponry, stone sculptures, traditional arts and crafts. The ambiance of this museum will take you back into the golden Rajput era.
How to reach Jodhpur?
By Air:
The closest airport is Jodhpur airport which is well-connected to Delhi and Mumbai. On reaching, you will get plenty of transport to reach Jodhpur.
By Rail:
The Jodhpur Railway station is well-connected to major cities in India. On arrival, you can book a cab for your onward destination.
Best time to visit Jodhpur? November to March
Now that you've read about the wonderful trios of Rajasthan, it's time for you to visit these places in real, interact with the locals, learn more about these places and know the history of the making of India.