Considered as the 'Switzerland of India', Kullu-Manali is the most beautiful place in India. The place is visited by tourists for many purposes. Some go there to dissolve themselves in the mollifying grace of nature and take over the hermit like tranquility. While some go for adventure treat to do some vigorous  trekking, skiing, para gliding and rafting. With the majestic grandeur of the Himalayas on one side, it becomes real fun along with adrenaline raising buzz while trekking in mysterious trails and routes. Then skiing on the snow slope and rafting down the river Beas would not kill the buzz, but add to it the explosion of enthusiasm.
But still, people are out there, who find Kullu Manali tour as the most fascinating destination and plan to spend there Honeymoon vacation. Verdant valleys preceded by sprawling meadows, enchanting sight of snow covered mountains, inviting fragrance coming off seamless apple orchards, chortling river Beas cutting through the town, gushing of waterfalls etc make this heavenly place a perfect vista for lovers to celebrate their love, passion and romance. It is a l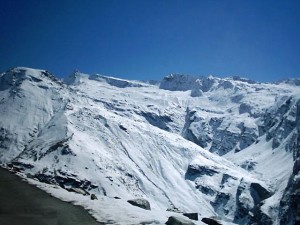 ocation with picture perfect beauty of nature accompanied by a totally pleasant weather.
Kullu-Manali is also stunningly beautiful in terms of abstract and spiritual terms. Hadimba or Dhungiri temple, Temple of Manu, Tibbetan Temple, Jagatsukh Temple and Devi Sharvati temple form the explicit specimen of deep-found spirituality of the people here.
Shoja, Raison, Kasol, Jagatsukh, Vishist Hot Water Springs and Temple, are few of the places you can go for; if you are planning a Honeymoon tour in Kullu-Manali. Visit these places along with your beloved and see your romance spring up high. For adventure tour in Manali, you could go for Manali travel packages like rafting, paragliding, trekking, skiing, camping, jeep safari and mountaineering.