Once a city of palaces, Kollam has been known to the outside world, by the proverb, "Once you have seen Kollam you would no more need your illam (Home)". Touted as the gateway to the backwaters of Kerala, a boat trip between Kollam and Alleppey is the longest and most delightful experience in the backwater and lets you to explore and experience the charm of the unique yet complex backwaters of Kerala. Almost thirty percent of the historic town is covered by the renowned Ashtamudi Lake.
Kollam was also one of the oldest ports on the Malabar Coast and was once the center of international spice trade. It is the cashew trading center of Kerala and you will find numerous orchards with their abundant yield of nuts. It is equally famous for its fishing industries and processing units. With a large area covered with Ashtamudi lake, you will reach Alleppey in 8 hours. Experience the charm of the backwaters of Kerala by going on a cruise on houseboat from Kollam to Alleppey which is the longest backwater cruise in Kerala. These well- equipped houseboats ensures a leisurely cruise and a cozy stay amidst the waters. The sights around are wonderful that you just would not want to end the cruise. The small villages you come across, paddy fields you pass and Chinese fishing net on the banks- all adds to the beauty of the backwaters.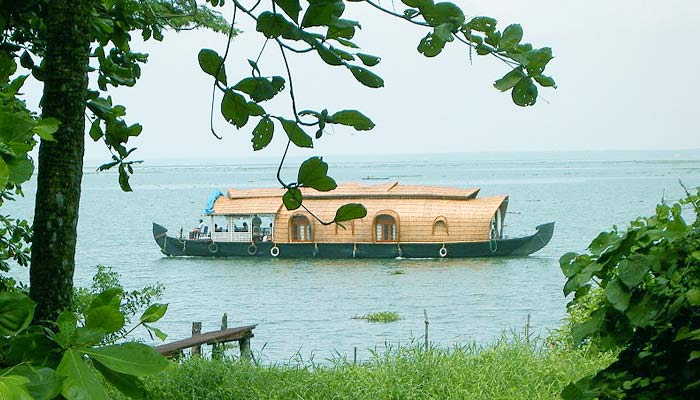 You will be enchanted with the scenes all around you and would love the journey. You can also make a stop at the Munroe island where you can see the simple rural life from close quarters. Alumkadavu village at a distance of about 23 km from Kollam on the way to Allapuzha is another such village. You can actually observe the craft of fashioning a Houseboat which are owned by many families used for their outing and to spend some time on the river.
While in Kollam, Take a walk around the historic town admiring the serene beauty and enjoying the nature's blessing. You can visit the market for some spice shopping and handcrafted products made of bamboo and coconut shells which make for perfect gifts to take back home. You can also indulge in ayurveda treatments for which Kerala is most popular. These service are offered in most of the hotels and resorts and has both aromatic and non-aromatic ayurveda treatments. The prime purpose of these treatments is to rejuvenate your body and soul.
A visit to this place is also a chance to explore its historical past. Kollam has been in existence and continuous habituation since Chera rulers. You will also see many ancient temples, mosques and churches which sings of the glorious past of it being a land of many religions.
So, next time you think of India tour, make a trip to Kerala. Book your tour with GeTS Holidays and avail exciting offers. Leave all worries regarding the tour to us. We will make sure, you have great trip.