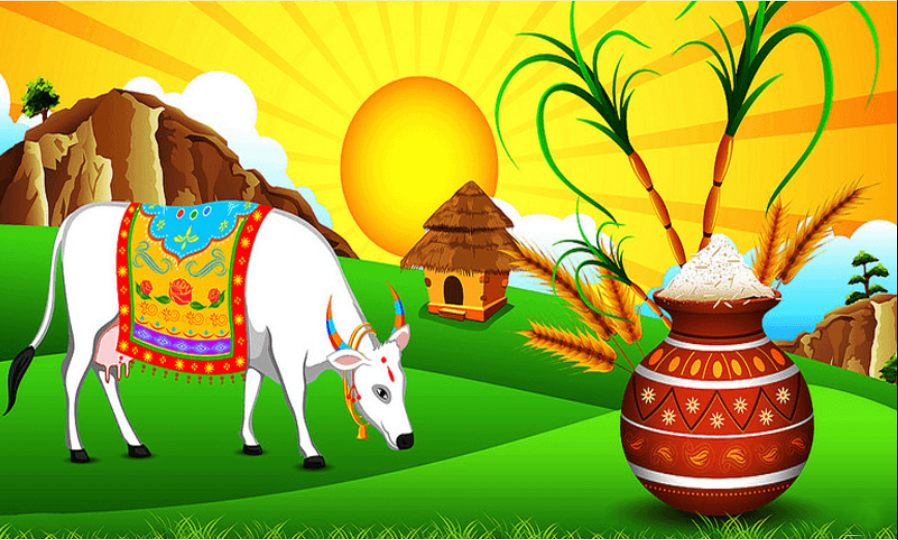 Pongolo Pongal!
Pongolo Pongal!
Pongolo Pongal!
As the month of January arrives, the happy cries of Pongal fills in the air of Tamil Nadu. After all, it is one of the most awaited festivals of Tamil Nadu. 
WHAT IS THE PONGAL FESTIVAL ABOUT?
The Pongal Festival is a 4-day celebration of Tamil Nadu, South India. Pongal in Tamil means "to boil" and this festival is celebrated by people of Tamil Nadu to offer thanksgiving to Sun God for a successful harvest and attract good luck, prosperity, happiness and peace in their life. During Pongal, the newly harvested rice is boiled in pots and the "boiling or spilling over" of rice signifies abundant harvest. Simply put, the Pongal festival symbolizes the veneration of the first fruit. It is observed in the month of Thai (January and February) in the Tamil calendar when rice and other cereals, sugar-cane and turmeric are harvested.
PONGAL 2020: 15th – 18th January
STORY BEHIND THE PONGAL FESTIVAL
The history of Pongal dates back to the Sangam Age (200 B.C. to 300 A.D). During this time, unmarried women worshipped Goddess Katyayani (form of Goddess Durga) for prosperity and rain of the country, took ceremonial baths every morning and refrained consumption of milk or milk-based products for a month. As per folklore, once Lord Shiva asked his Bull named "Basava" to visit the Earth and ask the people to take bath daily and eat once in a month. The bull forgot the message and asked the people to eat daily and take a bath once in a month. Lord Shiva became annoyed when he got to know this. Hence, he punished Basava to live on the earth forever and help farmers in producing more yield. Another folklore says that when Lord Krishna asked the cowherds to not worship Lord Indra, this enraged Lord Indra which led to continuous rains for three days along with thunderstorms. To save the humans, Lord Krishna lifted the Govardhan mountain with his little finger. Soon after, Lord Indra accepted his fault and realized the divine power of Lord Krishna.
HOW IS IT CELEBRATED IN TAMIL NADU?
A few weeks prior to the Pongal Festival, preparations begin with cleaning and decoration of houses. As it is a 4-day festival, the first day is dedicated to Lord Indra, second day is dedicated to Sun God, third day is denoted to worshipping of cows and on the last day, traditional Pongal rituals are followed.
DAY 1 – BHOGI FESTIVAL/BHOGI MANTALU

Celebrated as the Bhogi Festival to seek blessings of Lord Indra (responsible for the abundance of harvest). On this day, all the households follow the tradition of cleaning their houses and throwing all the unwanted household articles into the bonfire made of wood and cow-dung cakes. This symbolizes eliminating negative energies from the house and attracting positive energies. You can see young girls dancing around the bonfire and singing songs to please the Gods, the spring season and the harvest season.
DAY 2 – SURYA PONGAL

On the early morning of the second day of Pongal, women draw kolam, using coloured rice flour, outside their home. Later, all the people dressed in traditional dresses offer prayers to Sun God and hence, this day is called as Surya (Sun) Pongal. Also, an interesting ritual where every household discards utensils, especially those used for worship, is observed on this day. In accordance with the rituals, you can see groups of traditional women, gathered in a courtyard or open space, boiling rice and milk in earthenware pots with turmeric plants tied around them. This traditional dish called "Pongal" is cooked in a courtyard, with utmost hygiene, under sunlight as this dish is offered to Sun God at the time of worship.
DAY 3 – MATTU PONGAL

On the third day, Mattu Pongal is celebrated. It is the day of cows. A group of cows decorated with bells, colorful beads, corn sheaves and flowers are taken to the village centers. These cows are fed with Pongal dish. An Aarti is performed to keep evil energies away. The entire atmosphere becomes festive, full of fun and revelry. As per history, once Lord Shiva asked his bull – Basava, to go to the earth and ask every human to take bath every day and eat once a month. Mistakenly, Basava spread the message that everyone should eat every day and take bath once every month. This enraged Shiva and he cursed Basava to stay on the earth forever, plough the fields and help farmers produce more crops. Thus the association of this day with cattle.
DAY 4 – KANNUN PONGAL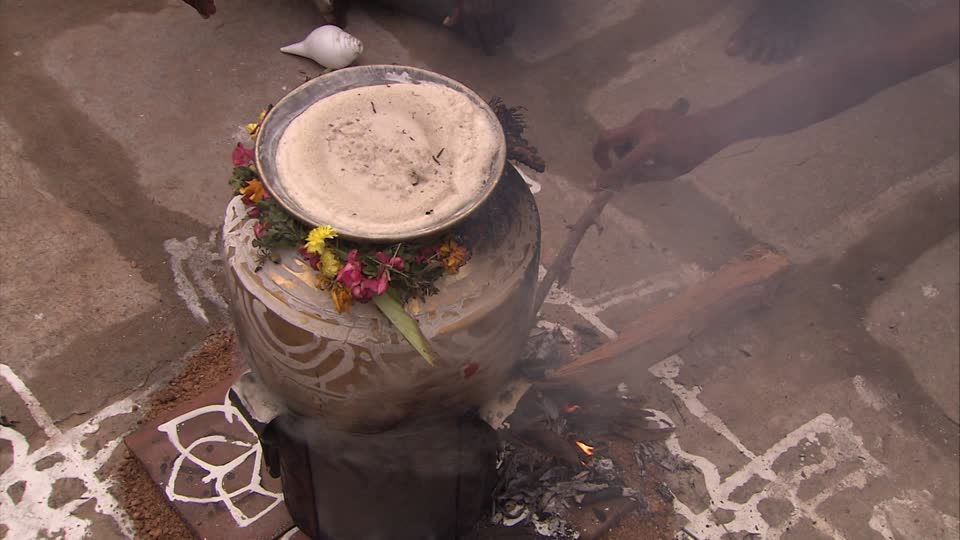 The Fourth day is celebrated as Kannum Pongal day. The families of every house express their gratitude for their elders, women pray for prosperity and happiness and sisters pray for the welfare of their brothers. On this day, a turmeric leaf is washed and placed on the ground. The leftover Pongal, plain rice and red-yellow colored rice grains, sugar-cane bits, betel nuts and leaves, and turmeric are placed on this leaf. It is later placed in an open-air space for the birds. Delicious Pongal dishes like Dosa, Sambar, Ven Pongal, Vada etc. are prepared on this day.
TRADITIONAL FOOD OF PONGAL FESTIVAL
In the Thai (January-February) month, crops like rice, sugarcane, turmeric etc. are harvested in Tamil Nadu. This marks the occasion of annual harvest season and hence, Pongal festival celebration begun.

During Pongal, two types of traditional dishes – salty and sweet are made. The Salty Pongal is prepared by boiling freshly harvested rice with lentils and added spices, salt, Ghee and curry leaves. It is usually called Ven Pongal. The Sweet Pongal known as Chakkara pongal is a delicious concoction of boiled rice with milk, jaggery, and dry fruits prepared in earthenware pot on an open fire. It is usually served on a banana leaf and enjoyed with sambar or chutney before starting the actual feast.
PLACES TO VISIT DURING PONGAL IN TAMIL NADU
MEENAKSHI TEMPLE, MADURAI
Madurai is a perfect destination to celebrate soak in the real essence of Pongal. The renowned Meenakshi Temple in Madurai was nominated as the new 7 wonders of the world. This temple is dedicated to Sundareswar (Lord Shiva) and Meenakshi (Goddess Parvati, wife of Lord Shiva). It's main temple is believed to be about 3, 500 years old. It is the lifeline of the Madurai city.
BRIHADESHWARA TEMPLE – THANJAVUR
Pongal festival is one of the most awaited festivals in Thanjavur. The people of Thanjavur. The whole city welcomes this festival with great enthusiasm and a resplendent feel. You can see women making Kolams on the entrance of their house, people dressed in traditional festive dresses, elephants decorated with beautiful beads, colourful flowers and lots more.
POLLACHI
Pollachi is a city located close to Coimbatore. The way from Coimbatore to Pollachi is a fascinating drive with captivating sights. It is dotted with various crop fields that makes Pongal a festival of great importance. While you enjoy the Pongal celebrations here, you can visit the Indira Gandhi Wildlife Sanctuary, Aliyar Dam, Parambikulam Tiger Reserve, Valparai, Monkey Falls and Masani Amman Temple, etc.
COIMBATORE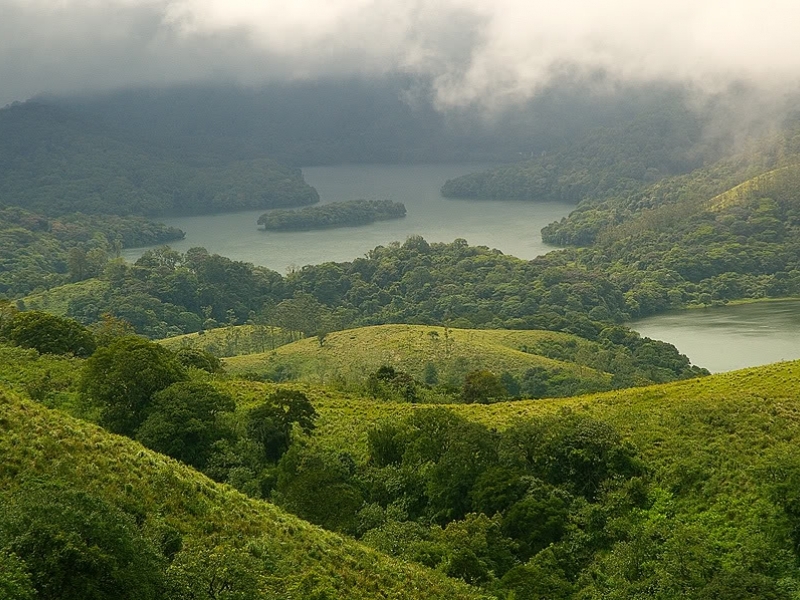 Coimbatore is a textile hub of Tamil Nadu and here, Pongal is celebrated just like how Diwali is celebrated in Delhi. Most of the city folks celebrate Pongal with fervour, decorate their home with Kolams and flowers and even light up their homes. It is a good place to do some festive shopping. The ancient temples and villages surrounding the city offers a rustic experience. Meanwhile, you can also visit the famous Anamalai Tiger reserve, Dhyanalinga Temple, Arulmigu Koniamman Temple, Marudamalai Temple etc.
To experience the best of Tamil Nadu, check out our Tamil Nadu tour here that will cater to all your needs.
The festival of Pongal is celebrated with such great zeal and vigor that it remains in the heart of everyone till the next Pongal comes. The celebration of this harvest festival varies in regions of India but is observed on the same day. Lighting bonfires and preparing lip-smacking feasts is a common element of Pongal celebrations everywhere. So it's time for you to plan a visit to Tamil Nadu soon. Checkout our Tamil Nadu tour here.