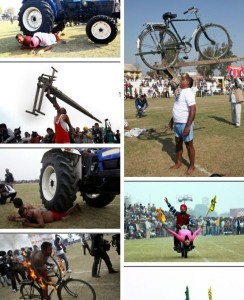 Winters in North India are foggy, marked by a steep dip in mercury. But low temperature is countered with high spirits! After celebrating Lohri, a harvest fest in Punjab, the state gears up for an annual sports event in Kila Raipur village, 15km off Ludhiana. A brainchild of Inder Singh Grewal, the fest tests endurance and physical strength of participants.
The modest event now wears a global tag wherein thousands of sportsperson irrespective of age and gender come together to be a part of this gala affair. This one-of-a-kind olympics gets over a million viewers from different parts of the world. What is rural sports? Well, hold on to your breath because this one's going to give you an adrenalin rush!
The events include bullock cart race, horse dance, dog race, tug-of-war, camel race. Eyes pop out when a man lifts a couple of bicycles with his teeth or drags tractors to test the endurance of his jaws. Chants of "oooohhh" cross decibel limits with someone lies beneath a moving tractor! Can you imagine pulling a vehicle with your hair? Well, it did happen here, all under one roof! For those who think it's bizarre, kindly brace yourselves up. On one such event, a man even lifted a plough with his mouth, hands tied.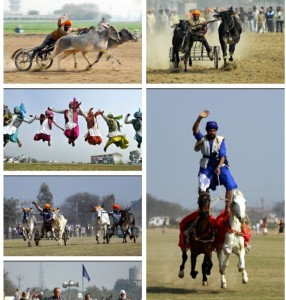 A new-age programme has evergreen octogenarians on tracks! Pushing old-age blues away, the high spirited senior citizens battle it out for the first spot. Evenings are brightened by folk performances. Bhangra is a popular dance form of Punjab, where men dance to dhol (traditional drum) beats sometimes on one leg and Punjabi tunes. Men flaunt a bright turban, kurta teamed with lungi (colorful cloth draped around waist).
Women are not far, they groove to Ghiddha, another folk dance form originating in Punjab. The dancers charm audience with graceful moves and ethnic salwar kameez accentuated with ornaments.
Eyebrow raising stunts are not meant for the weak hearted. There more to being sporty. For those who have been a witness to it, know how the deadly performances strike a balance between healthy body and healthy mind. Motorcycle stunts are myriad. Participant showcase their valor through unique show of strength. Women take part in kabaddi. A lot of gymnasts, athletes and acrobats get a good platform to show their talent.
Wondering how to get there? You can get there by a 40minute flight from Delhi. Kila Raipur has a good network of roads, hence getting here is not a problem. This year, the rural fiesta will be hosted from 31st January to 3rd February. Be there to check out Indian heroes!