No matter where you have travelled in the world, you must travel to Andaman once to discover an archipelago blanketed with green landscape, mystifying culture and mind blowing adventure activities. On your arrival to Port Blair, the city will welcome you with clean roads and fringing coconut trees. Less pollution and population help preserve the beauty of this small yet pristine atoll. No need of planning a long holiday, a short trip of 5 to 6 days is more than enough to explore this exotic bundle of islands.
The beauty of Andaman is not only silver sand beaches and azure sea. The beauty is also embodied within the walls of historical Cellular Jail that was once the home of several freedom fighters who fought for India's freedom. The capital of Andaman, Port Blair offers some exquisite sightseeing destinations, where natural and historical splendor offers a sweet mixture to the visitor's eye. The Ross Island is just a ferry drive from Port Blair. Once the base for British Administrator of the penal colony in Port Blair, the island now serves as a must see destination. Broken British forts, somewhere dense somewhere light jungle and peacocks and deer make up the island. The historical Cellular Jail with its isolated cells is the most honored spot. The evening light and sound show will let soak in the story of glorious fighters. Corbyn's Cove beach is one of the most wonderful beaches of Port Blair. Though badly hit by 2004 tsunami, the beach still arrests the attention of visitors with its eminent sun basking and sea bathing. Mount Harriet located at a height of 1200mts is a splendid sight to watch sunrise and sunset. Anthropological Museum and Samudrika Naval Museum are few eye catching museums in the island country.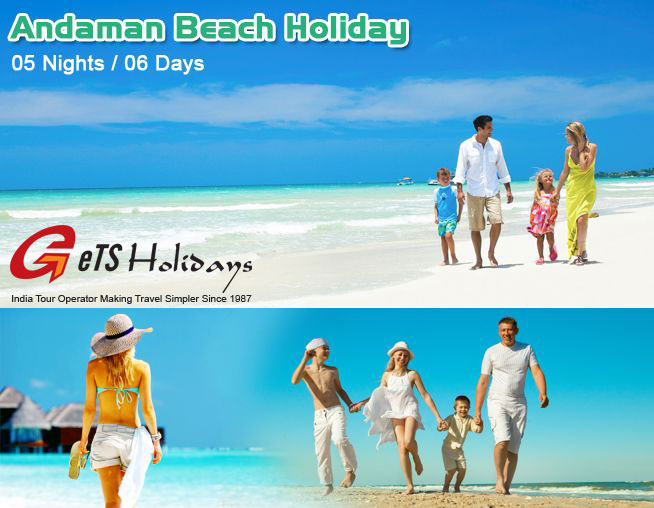 A boat cruise from Port Blair will take you to Havelock Island. With several luxury resorts offering good food, music and stay, Havelock became an ideal destination to spend a serene solace vacation. One of Asia's famous beaches, Radhanagar Beach is located here. Tall green trees and mild hilly roads will take you here. Swim against rising waves; sit on the branches of fallen trees, experience flat sea bed slumber near endless blue water and wake up to watch the sunset on the sea. Take a forest walk to reach the Elephanta Beach. Water tides here and there, tall trees covering the sunlight; you will have the most adventurous walk ever. But it is one of the pristine beaches with corals and crystal clear water. Though you won't find much human population, you can see thousands of colored fish and small marine creatures. Go for snorkeling or scuba diving and before returning take leisure walk across the beach.
Green forest and sandy beaches make up Neil Island. Its less popularity is a main reason for its less crowded surrounding. A walk through the jungle takes you to the picturesque Bharatpur Beach where you can enjoy a safe swim on calm waters. Laxmanpur beach is an ideal sight to enjoy a charming sunset sitting on the fallen tree branches. Howra Bridge, a natural bridge formation is a spectacular sight to watch in this triangularly shaped island. Rejuvenate yourself amongst the lush green ambience resulting in a stunning tropical paradise. It is apt for those looking for a break from mundane city life.
Cruising to Andaman is actually breathtaking. Books your seats with GeTS Holidays to take a pleasant dip in the deep blue ocean, savor the delicacies of sea food and soak in the thrill of adventure. In one word, be ready to enjoy the most exotic vacation of life.