Rafting on untamed rivers, crossing aggressive rapids and traveling from one part of the water body to another is an adventure in itself. A lot of mighty rivers gushing down from the Himalayan ranges in northern and eastern India open the doors to some exquisite white water rafting destinations in India. Adventure junkies from every corner of the world visit India exclusively to get a feel of white water rafting. Ganges, Brahmaputra, Indus and Zanskar rivers gush between hills and gorges and tumbles down to fast flowing currents to offer a lifetime rafting experience.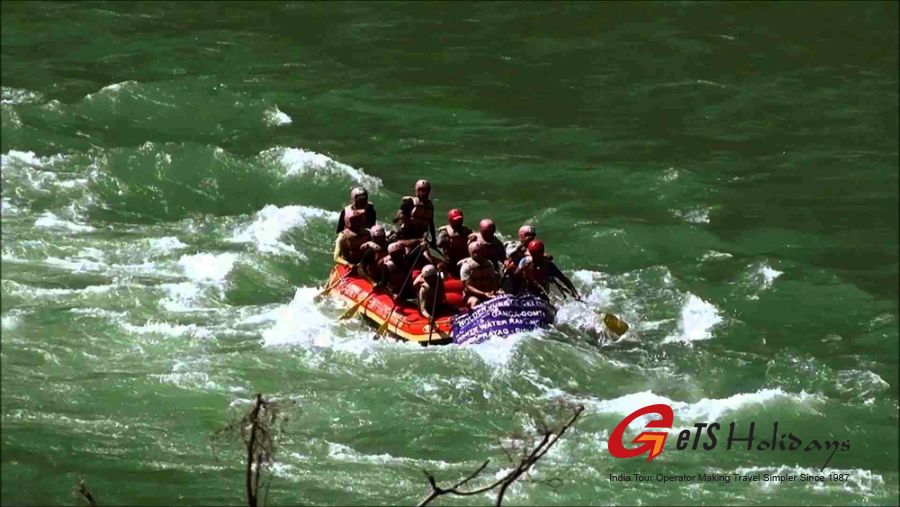 The most sought after and crowded rafting destination in India is Rishikesh, a perfect mélange between natural wonders and holy India. Rafting on the Ganges is no doubt an experience of a lifetime. It comes with a combination of beautiful white sand beaches below and scenic mountains at the backdrop. The rafting stretches from Shivpuri to Lakshman Jhula and comes with several rapids ranging from grade 1 to grade 4. One of the most interesting facts about rafting in Rishikesh is that people without any skill or rafting experience can try out this adventurous water sport.
Brahmaputra is perhaps the most challenging river to raft. The river cuts its way through the highest mountain ranges of the world and form deep gorges along its way. Rafting on the Brahmaputra provides a deep insight into the river valley, tribal life and villages, migratory birds and dense forests. Take a boat from Dibrugarh to Pasighat and drive till Tuting, the entry point of Brahmaputra into India. You get to encounter with grade 3 and grade 4 rapids in the beginning and come across deep gorges located deep inside impenetrable forests. The rafting stretches from Tuting to Pasighat, the ending point of the journey.
The Teesta River in Sikkim promises to take you through some of the most magnificent riverside landscape view of the mighty Himalayan ranges. The rugged Teesta rages over rocks frothing its way down to the plains, crisscrosses through deep forests and offers several multidimensional rapids ranging from grade 1 to grade 4. Both first timers and experts can try their hands on rafting in Sikkim. While first timers can go for a half day rafting over the low waters and enjoy scenic view of the Northeastern Himalayas, experienced ones can go towards bigger and rougher rapids.
The snow-capped mountain peaks of Ladakh surrounding the Zanskar River offer a perfect setting for white water rafting in India. The Zanskar River offer several rapids ranging from grade 1 to grade 5 and crosses through remote areas and bumpy lands. White water rafting in Ladakh is also one of the best ways to experience the grey rolling mountains, green meadows and tiny hamlets that add to the unparallel beauty this desolate yet heavenly region.
The thrill of white water rafting in untamed rivers of India is unparallel to rafting on any other rivers of the world. Rivers gushing down from the zenith of Himalayas with lush green forests bordering it create a beautiful sight to stare at. White water rafting in India thereby remains an all time favorite adventure activity by millions of worldwide adventure lovers.