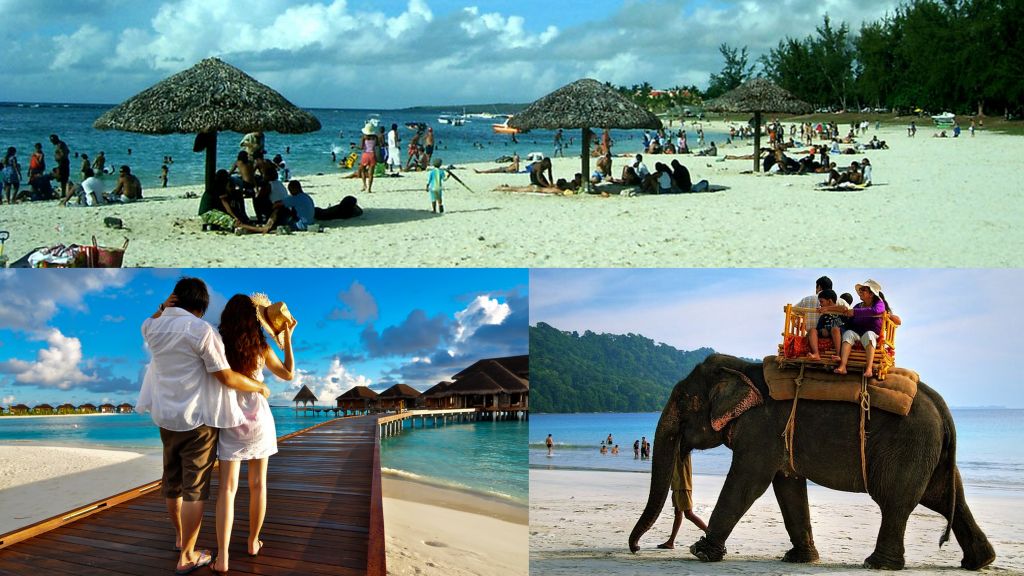 As unusual as it seems, a honeymoon at the Andaman's could be a wonder goodie to begin the beautiful journey of life together. The immense beauty and the eco-friendly aura lure you to the lush green islands and the ever so soothing waters that surround the place. With the perfect time to visit the islands being from mid November to April, it is throughout-the-year a pleasantly weathered place having a tropical climate. An easy connectivity via air as well as via sea is an added advantage to the tourists world over.
Andaman Islands have a distinct feel, which makes it a for an amazing honeymoon destination choice with a motive to 'explore the hidden secrets' of your relation as well as of the deep waters and the coral reefs. The elite hotels, fine-diners and an enormous range of adventurous activities provide as a unique, pampering experience of a lifetime. The dazzling locales alongside the calm wave of the waters are certain to give the couple a romantic privy gateway into a world of enchanting harmony. The cerulean waters, sandy beaches and a resplendent appeal of the surrounding natural scenic beauty of the Andaman's offers a distinguished delight in making for the honeymooners.
Experience-enhancing attractions of the place include water sports like under-water swimming, scuba diving, sport fishing and snorkelling in the radiant waters of the Islands. To throw light on the Indian historics, the Andaman museums put up a beholding spectacle of some of the untouched and unexplored pieces. Museums catering to the pursuit of people include the National Memorial or The Cellular Jail, Smritika Museum at Ross Island, Fisheries Museum and the Anthropological Museum.
Andaman's beautiful scenic Islands are among its most cherished treasures and aid a gratifying experience to the human depths. The Islands' tranquillity brings a sense of fulfilment to your soul and paints a beautiful picture for the eyes to behold. Ross Island, North Bay (Coral Island), Viper Island, Baratang Island, Havelock Island, Jollybuoy Island and Redskin Island are among the popular worth seeing islands. The powdery sand of the beaches and the cool breeze gently stroke your skin creating a magical touch. Corbyn's Cove, Radhnagar Beach, Long Island Beach and the Elephant Beach are among the top sun soaked beaches of the Andaman's. Cradling in the lap of nature, one is sure to experience anything but sheer bliss in the purity of the green and wet environs of the Andaman's.