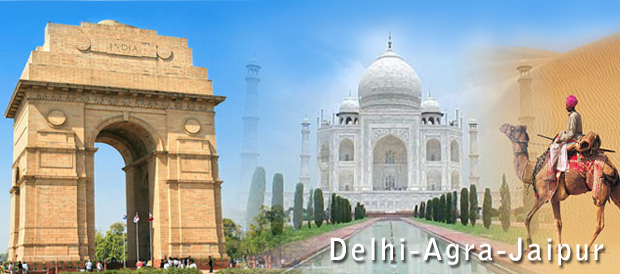 A trip to incredible India is incomplete without a tour to its ancient and grand fort and monuments. And what is better than a travel plan which covers the three historical cities of northern india.
DELHI, the capital of India, is not only a political hub but also a wonderful tourist destination noted for its architectural buildings like red fort, jama masjid, qtub minar, humayun's tomb and old fort. The city's importance lies not only in its past glory but also in its rich and diverse culture. The city has been a muse to poets like Amir Khusrau and Ghalib.
AGRA, located on the banks of river Yamuna, is a home to one of the Seven Wonders of the World: TAJ MAHAL- the very epitome and embodiment of true love. Built by mughal emperor ShahJjahan in the memory of his beloved wife, Mumtaz Mahal, Taj mahal is incomparable in its beauty. But Tal Mahal is not the only reason for visiting Agra, Akbar's tomb, Buland Darwaza in Fatehpur Sikri and Agra fort are some of the other attractions.
JAIPUR: the final destination of grand triangle tour is the pink city, a land of royal rajputs known for their courage and bravery. The visit will surely let you get a glimpse of India's royal past. Hawa mahal, Jal mahal, Aamer fort, Jantar mantar, there are so much to see in Jaipur. The rich heritage and colourful culture of the city will make you feel out of the world.
So next time you visit India, make the most of your trip by choosing golden triangle tour and explore incredible India through its unforgotten history and amazing art and architecture!!