One of the biggest festivals in the country РDurga Puja is just around the corner. The festival is celebrated with great pomp and show. You may mistaken this as any other fiesta, but believe us, certain colors, traditions, pomp and rituals, you cannot experience elsewhere but only only during Durga Puja; and if it to say then the ultimate destination should be Kolkata, Bengalis all around the world await for this festival eagerly and celebrate with utmost zeal. As you read, you'll find out why you must Kolkata this year for Durga Puja.
In 2018, Durga Puja will be celebrated from October 14-19, followed by a grand immersion of Durga idols in rivers on October 19, 2018.
Where is it celebrated?
West Bengal is the hub of Durga Puja festival. Durga Puja is the biggest and most important occasion of the year for the Bengalis and hence, it is celebrated in utmost grandeur in the state of West Bengal, particularly in the city of Kolkata.
However, Bengali communities residing in other locations across India celebrate Durga Puja as well, in a substantial way in major places of the country.
Gear up for extravagant experience like no place on earth, this time in India – the Land of Festivals.
Things to do and see during Durga Puja in Kolkata:
1. Go Pandal (Marquee) Hopping
Sight creative and artistic talents at their best of the pandals made for Durga Puja. Bedecked in all their finery, the pandals during Durga Puja in Kolkata will give the biggest artists in the world a run for their money. From perfect thematic creations to color coordination, from innovative designs to award winning Durga idol moldings, it's hard for anyone to take their eyes off such exquisite display.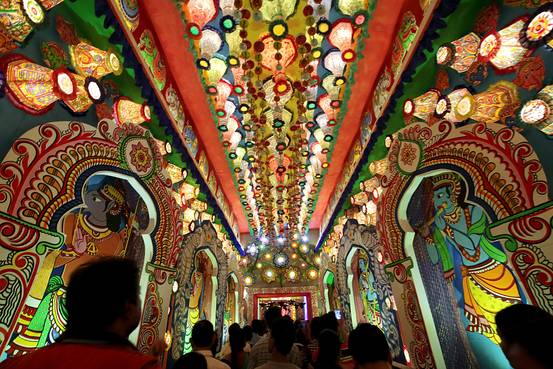 2. Enjoy the Best of Bengali Food
No one goes hungry from Bengal, especially during Durga Puja. When the rest of the North India celebrates Navratri festival during this phase and vows off all non-veg food, Kolkata overdoses with so many varieties of meat and seafood. Be it the street food, the food courts around the pandals, the delicious Puja bhog or even the gigantic spread at homes.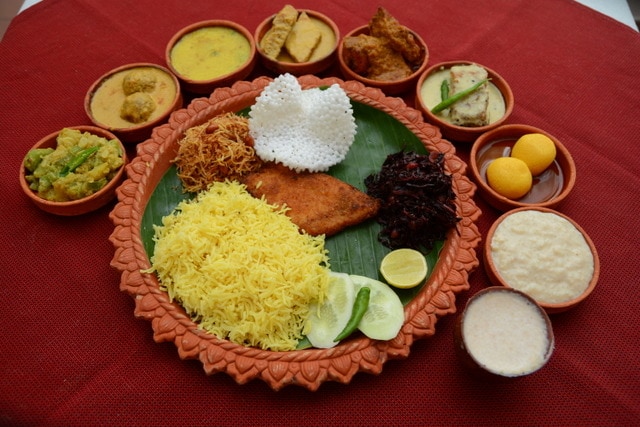 3. Be a kid in the huge Melas or Fairs
Melas or Fairs are a big hit especially with the kids. And you should also not miss the chance to be one.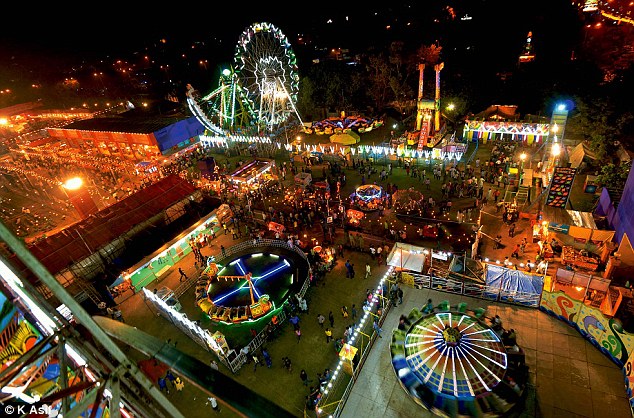 4. Get a Reason to get all Dressed up
Durga Puja is the right time when all Bengali women from young to old get dressed in all their fineries and step out to attend the Puja. And, men are not far behind too.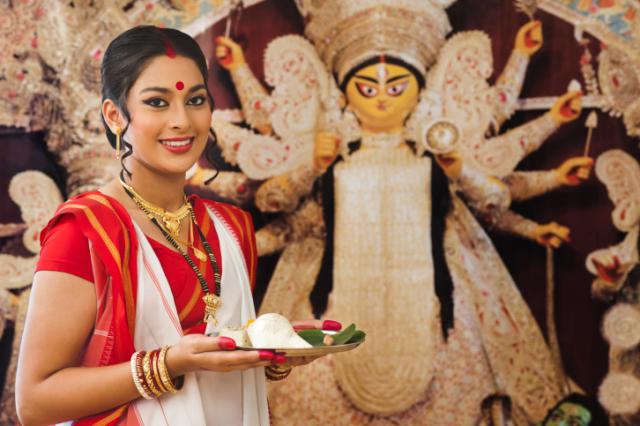 5.Watch Cultural Programs
It is also a great time for cultural buffs to check out cultural stage events happening around the city.
6.Watch the crazy Dhunuchi dance
If you are up for some crazy dance moves then you must definitely watch the Dhunuchi naach (dance). It's when men and women dance with a dhunuchi (an earthen pot filled with dried coconut fibre lit on fire). People compete to get the best dancer prize.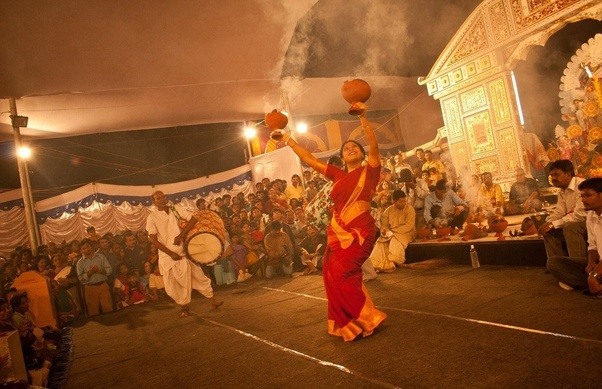 7. Get drenched in the holy red color on the day of Sindoor Khela
An auspicious as well as fun occasion. Women, especially those who are married play with red Sindoor on the last day of the Puja.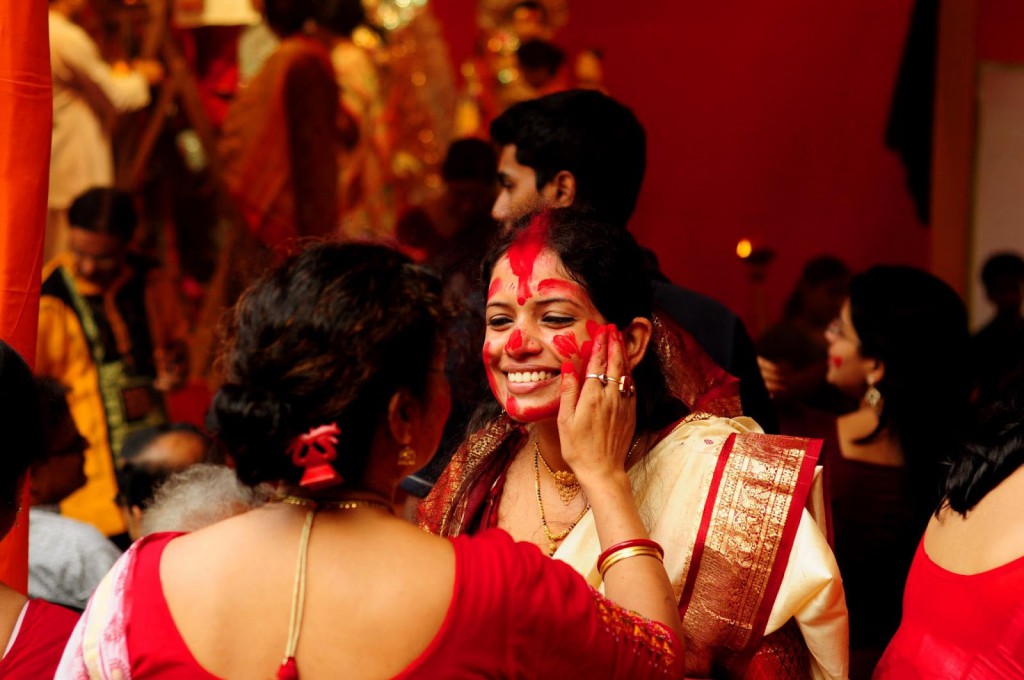 8. Dance to the thumping tunes of Dhak music
Durga Puja does not assume the festive aura without the maddening beats of the dhak (a huge membranophone instrument). You can't help but get your feet tapping to the thumping sound of the Dhak beats being played out loud.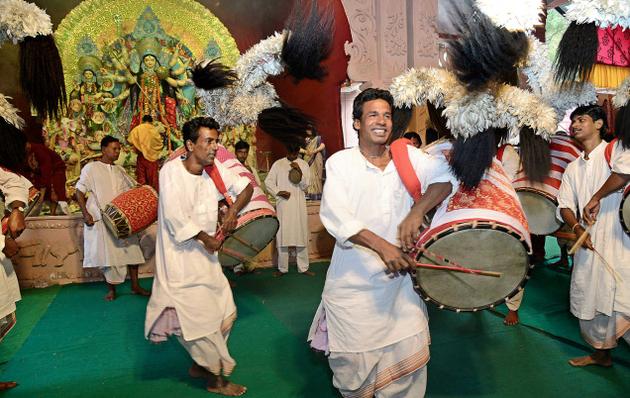 What to expect during Durga Puja?
Durga Puja is a complete social and theatrical event. Dance, drama, and cultural performances are widely held. And no-to-miss, the favorite part of the Bengali celbrations, Food, is a huge part of the festival; you'll see food courts lined all over Kolkata, especially during Durga Puja.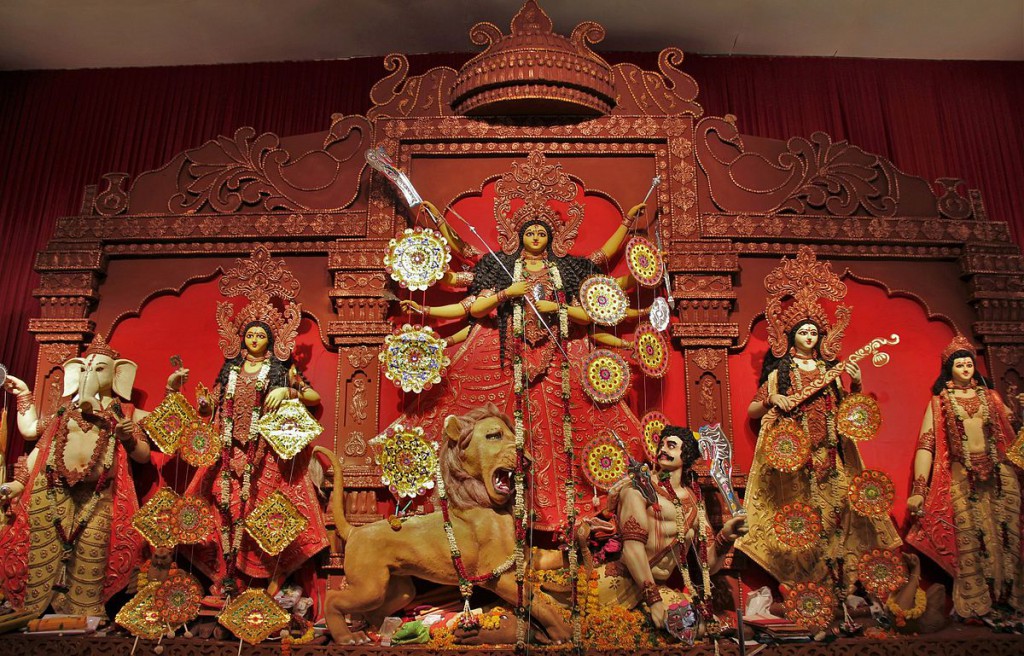 Be a part of this grand celebration; and as they say in Bengali, HAPPY DURGA PUJO!!!
DATES FOR DURGA PUJA IN KOLKATA IN 2018:
Name of Events    :       Date of Events
Mahalaya ¬† ¬† ¬† ¬† ¬† ¬† ¬† ¬†–¬† ¬† ¬†9th October¬†2018
Maha Panchmi ¬† ¬† ¬†–¬† ¬† ¬†14th¬†October¬†2018
Maha Shashthi ¬† ¬† ¬†–¬† ¬† ¬†15th¬†October 2018
Maha Saptami ¬† ¬† ¬† –¬† ¬† ¬†16th¬†October 2018
Mahaa-Ashtami ¬† ¬†–¬† ¬† ¬†17th¬†October¬†2018
Mahaa-Nabami ¬† ¬† –¬† ¬† ¬†18th¬†October 2018
Bijaya Dashami ¬† ¬† –¬† ¬† ¬†19th¬†October 2018