Mahabalipuram, also known as Mamallapuram, is a historic site located in Tamil Nadu, South India. It is a picturesque location popular for its artistic structures depicting a blend of architecture, ancient civilizations and mythological beliefs of the time of its existence. Most of the monuments dates back its origin to 7th and 8th Centuries that are now listed under UNESCO World Heritage Sites.
MAKING OF MAHABALIPURAM MONUMENTS
Mahabalipuram is a city named after Narasimhavarman I (a Tamil king of the Pallava dynasty) who ruled during the 7th century. However, Mahendravarman I (AD 600-30), father of Narasimhavarman I, holds the credit to establishing few monuments here like the chariot-shaped temples, open air bas-reliefs, rock-cut caves etc. Later in the 8th century, structural temples gained more prominence during the rule of Rajasimha (a king of the Pallava Dynasty in South India). Hence, he contributed in the making of the Shore temple.
The unique monuments in Mahabalipuram is an amalgamation of religion, culture and legends and Dravidian style of architecture. Here's a quick insight into the unique monuments, primarily divided into four categories – Ratha (chariot) temples, Mandapas, Bas-reliefs and structural temples – that will keep you lured in Mahabalipuram.
1) Panch Ratha Temples – 5 temples, 5 Pandavas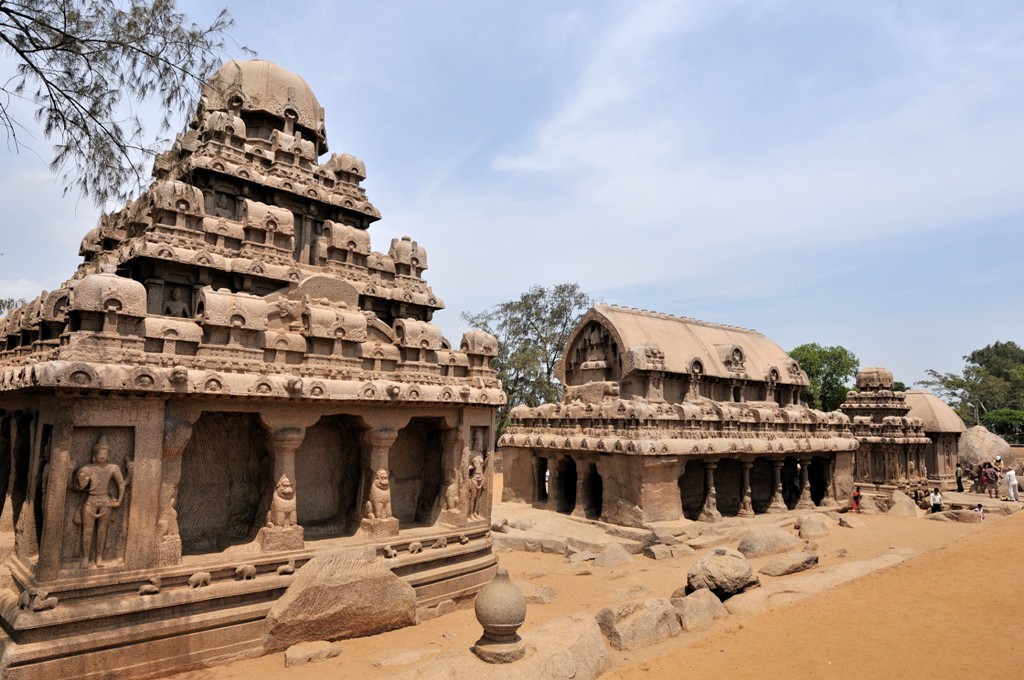 The Panch Rathas are a set of 5 rathas wherein each is shaped in the form of a chariot and is carved out of a large stone or monolith (large block of stone). These temples are as old as 7th century when the Pallavas ruled South India. This UNESCO World Heritage Site is a set of five monolithic structures named after the Pandavas (Arjuna, Bhima, Yudhishtra, Nakula and Sahadeva) and Draupadi (their common spouse) of the great Indian epic Mahabharata. The Drauapadi Ratha is dedicated to Goddess Durga (divine female energy), Arjuna Ratha is dedicated to Lord Shiva (God of destruction), Bhima Ratha is dedicated to Lord Maha Vishnu, Dharmaraja Ratha is dedicated to Lord Harihara (fused representation of Vishnu and Shiva) and the Nakula Sahadeva Ratha is dedicated to Lord Indra (God of Rain).
2) Arjuna's Penance – an Art with a vision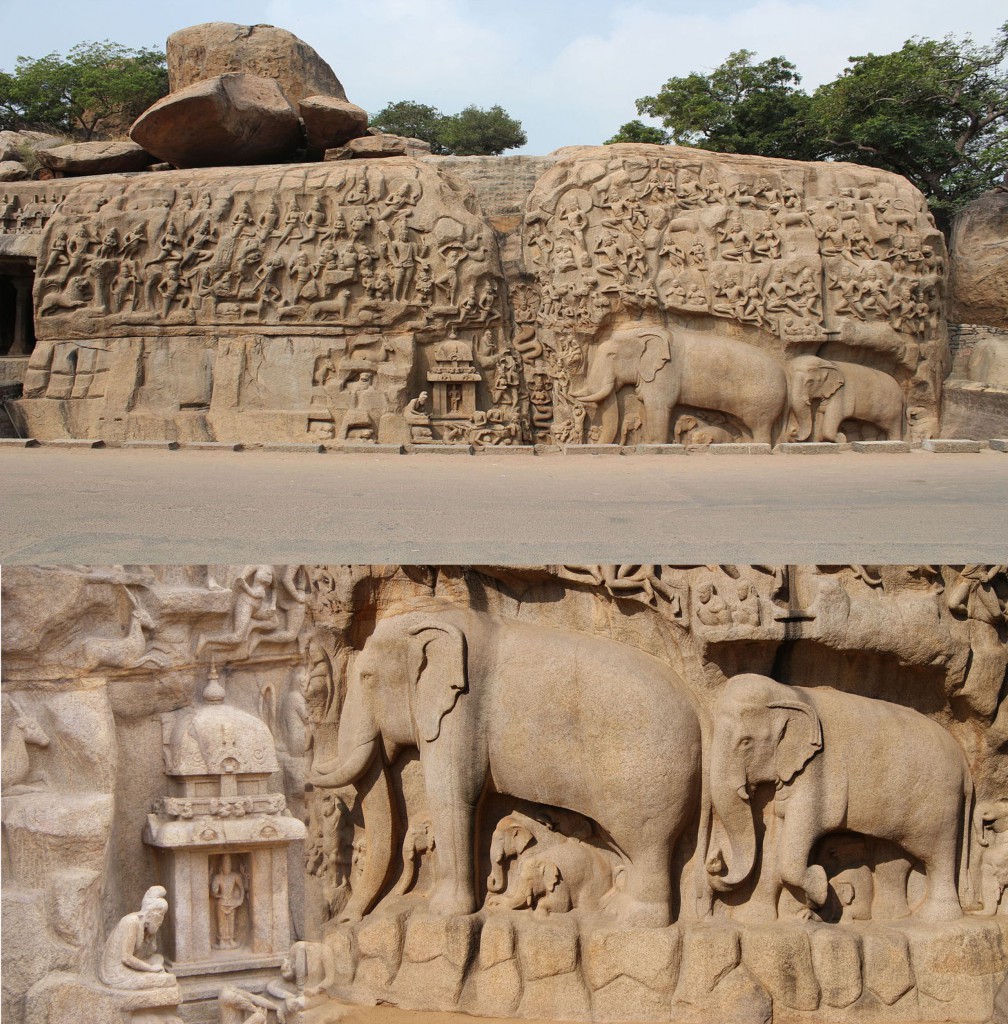 Arjuna's Penance is a wonderful bas-relief dating back to the mid-17th century. This art piece displays various events of Hindu mythology. One of them is wherein Arjuna, one of the Pandavas in the epic Mahabharata, performs severe austerities in order to obtain Shiva's weapon -Trishul. This relief also displays figurines of celestial and natural beings. It has a natural cleft populated by snakes that separates it into two halves. On the top left side of the relief, you will see Arjuna standing on a single leg with his arms in the air, seeking the blessings of Lord Shiva. Behind him Lord Shiva is depicted. On right side of the relief is a spectacular carving of an elephant overlooked by celestial angels. The liveliness and naturalism of the sculpted figures of this relief speaks the ultimate skills of the craftsmen of its time. At its backdrop, the Mahabalipuram Dance Festival takes place every year during January-December.
3) Shore Temple – Home to Shiva and Vishnu
Shore Temple is a beautiful spectacle located on the shore of Bay of Bengal, built in the 7th century. It perfectly depicts the grandeur of the Pallava Dynasty that ruled South India from around 500 years (275 CE to 897 CE). It primarily comprised of a temple dedicated to Lord Vishnu built by Narasimha Varman I – ruler of the Pallava dynasty (695 to 722 AD) and later, two temples were built dedicated to Lord Shiva by Narasimha Varman II – who ruled South India from 630–668 AD. On its entrance, rows of Nandi (said to be Lord Shiva's vehicle) figurines welcomes its visitors. Inside the temple's complex, there is a Shivalinga and a reclining image of Lord Vishnu. Also, it is a popular spot to enjoy mesmerizing sunset views.
4) Cave Temples – The Grace of Mahabalipuram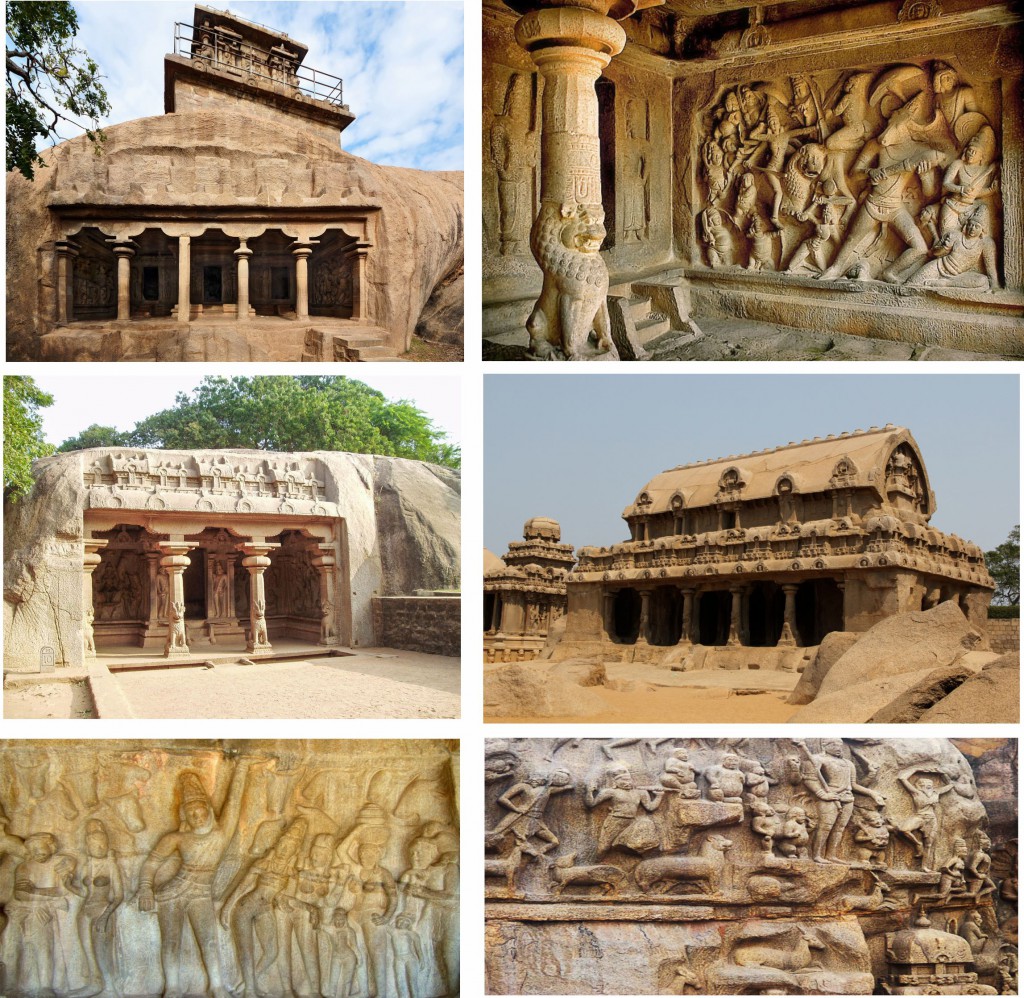 The Cave Temples here are 7th century rock-cut temples adorned with artistic bas-reliefs that can be traced back to the Buddhist period. There are about 11 Mandapas or cave temples out of which the Varaha Cave Temple, Krishna Cave Temple, Trimurti Cave temple and Panchapandava Cave Temple are the most noted ones. The sculptures of these temples represent realism and elegance of its craftsmen. The major highlight of these cave temples boasts a masterpiece of art work of the Goddess Durga (divine form of power) with four arms, Gajalakshmi (Goddess Lakshmi) seated on a lotus flower and lot more.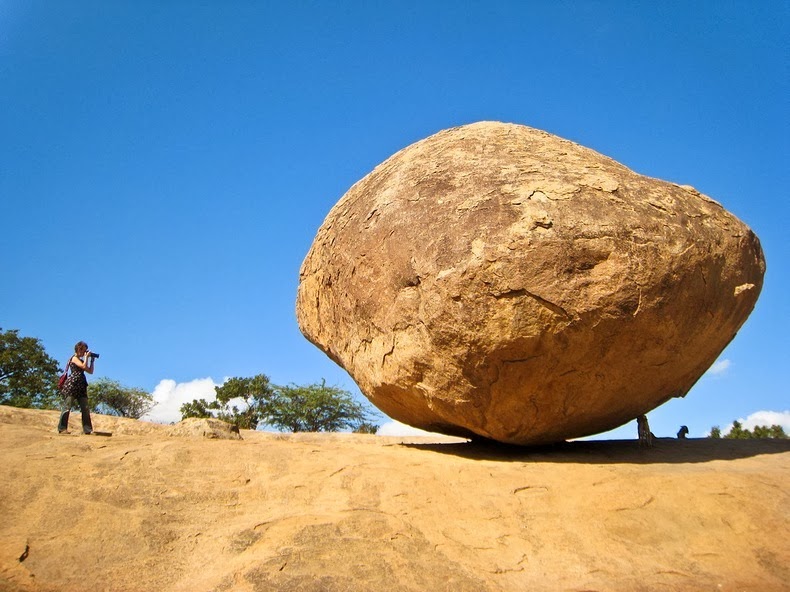 While you explore these ancient monuments of Mahabalipuram, don't miss out the Krishna's Butterball (just a km away). The Krishna's Butterball is a precariously standing 250-ton boulder on 45 degrees since 1,300 years. It is a popular tourist spot to click amazing photographs.
When is the best time to visit Mahabalipuram?
The best time to visit Mahabalipuram is October to March.
How to reach Mahabalipuram?
By Air:
The closest airport is Chennai International Airport, approx. 2 hours from Mahabalipuram. It is well connected to major cities in India and outside India. On reaching here, you will get plenty of cabs for your onward destination.
By Rail:
The nearest rail head is Chennai Railway Station, approx. an hour from Mahabalipuram. On arrival, book a cab for your onward destination.
Mahabalipuram is one of the oldest cities in India that holds a group of Monuments that are listed under the UNESCO World Heritage Sites. With its bountiful history, architectural stories, mysterious cave temples, it is an awe-inspiring tale to leave you intrigued.