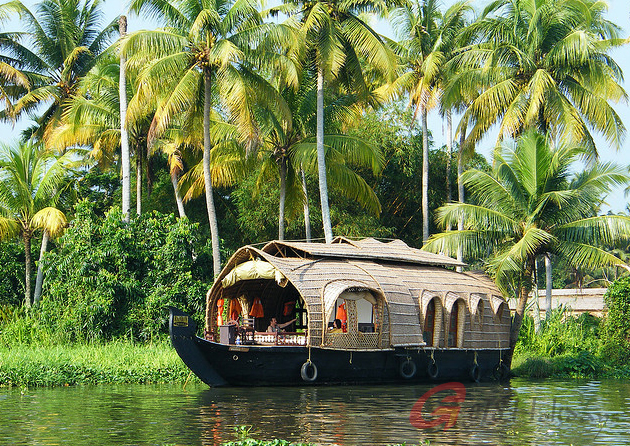 A place where nature is found in its best form, vacation in Kerala is truly a great experience. With its palm fringed beaches, serene backwaters, lush hill stations and sprawling plantations, it makes you aware of the blessings Mother nature conferred on humanity. Kerala offers the perfect setting to renew your mind and soul. Bordered with Arabian sea on one side of the state and Nilgris mountains on the other, it takes you on a visual treat once you are here. You feel elated by the serenity around you which provides a peace of mind. The immense cultural beauty and natural splendor is what Kerala is all about!
From the palm- fringed beaches of Kovalam to the lush green hills of Wayanad, Kerala is filled with natural wonders. You will find here the unexplored wilderness and the vast spice plantations. Experience bliss while cruising on the placid backwaters in a houseboat and enjoy the warm hospitality and delectable cuisine on board. The cruise on the beautiful backwater covers destinations like Alleppey, Kollam, Kuttanad and Kumarakom. Have great adventure while exploring the unspoiled tropical forests on Wayanad. The vast stretches of misty mountains, green meadows, white water springs,serene lakes and wild forests express the splendid natural beauty of Wayanad. It is a paradise for nature lovers and trekkers. Visit the wildlife sanctuary in Periyar to explore the varied flora and fauna of the region. This sanctuary offers the unique opportunity to watch and photograph wild elephants at close quarters. The wonderful hill station of Munnar offers spectacular views of low flying clouds, misty valley and cascading waterfalls. Explore tea and spice plantations of the region for which Munnar is well-known. All this and so much more! Kerala is undoubtedly a hidden treasure, the more you dig, the more you will find.
On your tour to Kerala, shopping for spices, tea and coffee is a must. After all that is what kerala is known for. The cultivation of cardamom, cinnamon, cloves and pepper could is done here which also are exported to other countries. These spices have always been a point of interest with people all across the world. The other activity that should a 'must do' on your list if you travel to Kerala is to indulge in Ayurveda spa and treatments. Pamper yourself with a massage and revitalize your body, mind and soul.
So, if you plan a trip to India, make sure you include Kerala in your itinerary. It not only make you come across the diverse culture and traditions but also enjoy South Indian cuisine which is a treat to your taste buds and includes unique flavorful sea food. You will completely love your time spend in God's own country, that will linger in your minds for long.