Planning a trip to India in March or sooner? Here's presenting, the most colorful and joyful reasons if you wish to witness India at its most vibrant. Visit India during spring, a beautiful time to pack your bags and travel across the country and welcome the Vasant Panchami or Holi. Witness the colorful hues and vibrant festivals of this diverse country, loaded with culture and traditional practices during the Festival of Colours. It is the season of colors, merriment and joy! No doubt, you will find India at its happiest during Holi.
As a Hindu festival celebrated in India, Holi is rightly called the 'festival of colors' or the 'festival of love'. People smear colors on each other, sing and dance to traditional tunes of the festival. The celebrations commemorate 'victory of good over evil' and mark the end of winter and the abundance of the spring harvest season. Holi is celebrated differently in different parts of the country, but, with extreme enthusiasm and joy.
Holi is usually celebrated each year in the month of March.
2018 date: 2nd March.
On the eve of Holi, after sunset, people light bonfires to mark peace and happiness symbolizes victory of good over evil. It is a ritual that is known as Holika Dahan. People sing and dance around the fire. The emphasis of Holi rituals is on the burning of demoness Holika. People enact the scene of Holika burning to ashes every year to mark the victory of good over evil.
Holi is also related to Lord Krishna, who is believed to have started the tradition of playing with colors and smearing them on his beloved Radha and her companions. Gradually, the tradition has gained popularity and evolved.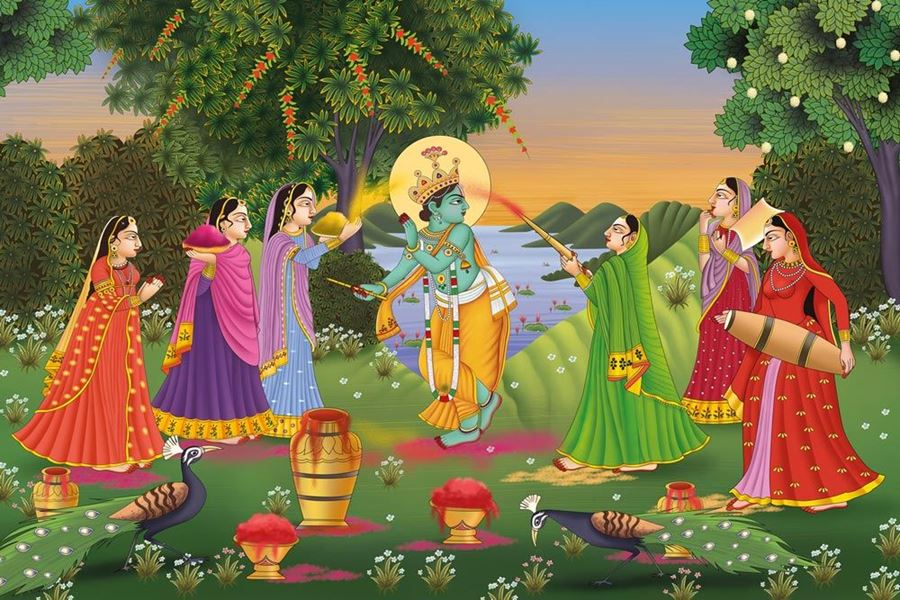 You will find Holi activities taking place almost all over India, particularly in the North, and they range from the traditional temple rituals to modern celebrations. Holi is around the corner, and we have selected three unique places to celebrate Holi, different from the usual ones, as seen in most places of the country, and cherish the experience in your memories.
Know where to celebrate?
Witness Awe Inspiring Holi in Vrindavan, Uttar Pradesh.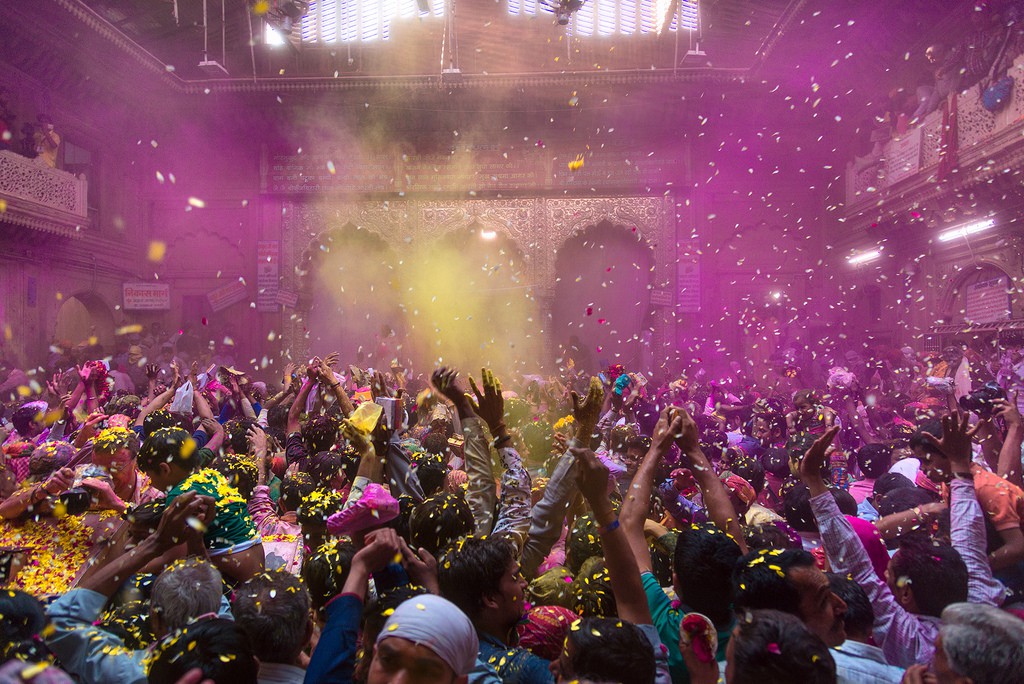 Vrindavan is the place where Lord Krishna grew up, and he was fond of playing with colors as well. Keeping the traditions alive, Vrindavan celebrates Holi in great gusto and fervor. Holi marks a grand celebration in Vrindavan with huge processions of people smeared in different colors dancing to the tunes of the musicians.
Few days before the actual date of Holi, the city celebrates Phoolon ki Holi meaning 'Holi of Flowers', where the temple priests throw flowers at the devotees.
Vrindavan also celebrates the unique Widow's Holi. It began in the recent years as a move to break the orthodox traditions that prevented widows from playing with colors or wearing colored clothes. Breaking/defying all taboos and shackles of age old traditions, these women too celebrate Holi with equal fervor. Widows in India are treated as outcasts by the conservative Hindu society in India as well as their families, after the death of their husbands. Vrindavan is home to thousands of destitute women who make their way to Vrindavan (India's temple city) as last resort, and hence Vrindavan is also known as the city of widows.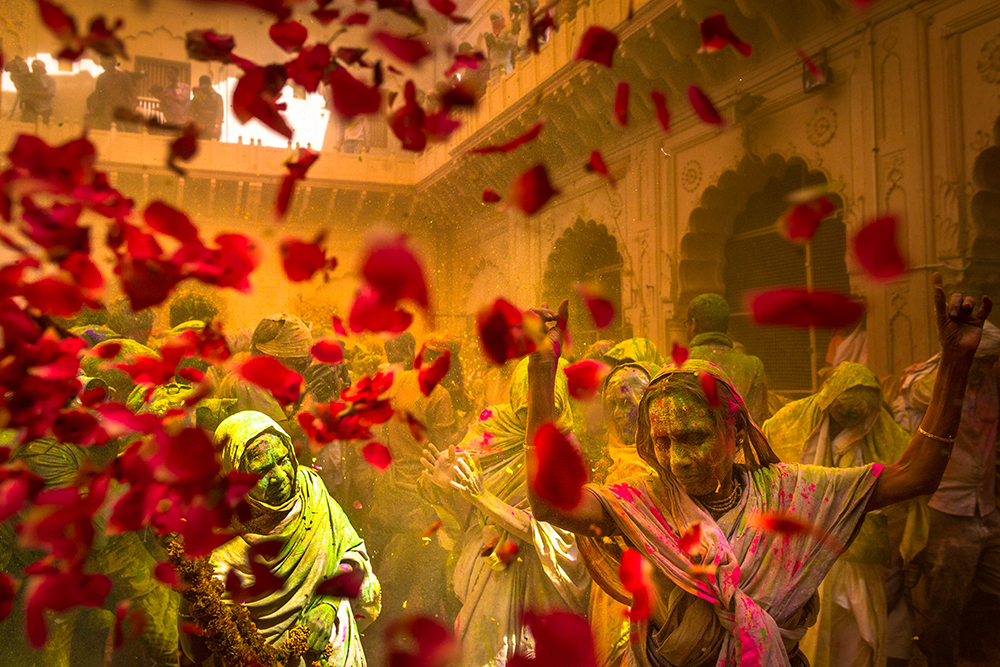 Traditional Holi: 13th March 2017
Phoolon ki Holi: 8th March 2017 at Shri Banke Bihari Temple. (week long celebration)
Widow's Holi: 10th March 2017 at Pagal Baba Widow ashram & Meera Sahbhagini ashram
Note: Holi is played by the widows a couple of days in advance.
How to reach via Road – Vrindavan is 185 km/3 hours and 15 mins approximately from India's capital city of Delhi.
Nearest Airport – Indira Gandhi International Airport in Delhi.
Witness cultural extravaganza with Spring Festival in Shantiniketan, West Bengal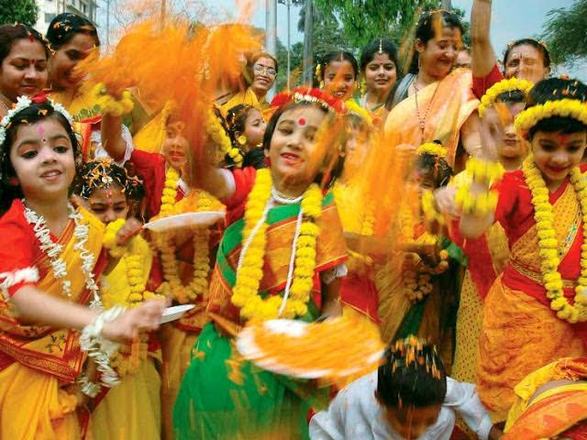 The celebration of Holi as Basanta Utsav or Spring Festival was started by famous Bengali poet and Nobel laureate Rabindranath Tagore in Shantiniketan. Shantiniketan is an old and premier university in West Bengal founded by Rabindranath Tagore. The tradition is kept alive until today and is celebrated in unmatched zest and vigour. Boys and girls dress up in colorful attire and put on a huge cultural extravaganza for the visitors. They sing, dance and chant hymns followed by usual throwing of colors presenting an enchanting view of the onlookers and a memory to cherish for a long time. Here, you can appreciate a graceful and dignified Holi as compared to boisterous Holi witnessed in most parts of India. The celebrations have been quite popular with foreign tourists.
Date of celebration – 12th March 2017. Note that the celebrations begin a day earlier than the given date for Holi in other parts of India.
How to reach via Road – Shantiniketan is 162 km/4 hours approximately from Kolkata.
Nearest Airport – Netaji Subhas Chandra Bose International Airport in Kolkata.
Witness Rang Panchami in Maharashtra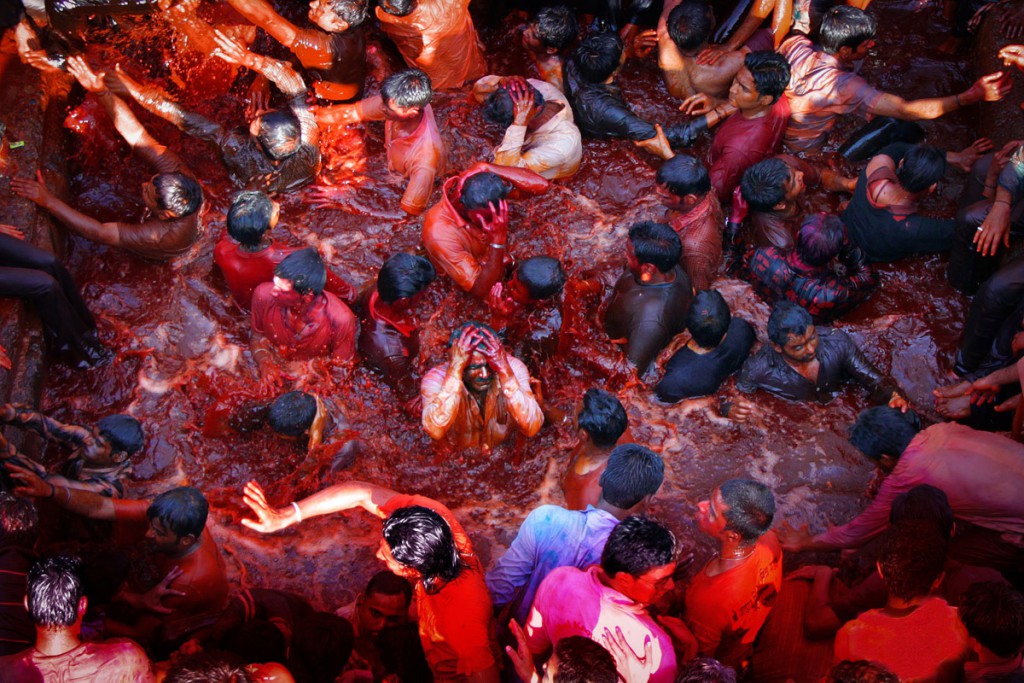 People of Maharashtra have their own grand style of celebrating Holi which continues for 5 days. The festival of colors here is known by the name of Rang Panchami and people throw gulaal – a fragrant red colored powder and splash colored water on others.
Adding to the unique Holi flavors, mouthwatering delicacies such as Puran Poli are savored. Sugarcane juice and watermelons are rejoiced too.
When it comes to Holi, great excitement can be seen in the youth, particularly when it comes to breaking the buttermilk pot. Dripping in colored water, they gather in the streets of to form a human pyramid to reach and break the matka or pot of buttermilk high hung on the street. It is quite a spectacle in Maharashtra. Adding to the fun, women folk splash and pour colored water on the men trying to break the pot.
Date of celebration – 17th March 2017
How to Reach – Arrive at Chhatrapati Shivaji International Airport in Mumbai.
Apart from these festivities, there are some other best places as well to taste a different flavor of Holi, in its vivid and jubilant best. In Delhi, you can see modern Holi parties; in Mathura in the state of Uttar Pradesh, you can witness traditional Holi with temple rituals; or experience a royal Holi in the cities of Jaipur and Udaipur in Rajasthan.
What to eat in Holi?
Special dishes are prepared in different parts of India to celebrate Holi. Shakar paras (a sugar-coated deep fried snack), Gujiya (a type of fried dumpling filled with dried fruit and coconut) are popular in North India. Pooran Poli (a stuffed sweet flatbread) is popular in western Indian state of Maharashtra. In Gujarat sweet khichdi (a sweet rice dish) and other sweets like kheer and halwa are made. In the southern parts of India, people prepare exotic sweet rice preparations and Sherbets/cold beverages from fruits. Enjoy a bhaang-laced glass of Thandai made with milk, dry fruits and spices (bhang is a derivative of cannabis or marijuana).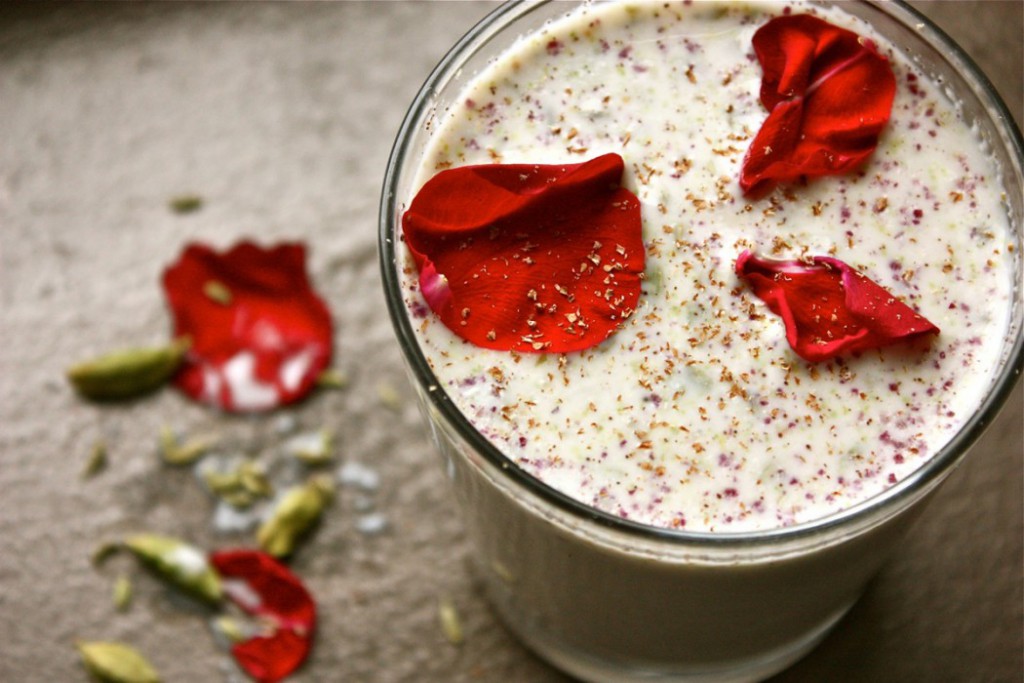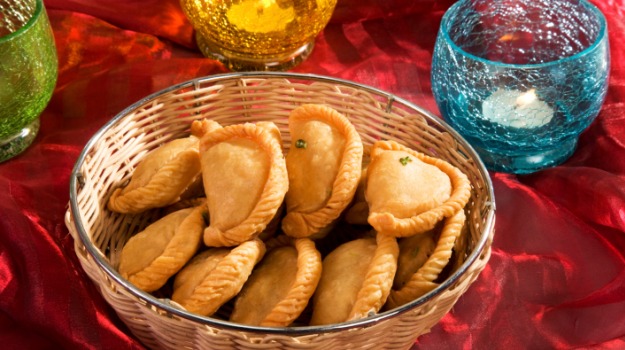 Holi is a perfect excuse to eat silly that awakens the senses and keep your festive spirits high.
And the last bit, don't get annoyed when someone throws colours at you. Remember you have come here to experience Holi, and it is all about colour frenzy. As they say in Hindi – 'Bura Naa Maano, Holi Hain' (Don't mind, it's Holi).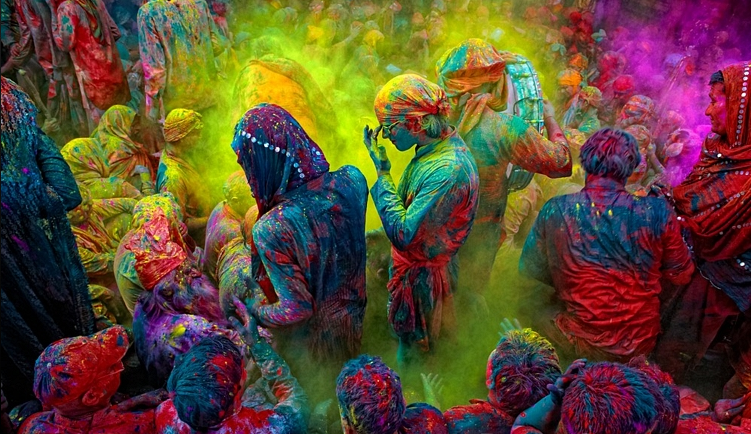 So, gear up and witness India at its colorful best during HOLI!!