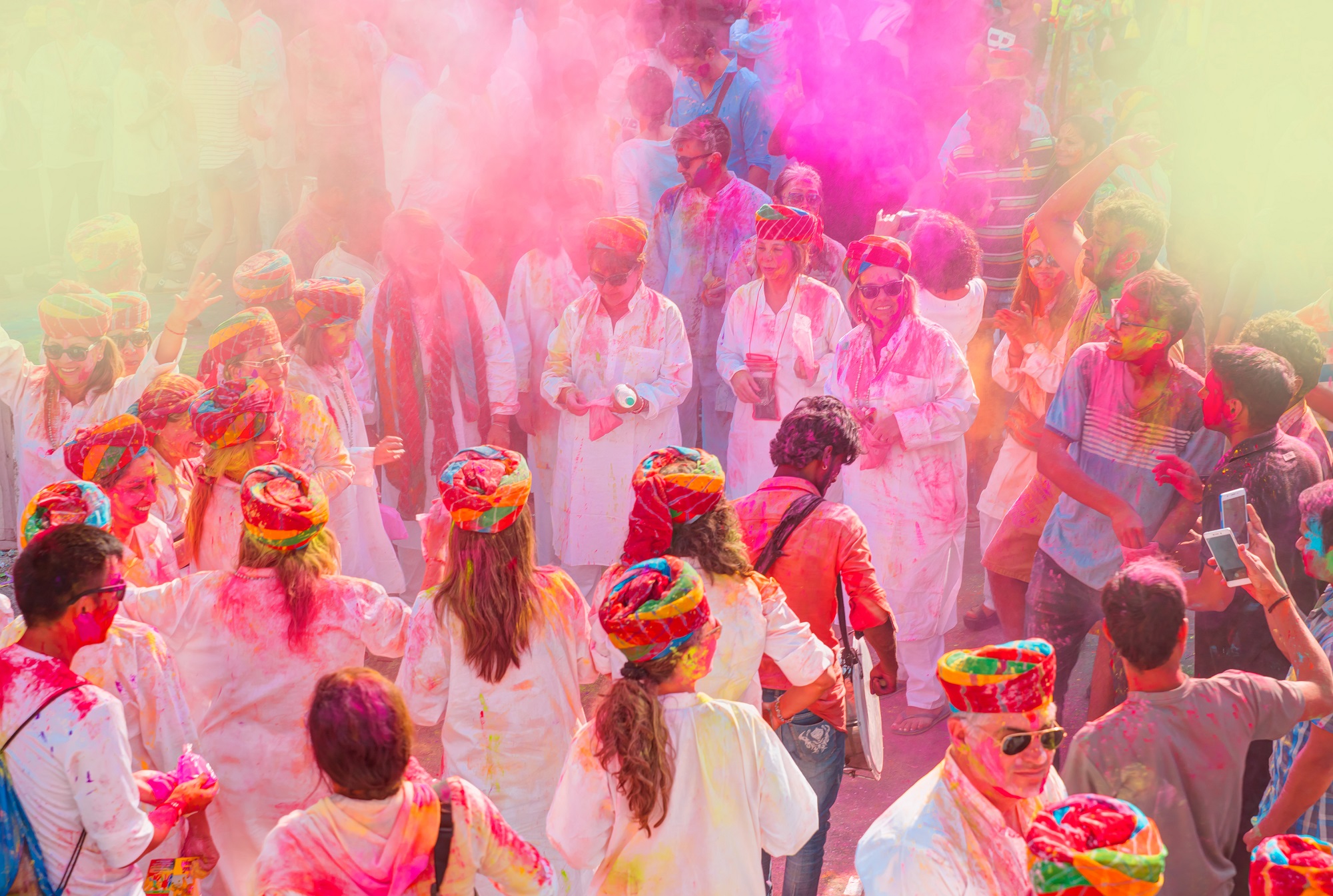 Bright colors and joy are what come to my mind when I think of Holi, the vivacious and high-spirited festival in India. It's a celebration of love, hope, and joy. Holi is symbolic of the victory of good over evil, specifically the historic burning and destruction of the demoness, Holika, sister of Ravana.
The 'Festival of Colors' is celebrated differently in different parts of the country. The many shades of this festival are bound to leave you in awe. This year Holi is bringing with it a long weekend. So put on your traveling shoes and get ready to visit some of these spectacular destinations in India where you will get to experience quirky Holi celebrations like a local.
Mathura and Vrindavan
Coming from a different country, I was all for getting a traditional taste of Holi. And a visit to the twin temple towns of Mathura and Vrindavan gave me just that. For safety reasons, it's advisable that you go here on a guided tour, such as that provided by Gets Holidays, like I did. They ensured a comfortable travel and stay for me in addition to assigning a well-read guide who was thorough with his knowledge of the legend behind the grand festival of Holi. I had a gala time!
Mathura is where Lord Krishna was born and Vrindavan is where he spent his childhood. Holi in these towns is celebrated with great gusto in his honor. Mathura holds a stunning procession a week before Holi, a colorful and musical show that begins from the temples, proceeds to the river and then to the Holi Gate, where the festivities are marked. On the Ekadashi before Holi, the city celebrates 'Phoolon wali holi' wherein the temple priests throw flowers at the devotees. In Mathura, Dwarkadheesh Temple is the best place to spot the throwing of colors at people.
The Banke-Bihari temple in Vrindavan hosts Holi celebrations that last for an entire week! The event begins a day before the big day and the temple opens its doors to all visitors who arrive to play Holi.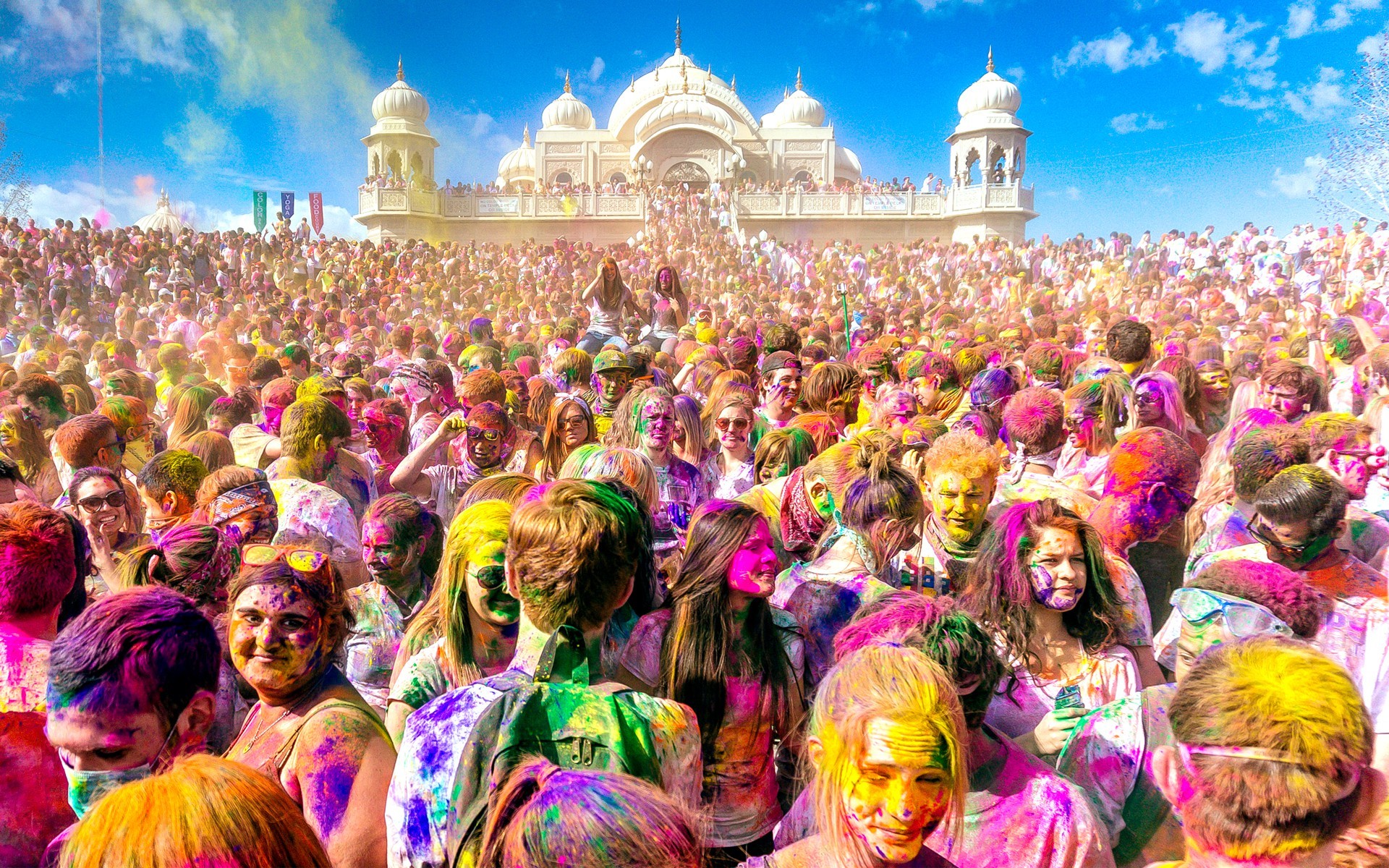 Barsana
Holi is not just about the display of colors. Barsana in Uttar Pradesh hosts 'phool-maar & laddu' Holi. The town becomes a beautiful sight to behold as people come to the Shriji temple premises, where the celebrations take place and throw Laddu (sweets) on each other with colors. They sing songs and dance together. Devotees shower flowers on the idols of Lord Krishna and Radha Ji. It's traditional to celebrate it with natural colors and flowers.
Barsana is also famous for 'Lath-Maar' Holi. It has a peculiar tradition where the women beat up men with sticks while playing Holi and instead of getting offended, the latter take it in good spirit.  However, watching women enjoy beating up men is an interesting sight to behold! The two-day festivity takes place at the Ladliji temple, dedicated to Radha Rani.
Again, for safety reasons and for a visit that isn't marred by unpleasant experiences, it is advisable that one takes a guided tour to this place as Holi here can get a little rowdy. A friend of mine couldn't stop gushing about the wonderful trip organized for her by Gets Holidays to Barsana. Interested? Have a look at these tours.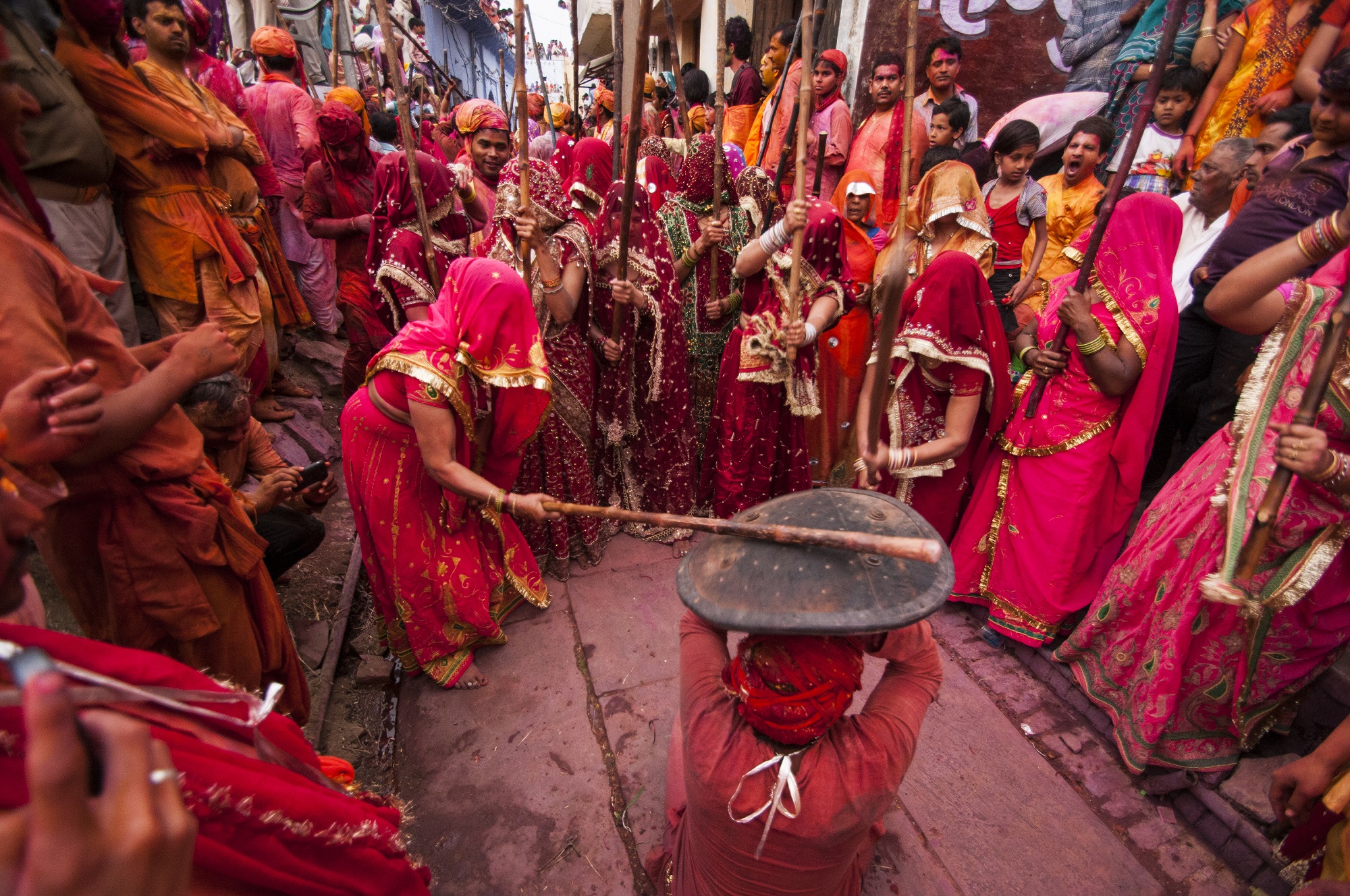 Udaipur and Jaipur
If you want to experience the royal Holi, then Rajasthan is the place where you need to be. Holi is a major festival here receiving patronage from the royal families of the state. The celebrations go on for 2 days. On the eve of Holi, people light up bonfires or perform, as the locals call it, 'Holika Dahan', a ritual to mark the occasion that wards off evil spirits as the good triumphs over the evil. Join in the spectacular palace procession with elaborately bejeweled horses that commence from the royal residence of the Mewar family to the lanes of Manek Chowk. Head to this city for a memorable regal experience and join in the celebrations as the king welcomes guests and foreign tourists.
The following morning the celebrations are taken forward and are out on the streets of Jaipur for everybody to join in and enjoy.  The city witnesses an elaborate and magnificent festival that showcases a parade of the heavily decorated camels, elephants, horses and includes some electrifying folk dance performances that light up the whole atmosphere.
Come to these cities to be a part of the extravagant festivities. Alternatively, for a more private revelry, you can opt for celebrations at a royal heritage property in Jaipur with organic colors, sumptuous Holi delicacies, and Rajasthani music & dance.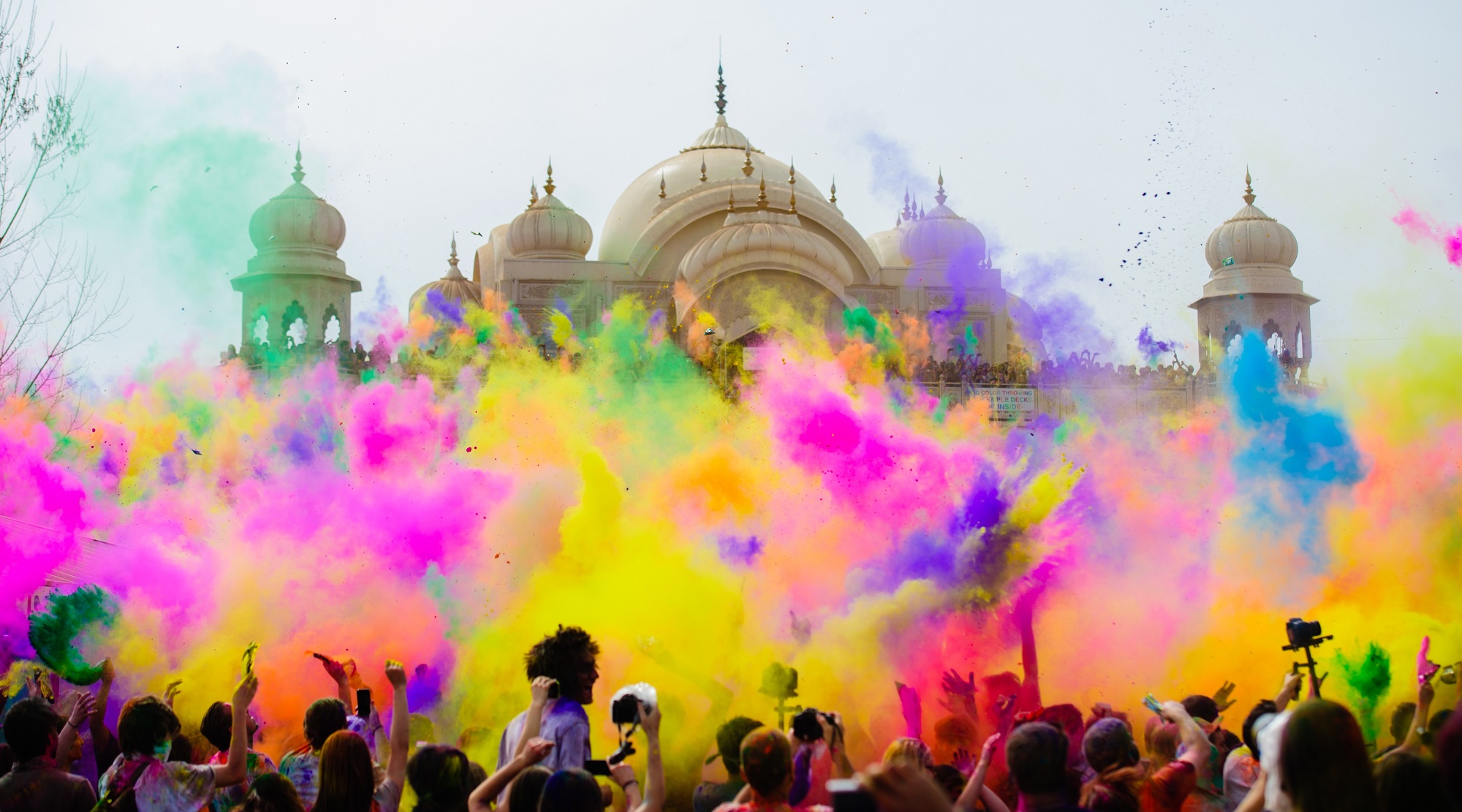 Delhi
To experience the true cosmopolitan culture come to Delhi as the city witnesses the coming together of people of all religions and cultures and celebrating Holi as one. Bathed in various hues and shades of colors, Delhiites make sure to have fun and frolic. Also, if you want to try something different, then be a part of the 'Holi Moo' festival that offers the most amazing lineup of independent music artists, lots of bhang, sweets like gujias, and non-toxic colors. Or you can also opt for playing with your loved ones or guests from other parts of the world at a private home.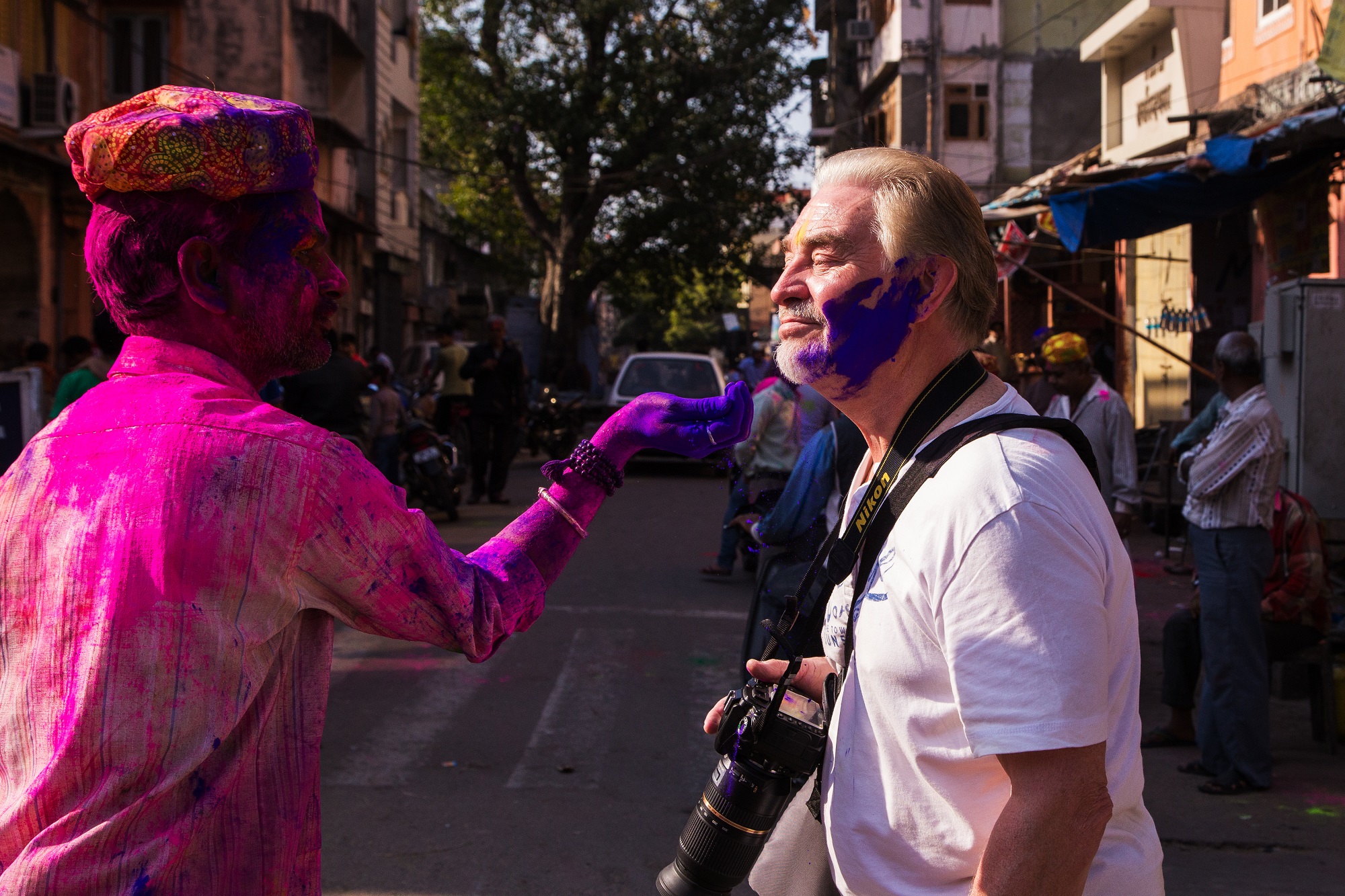 Punjab
Sikhs celebrate Holi in a different style at Anandpur Sahib in Punjab. Unlike other cities where colors are on display during the festivities, Punjab showcases strength on this day. It celebrates 'Hola Mohalla' as the locals shout out at the top of their voices as per the tradition here. They further exhibit their martial art skills in simulated battles. It's a 3-day grand festival here with feasts that include delicious halwas, puris, gujias, and malpuas. This is a perfect occasion for all adventure enthusiasts as you will have one of the most memorable experiences of your life.
Holi is a festival that tends to get a bit too crazy to handle at times. Therefore, it's often suggested that if you're a first-time visitor then do prefer going in a group or via a guided tour and research a bit about the place you plan to visit. Also, wear comfortable old white clothing as wearing expensive clothes can cost you dearly, what with all the colors being thrown at you!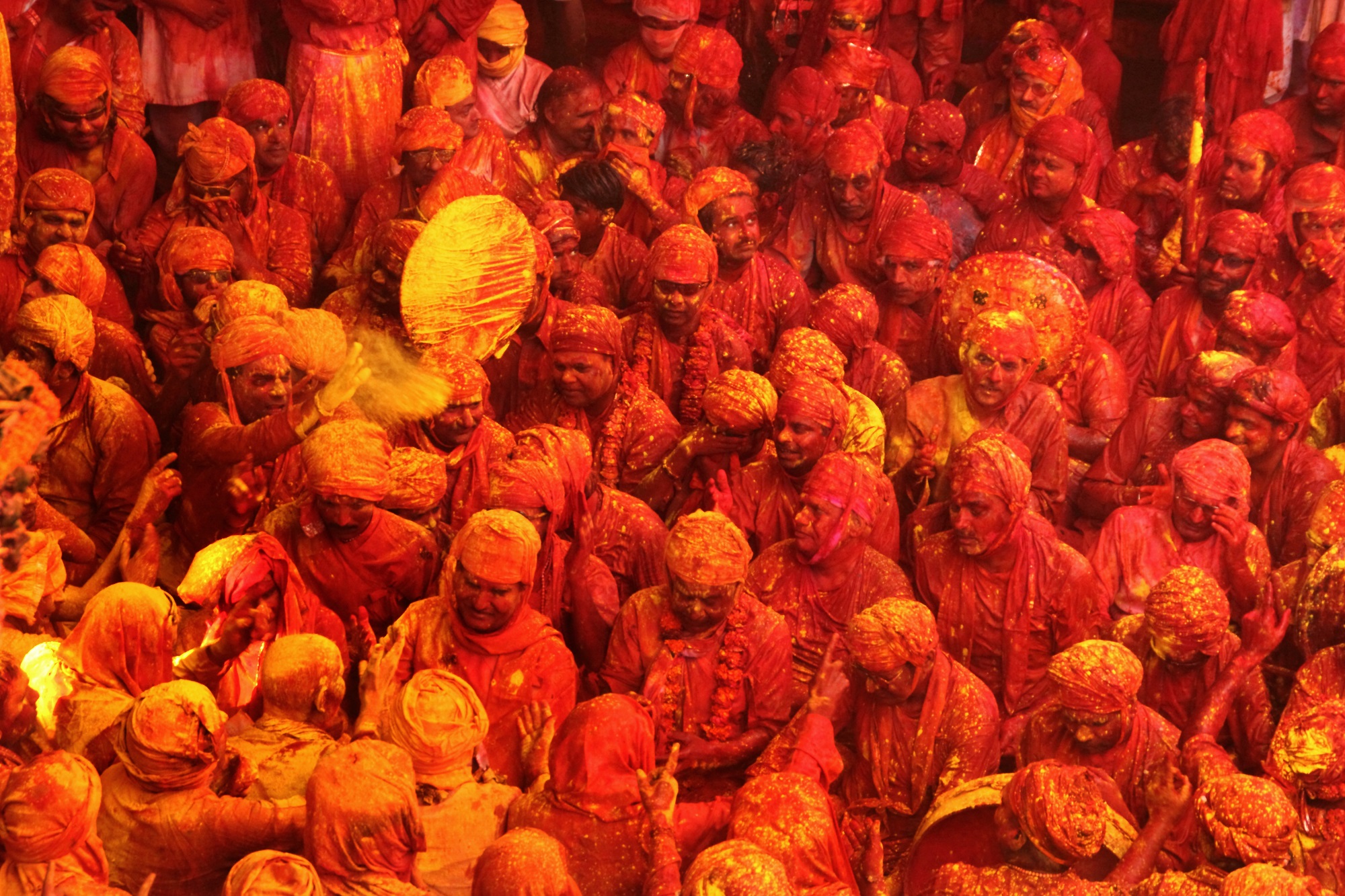 With so many places to pick and choose from, make the most of your Holi!