Enjoying the beauty of flora and fauna is what I love most. So, whenever I get time rather to say whenever I get bored of doing my daily chores, I pack my bags and spend some in the midst of wildlife. My camera serves as the best companion in every trip I made. The moments captured on those, I cherished it later. It also helps me keeping alive my hobby of capturing beautiful moments. This time I chose Sariska National Park as the destination.
Located in the Alwar district of the land of the Kings Rajasthan, I made the journey in a passenger train. For those seeking more comfort and luxury while traveling, luxury trains are the best option. This fascinating National Park is a popular destination for the tourists traveling from various parts of the globe and also serves as a perfect weekend getaway from Delhi.
One of the most famous Indian Wildlife Sanctuaries, Sariska National Park is an abode to a variety of wild animals and birds. Nestled on the hills of Aravalli Range, the Sariska Sanctuary sprawls across dry deciduous forest mainly covered by Dhok trees. Reaching the sanctuary my joy knew no bounds. I preferred to take a jeep safari so that it will enable me explore the sanctuary to its fullest and most importantly I could click some good photographs.
With a naturalist along with me, it helped me in knowing more about the animals and birds. Leopard, chital, sambar, four horned antelope, nilgai, hyena, wild boar, jungle cats, golden jackals etc are some of the animals which are found in large numbers. Being a tiger reserve, Sariska National Park houses the Royal Bengal Tigers. Secure survival of the tigers in a natural surrounding is the main motive behind the project tiger. Otherwise, these pride of India will not be able of survive for long for different regions.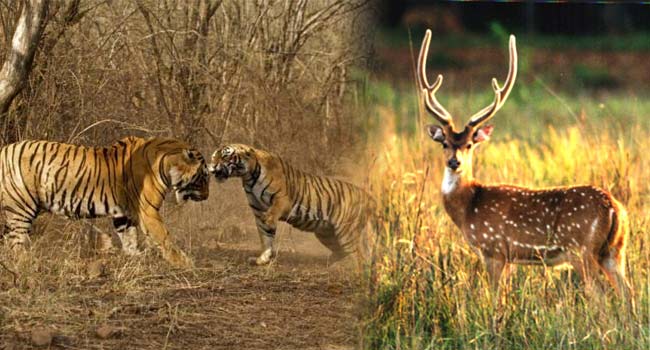 With various species of birds like the great Indian horned owl, peafowl, sand grouse, crested serpent eagles, tree pie, grey partridge, bush quail etc. I was lucky enough to see and capture a number of it. It was such a pleasant feeling away from the humdrums of city life. The birds and animals engaging in their natural activity with no material interest like us. In midst of these wildlife and vegetation, at least for the time I was in the Sanctuary, there was no material thing going on in my mind. For an enthusiast like me, these places serve as a paradise. I also got to see the ruins of many temples inside the park.
These are examples of the rich heritage of India though couldn't survive the test of time. Around the Sariska National Park, there are numerous historical places in the form of forts and temples. These places are also crowded with people and serves as a testament of the rich history of the place.
I had a double treat in Sariska which led me to enjoy in the midst of wildlife along with getting to visit some historical places of interest. It is one of the best places to visit in India.