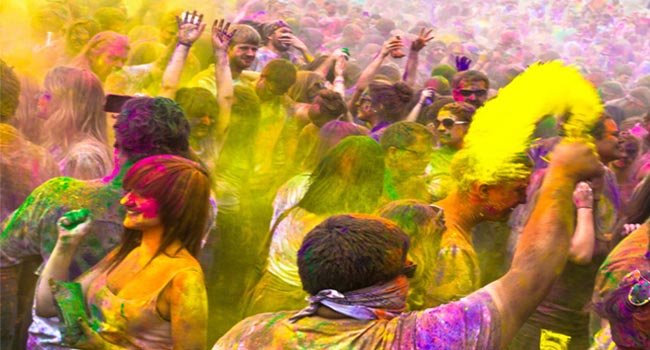 With winter neatly tucked up in the attic, it's time to come out of the cocoon and celebrate the spring festival of colors. As per the Hindu calendar, Phalgun Purnima or the full moon day falls on the 27th of March this year. It is on this auspicious day, this colorful festival is celebrated. This day may fall on the month of February or March depending on the Hindu calendar. Celebrating the spirit of togetherness, Holi signifies the win of good over evil.
It is one of the widely celebrated festivals of India which brings in an unadulterated mirth and joy, dance and music, lip-smacking sweets and of course splash of colors. For the ritual of Holika Dahan, a bonfire is organized on the evening before Holi. This is a part of Holi celebration which is associated with a legend. According to Hindu mythology, King Hiranyakashyap tried to kill his own son Prahlad for worshipping Lord Vishnu several times. As the King's sister Holika had a boon of not being burnt by fire, he asked her to sit on the fire taking Prahlad on her lap. But to the utter surprise of the King, Holika was burnt to ashes for taking another person along with her. But Prahlad had no effect of the fire. This is the reason behind celebrating this festival as triumph of virtue over evil. Around the bonfire, people sing and dance and apply gulaal on each other's face and distribute sweets.
This two day festivity is celebrated in every regions of India irrespective of caste, creed or class. Some of the places where Holi is celebrated in full scale are Mathura, Vrindaban, Pushkar and Varanasi. These places become all crowded with people who visit India especially to enjoy the festival during this festive time. The domestic tourists also gather in hordes to celebrate Holi in these famous places. On the day after the Holika Dahan, the celebration starts with a pooja. Extremely popular among the children and the younger generation, splashing colored water, tossing water balloon, smearing friends with colored powder, exchanging gifts, dancing on the Holi beats, the day of Holi is passed amidst fun and merriment.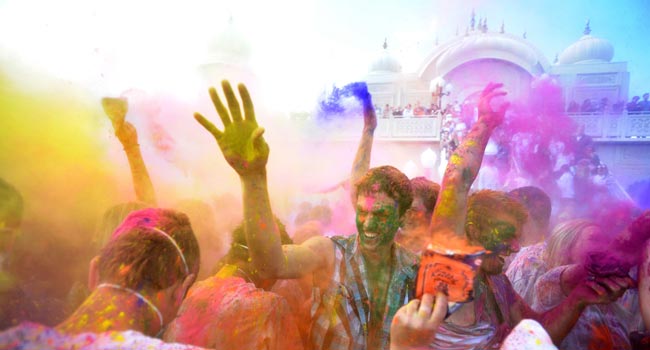 To make the celebrations peaceful, one should play safe and use natural colors instead of synthetic colors. Though this festival is basically meant for fun and enjoyment, but it should not be done against other's wishes. Make some delicious sweets like gujias, gulab jamun, malpua, sweet kachoris etc. this Holi and have a memorable one with your family and friends.
The vast land of India celebrates innumerable fairs and festivals. People of different regions of the globe get allured by these festivities and plan their holidays in India during these times. The tour packages in India offer variety of option to enjoy the festivities along with enjoying the scenic locations of India.