India celebrates secularism in a big way. In short, we believe in the religion called humanity. The country hosts endless fairs and festivals every month some of which bear religious sanctity. Likewise, Diwali and Christmas are celebrated in every household. Every nook of the country celebrates the birth of Christ through prayers and feasts. Plan a Christmas vacation here and get in sync with the celebrations. A few states which observe this fest with grandeur are enlisted below.
Goa The beaches of Goa are in news for a happening nightlife. Thronged by Roman Catholics and Portugese and French population, this beach city tops the chart when it comes to Christmas and New Year Carnivals. Thousands wait eagerly outside churches to attend midnight masses. Se Cathedral, The Church of Mae de Deu wear a festive mask. Loud hymns, fire crackers mark His birthday.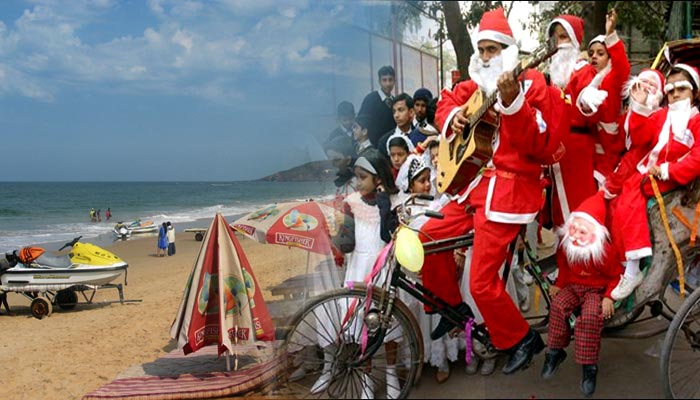 The city is plunged in illuminations, be it electric bulbs, candles or traditional lamps. The churches are lit up with colored bulbs and candles of different shapes and sizes. Floral decorations are rampant. Elderly people deck up as Santa Claus to offer cakes and candies to children. Bright clothes, broad smiles and fellow feeling, a complete celebration of life.
The beach shacks and resorts host lavish parties. Globally acclaimed Sunburn Festival gets the locals and tourists groove to rock beats. DJs rule parties. Music lovers get to hear a lot of good music from upcoming bands, besides known names. You have to book your tickets well in advance because the world seems to be here during Christmas.
Calcutta The city features prominent Anglo-Indian schools. Christmas carnival kicks off way before December 25. Carol singing nights, children enacting the birth of Christ, tabloids, illuminations illustrating Christmas trees and gifts make the city one of the most sort after winter halts. Flurys and Nahoum's, well-known bakeries run out of stock almost every other hour. Bright hues light up every corner of the cosmopolitan culture capital.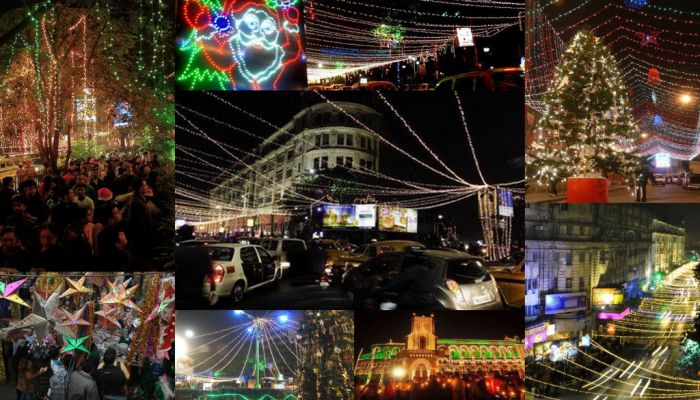 Every house Anglo-Indian localities are crowned with lights. Bakers from different parts of the country travel to Calcutta to meet the demand for cakes! New Market and Park Street are baker's haven.
St. Paul's Cathedral Church, St. John's Church, Thoburn Methodist Church see thousands attending masses. Streets are flooded with merry making people. Branded restaurants, street food kiosks are jam packed. Social clubs host special bonfires, Christmas tree parties, Christmas eve fiestas. Roasted turkey, duck, pastries, creamy bites, tarts seem yummy! Music rules!
Kerala Roman Catholic and Protestants celebrate Christmas in full-swing here. Streets decorated with lights and streamers. Restaurants are open 24*7 with special discounts. Resorts host lavish parties with international cuisines and alcohol. If you want to celebrate Christ's birth in a simpler way with family, opt for houseboats on backwaters at Alleppey and Kumarakom which are comparatively less crowded. Bakeries overflow with cakes and candies.The silence of God's Own Country goes for a break to be a part of the celebrations.
Daman and Diu These islands of Gujarat house Portugese colonies, hence Christmas is a big thing here. St. Paul's Church, Church of Our Lady, Se Cathedral host midnight prayers. The beaches get a makeover. Usually quiet landscapes get into the party groove. Evenings are marked by cultural extravaganza, mostly Portugese tunes, foot tapping numbers. Christmas cheers light up lives, promotes fraternity with prayers and food. Party animals feed themselves on canned meat, grilled sardines, Cod fish dishes.
Pondicherry India's Little France with its host of colonial structures, ancient churches and Gothic Architecture participates in Christmas festivities in a different way. The Church of Our Lady of Immaculate Conception and The Sacred Heart of Jesus Church get a bright facelift. But locals prefer to celebrate Christmas with friends and family in a lavish but silent way. French delicacies — croissants, Fraises de Bois (Forest Strawberries), Carbonnade flamande (meat stewed in beer), French toast, Terrinée (a baked rice dessert) are on demand.
Hill stations covered with snow hold parties too. Bonfires, music and food are good enough to start off group parties. India's festive spirit is marked by wine and dine! Christmas greetings and invitations are for one and all. Visit India this December, let's pray and party together!