The snake road from Kochi to Munnar might make you feel dizzy and you will want your journey to get over as soon as possible. But if you carry some lemonade toffees and soda drinks, then you might want the road to go beyond its ending point. The passing cool wind, dazzling meadows and rolling mountains will open doors for you to travel in a scenic romantic world. Mountain streams, lakes, wooded valley and stretch of tea plantations adorn Munnar with utmost beauty of nature. Thousands of honeymooners and couples come to Munnar to celebrate the most beautiful and relation of their life.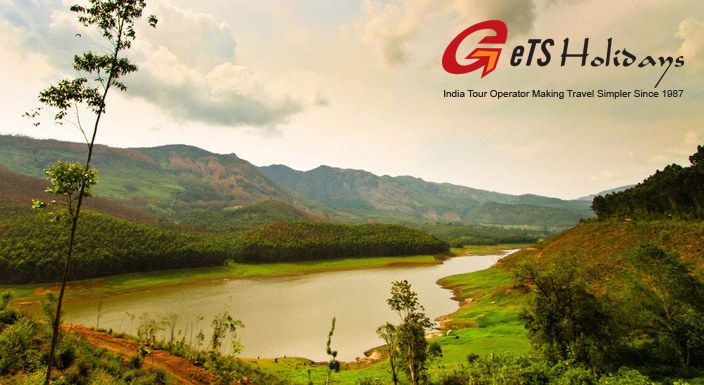 Munnar is a popular hill resort not in Kerala but all over India. This romantic hill retreat gets bestowed with different faces of beauty during different seasons of the year. The rain drops on the tea gardens during monsoons, presence of cool pleasant wind during summers, morning dew on the misty hills during winters and fall of dry brown yellow leaves during spring, all offer a perfect cozy romantic ambience to discover and rediscover the love a couple's life. There are several reasons why Kerala is considered to be the most romantic corner of the planet earth and the existence of Munnar is one of those reasons. It is where crystal clouds float merrily in the azure sky and at times come down to kiss the mountain peaks. It is where a hand in hand walk across the indolent tea estates, winding green fields and serene countryside stimulate one's romantic mood and pulls him back to the magical land again and again.
The picturesque view of the landscape from top of the hills is simply eye- catching. No dust, no pollution, so chores of human world and only aroma of tea and hospitality of warm people turned Munnar a favourite romantic destination for couples from India and abroad. Apart from natural splendors, Munnar is also a scenic land of manmade wonders. It is a pool of several British buildings and colonial architectures that take one to the bygone era and paints the perfect picture of ancient India. Also a lot of luxury resorts dotted over the land offer magnificent views of the entire region. Well appointed rooms, luxury facilities, traditional Kerala Ayurveda treatments and authentic cuisine of the resorts allow couples to spend their romantic holiday in sheer comfort and luxury. Sitting on a room's balcony and listening to the chirping of birds and watching the sight of small waterfalls drifting from top of mountains spread the aroma of romance everywhere.
Even sightseeing in Munnar is considered to be relaxing. Cardamom and tea plantations, the TATA Tea Estate, Eravikulam National Park, Mattupetty Dam and Lake, Athirapally Waterfalls and Echo Point are located close to Munnar and its surrounding areas. A drive to all these scenic spots is quite comfortable and rejuvenating. Well maintained broad road juxtaposed with pleasant weather leads to a perfect setting of a romantic long drive. Every sightseeing spot is unique in their own ways. While Echo Point gives back whatever word one shouts out, Athirapally Waterfalls sprinkle cool water to set the aura of love and refreshment. I invite all newlyweds and other couples to come to Munnar and get a sight of its magical splendor.