Kerala is not called 'God's Own country' for nothing. Kerala is one of the most serenely blessed state of India, definitely a destination of a lifetime. From serene backwaters, verdant hills with tea and coffee plantations, exotic wildlife, coconut vistas, Ayurveda, exquisite cuisine, and, vibrant culture and traditions; Kerala has it all. Apart from the aforesaid things, another reason to come to Kerala is for its unique and delightful souvenirs, found exclusively here. There will be something or the other to shop wherever you go in this small coastal state of India, as each place in Kerala has something different to offer. And to make it easier for you to decide on what to pick on your trip to Kerala, we have listed down some of the best.
1. Tea & Coffee
Tea and coffee is an important part of shopping in Kerala. The Nilgiri tea grown in various parts of Kerala such as Munnar, Wayanad, and Thekkady are some ofthe best quality tea you can bag. Nilgiri tea is strong flavored, to give your day a great kick start. Coffee again is grown in Kerala of world class quality. Try the special Kerala Kapi served in a little steel tumbler.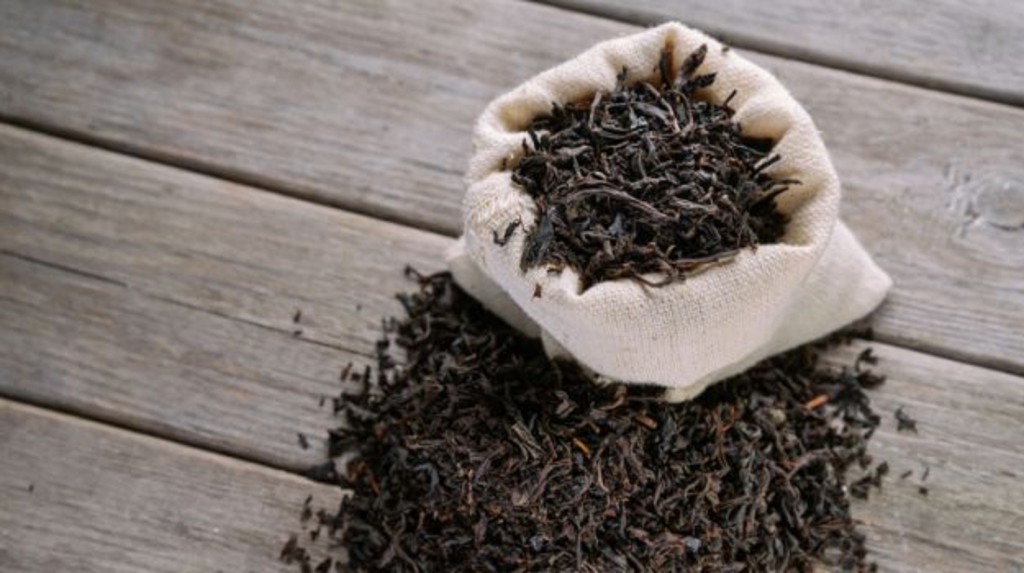 Good to know : Purchase from local shops or certified counters of the tea and coffee estates. Try to obtain them from the source as close as possible to the plantation.
2. Spices
What is Kerala known for if not for its spices? The state who introduced some of the most exotic spices to the world, is a major exporter, and spice trade in Kerala dates back to more than 7000 years. Don't leave Kerala without getting your hands on the world's best spices. Some of the best buys here include cardamom, black pepper, cinnamon, turmeric and more. Find best quality spices in Kumily, known as the spices capital of Kerala, near Thekkady.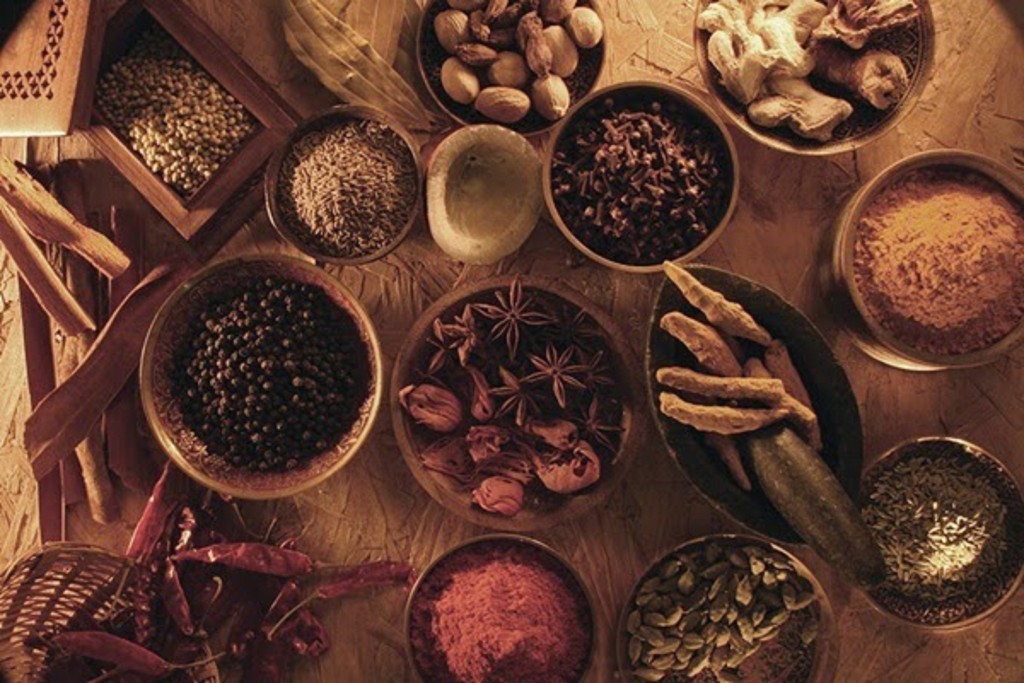 Good to know: Buy in huge quantity and store them safe in an airtight jar to keep their freshness intact.
3. Aranmula Kannadi
Aranmula Kannadi is one of the most sought after items by tourists. This metal-alloy mirror is handmade in Kerala and is rare to find anywhere else. These special mirrors are made by a particular family in Aranmula in Pathanamthitta district of Kerala, using generations guarded secret compositions of alloy. The frames are made of metal and not the usual silver. The effort that goes into making these unique mirrors, keep them on a higher side of the price, ranging somewhere between 1,000 Indian rupees (16 US dollars) to as high as 1 lakh (15,511 US dollars).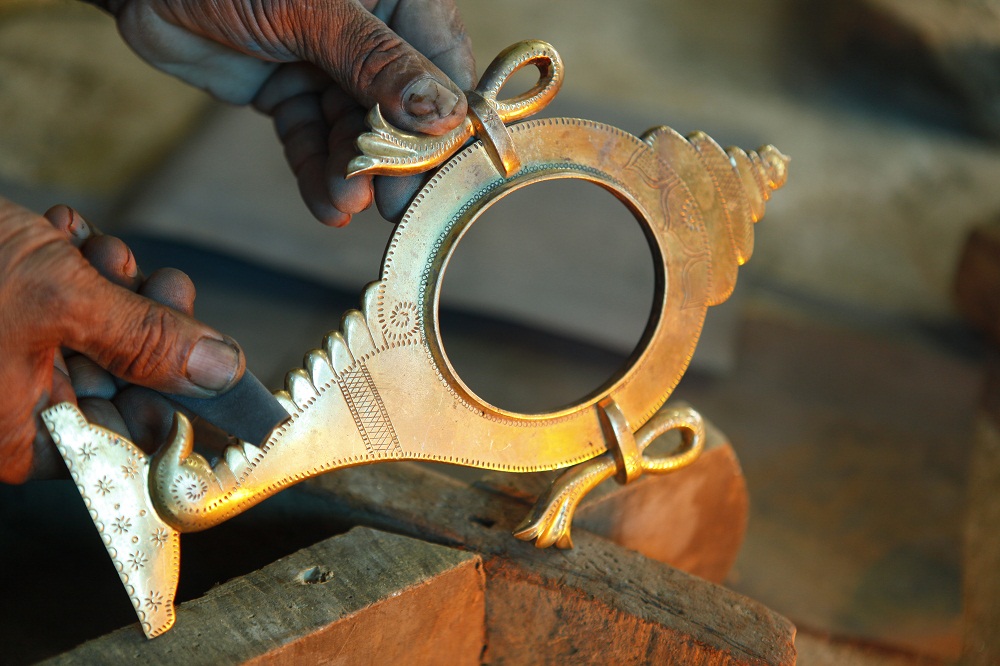 Good to know: It's best to buy these unique mirrors from the family workshop wherein it is made; this traditional craft is getting threatened by counterfeiters.
4. Handicrafts
Kerala has much talent while creating beautiful handicrafts. The skilled artisans make showpiece and utility items from cane, palm leaves, seashells, wood, coconut shells, mud, metals, etc. A lot of these items are not found anywhere else and is a testament to the rich ethnic cultural diversity of Kerala.
Good to know: Buy the ubiquitous elephant figurines. You won't find such perfect replicas of this state animal anywhere else. Also, look for miniature houseboat.
5. Nettur Petti
These ethnic wooden casket is a hand-crafted jewelry box of olden times and is a collector's item. Made from finest woods such as teak or rosewood and colored and heavily/richly ornamented with brass, a testimony of the artisan's patience and skill. Earlier used as jewelry boxes marking the influential families of the land, these piece of art have multiple uses in the present day, from storage to coffee table to showpiece item, depending on the size.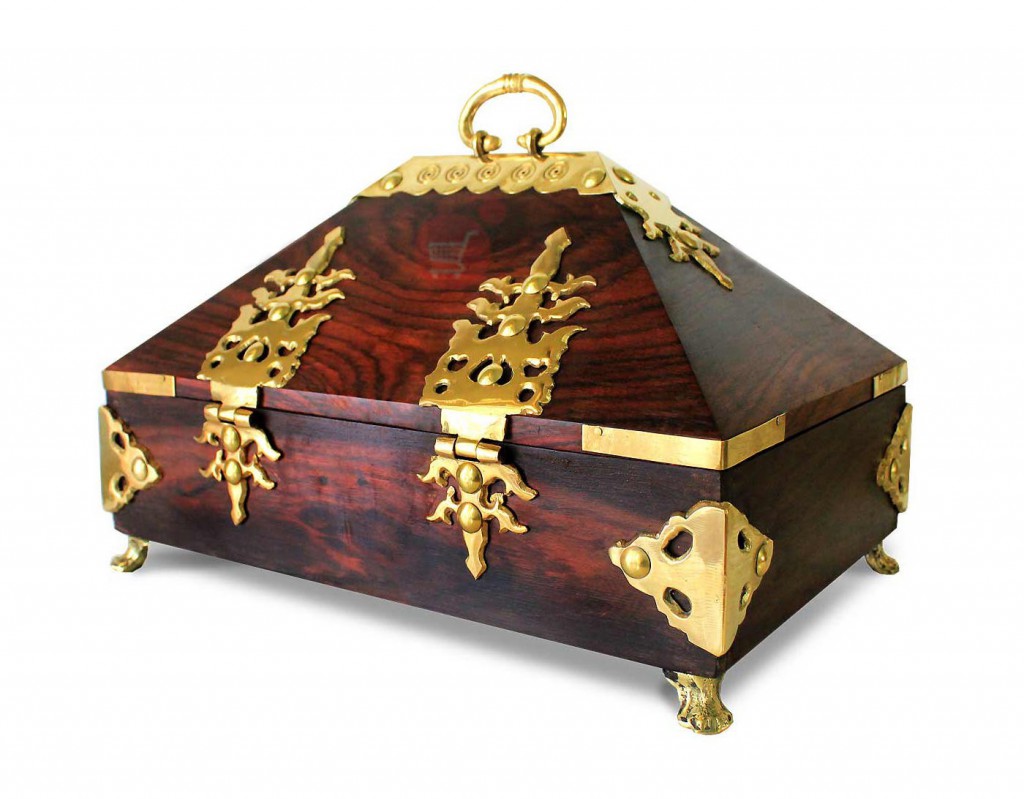 Good to know: The cheaper versions are available in handicraft stores.
6. Nilavilakku (Traditional Lamp)
If you have a fascination for unique metalwork then Nilavilakku is for you. Nilavilakku (lamp on the floor) are traditional oil lamps which are an integral part of all rituals and ceremonies in a Keralite's life. You can see these lamps in almost every temple, courtyard of homes, or hotel receptions in Kerala. From small ones, that you can carry in your hands to extremely large ones that can be used as a weapon in self defense (literally), Nilavilakku are available in all sizes, cast in bronze or bell metal. There are varieties of designs available such as peacock head, swan, decorative handles etc.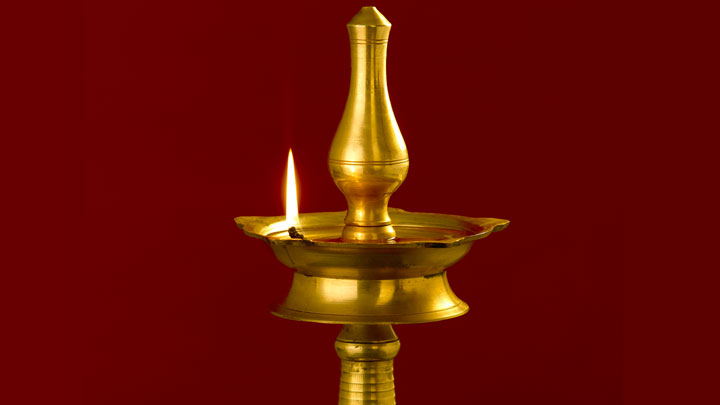 Good to know: It can be purchased from metal ware shops.
7. Coir Products
Kerala is known for its abundant coconut trees all over the landscape, and interestingly Kerala is named after coconut, where "Kera" (means coconut tree in Malayalam) and "alam" (means land). And it gets even more important that you do not say goodbye to Kerala without purchasing a coconut product. You can purchase rugs, carpets, mats, bags, show pieces, and some amazing cool products like footwear made of coir and coconut shells.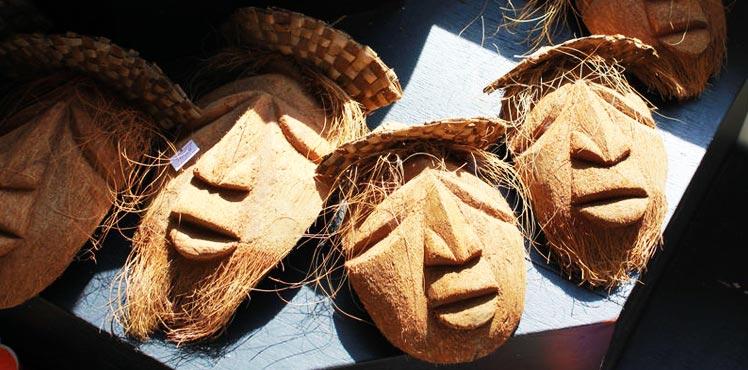 Good to know: Kollam and Allapuzha districts are more concentrated on coir products.
8. Banana chips
After coconut, bananas are the second most popular plant in Kerala. Bananas are grown in several types here, more than anywhere else in the world. Locally known as Nenthra-kaya upperi, banana chips are amongst the most popular items to shop in Kerala. It probably is the mother of all chips around the world.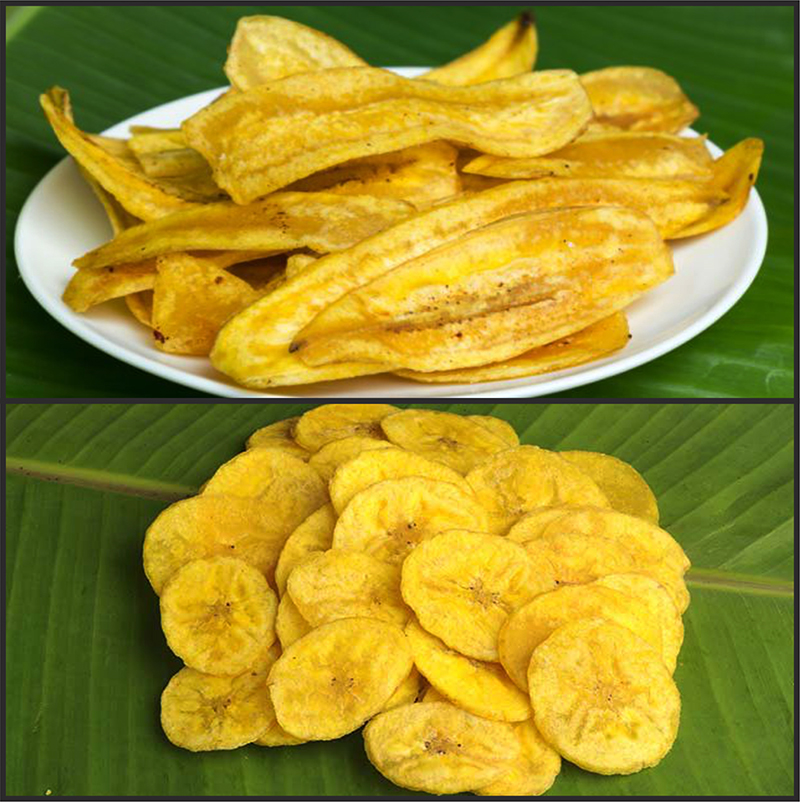 Good to know: If you are planning to buy in bulk, don't forget to taste and bargain.
9. Kasavu Sari
Kasavu is the traditional textile of Kerala, woven from fine cotton thread and bordered with golden and copper thread. These off white and gold combination Kerala sari is worn with similar blouse and is a must have piece in every Malayalee (Keralite) women's wardrobe, who wear them during temple visits, weddings and other festive ceremonies. If you are the fairer sex then it's a must in your shopping list in Kerala. Prices of these saree may vary from hundreds to thousands, depending on its quality.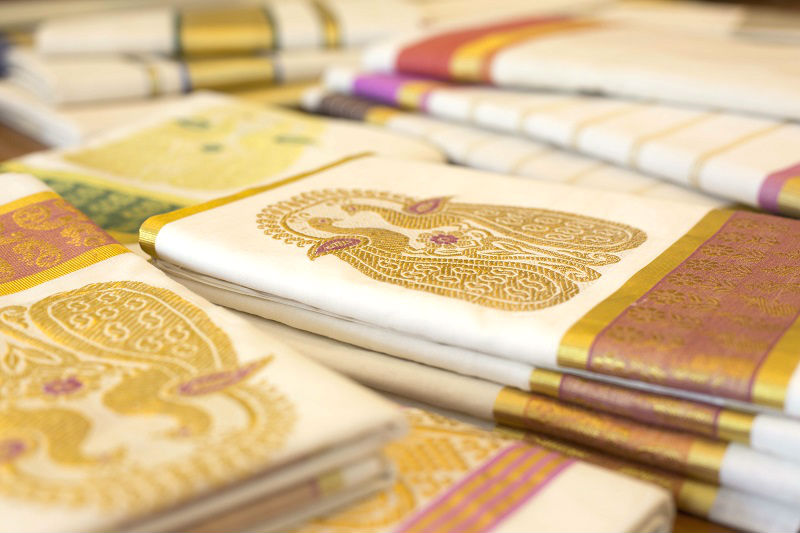 Good to know: Pick the silk ones over the cotton for longevity.
10. Kathakali mask showpieces
Kathakali is an iconic traditional dance form of Kerala, that attract a lot of tourists. Hence, Kathakali masks are very popular as little souvenirs of Kerala. One should not leave without buying some Kathakali themed souvenirs from Kerala, be it a wall hanging pieces or fridge magnets or even ear rings for that matter. These masks are made using wood, metal or paper mache and painted exquisitely.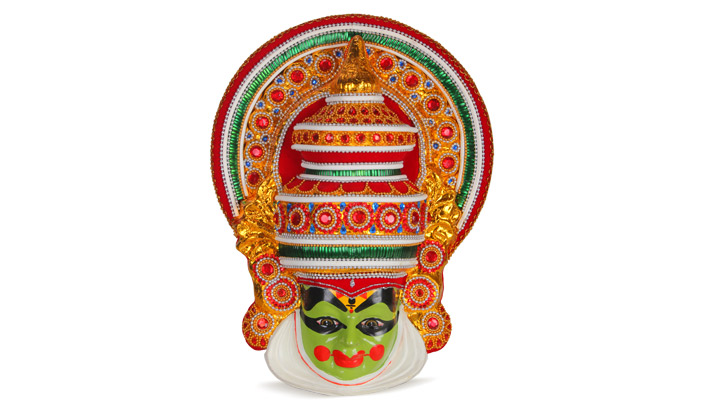 Good to know: Pick the 'Pacha' (mask in green paint), good for displaying at home as the Keralites' believe it represents the virtuous and noble.
So the next time you come to Kerala, browse through its markets to take home bag full of brag-worthy memories.