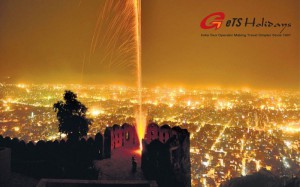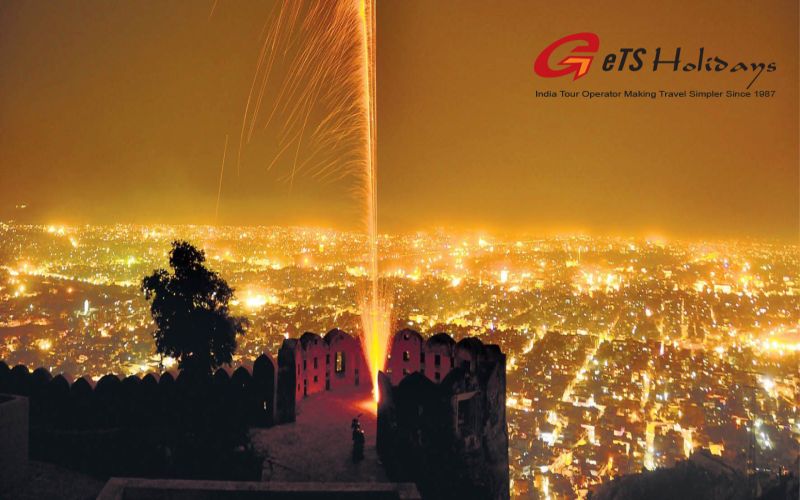 Diwali, which celebrates light over darkness, goodness over evil, God over demon and prosperity over poverty, is celebrated in India with real extravaganza. Illuminated homes, lightened streets, sound of holy chimes and boxes full of tempting sweets and snacks signify the advent of the festival of lights. During this festive season, the northernmost state of India, Rajasthan, gears up to perform elaborate rituals, set up fairs, decorate homes with electric lights, earthen lamps and candles and burn firecrackers that create a kaleidoscope like artwork in the night sky. In fact Diwali is the best time to visit Rajasthan and appreciate its rich culture and tradition. The otherwise sparsely populated state comes together to exchange warm greetings among near and dear ones during the festivity.
Though the origin of Diwali dates back to the Ramayana era, when Lord Rama returned back to his kingdom after 14 years of exile, yet like all other states of India, Rajasthan get lightened up in the same manner like Ayodha was centuries ago. Be it the capital city of Jaipur or the desert of Jaisalmer, Rajasthani culture gets an added spark during the celebration. A walk through the old lanes of Bapu Bazaar will transfer you to a world of handicrafts, diyas and lots of traditional items. You can choose a colorful veil for yourself or a handmade souvenir for your loved ones from here. Goddess Lakshmi is welcomed in every home of Rajasthan and is worshipped with devotion in the evening. Women make delicious items like Til Ke Laddo, Piste ke Launj, Mawa Kachori, Sohan Papdi, Besan Barfi, Jalebi and Moti Pak. Kids get busy in lighting candles and burning fire crackers and every family member come together to exchange gifts and relish delicious homemade sweets and snacks.
One astonishing site of Rajasthan during Diwali is the illuminated forts and palaces. A range of colorful lamps and bulbs are lightened up all over the forts and they dazzle like golden gems under the night sky. While the golden reflection of Jal Mahal adorns its surrounding lake, the hilltop Amber Fort shines like an immaculate golden structure accessible to the human world. The shops of age old Johri bazaar get decked up with arrays of electric bulbs to mark the importance of the festivity. Sounds of firecrackers are heard all over Rajasthan and you will find people from every strata of the society on the streets during this time of the year. The beauty of Rajasthan is a sight to behold and the celebration of Diwali in the state adds a spark to it. So come to Rajasthan and get immersed in the celebration like a real Indian.
FESTIVAL DATES 2017:
| | |
| --- | --- |
| 17th October | Dhanteras/Dhantrayodashi |
| 18th October | Narak Chaturdashi |
| 19th October | Lakshmi Pujan/ Diwali |
| 20th October | Padwa/Govardhan Puja |
| 21st November | Bhai Dooj/Bhau Beej |
To know more about the Festivals of India, click here.