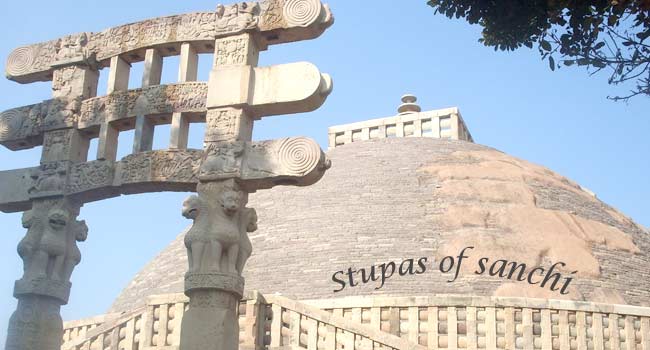 Sanchi, the small village in Raisen district of Madhya Pradesh is one of the important places of Buddhist pilgrimage. Renowned for the stupas, this little village has been listed in the UNESCO World Heritage Site. Sanchi is housed with lots of Buddhist monuments which date back to 3rd century BCE. The Great Stupa at Sanchi is the oldest of all stone structure in India founded by the emperor Ashoka, the Great. This Great Stupa is a part of the entire complex of structures and is not a building in any traditional sense.
Located at a distance of around 46 kilometers from Bhopal this unique place which is famous for housing the beautiful and well-preserved stupas, it is believed that Lord Buddha never visited the place during his entire lifetime. Nevertheless, in the stupas of Sanchi, one can perceive the presence of Buddha more than the other Buddhist shrines.
Tourists can have a truly amazing experience of being in one of the glorious period of Indian history when they explore the Buddhist monuments. The stupas are large hemispherical domes containing a central chamber where the relics of Lord Buddha were placed. The gateways surrounding the stupas face in all the four directions symbolizes love, peace, trust and courage. The railings and gates of the Sanchi stupas display beautiful pieces of architecture through its different motifs and designs. The most prominent characteristic of these stupas is that Lord Buddha has been represented symbolically with footprints, thrones and wheels rather than by the image of Buddha. The entire stupa depicts symbolic representation of the gifts of Nature as if explaining the Buddhist doctrines by reflecting the Buddhist love for nature. The lotus motifs in the stupas represent the rise of people from the mud of materialism to the world of reality and spirituality. While the trees depicted in the gateways symbolizes fertility.
Though the central stupa was built by Emperor Ashoka, some other kings also added to the place in the later centuries. With the rise of Hinduism in India, the stupas of Sanchi went into oblivion until they are rediscovered by a British officer, General Taylor in the year 1818. The present condition of the monuments is result of the restoration project which took place around the year 1912 and 1919. The tourists visiting the place will get to explore around fifty monuments including the three stupas and the several temples. This place is one of the best places to visit in central India.
The Indian state of Madhya Pradesh has variety of tourist destinations. From historical monuments to religious places of interest, this state is rich in cultural heritage. A central India tour will allow you explore the famous places of interest in Madhya Pradesh.