The beauty and elegance of silk needs no formal introduction. A lustrous golden yellow banarsi sari, often worn by Indian Goddesses has epitomized the beauty of a complete Indian woman. There's hardly any woman in India whose wardrobe is left without a Banarsi Silk sari. The charisma and charm of Silk is inimitable and magical.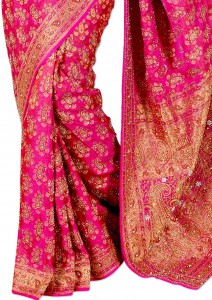 The fabric has reached farthest corners of the world and has become a paragon of Indian culture. Silk fiber excavated during the Indus valley civilization, in the cities of Harappa and Chanhudaro. Sericulture and silk weaving soon developed as an art and claimed recognition amongst the noble and royal families.
Purity of silk has been acknowledged in the temples, during religious ceremonies, at auspicious occasions, for draping the Goddesses and for many other ceremonial junctures. The brocade weaving centers of India evolved in and around the major trade capitals of various kingdoms. Revolution came during the Mughal rule in 14th century, when the value of silk multiplied many fold.
The intricate motifs, the vibrant colors, the glitter and shimmer will literally take your breath away. This antique handicraft form has been kept alive for over centuries and Banaras rose to fame for its gold and silver thread weaving. Fascinating as it sounds, the vivacity of Banarsi Silk Saris will transport you to the mystical land of Royals and maidens.
As estimated, 90% of Indian Silk saris are made on handlooms, using ancient methods and taking an average time of 15 days to one month in its making. Ordinarily, three weavers are involved in making a saree depending on the complexity of design and pattern.
Having explained a little I knew about the Indian Silk legend, my final and equally pressing statement will be- If you are in India, please do not cross over the airport gates without a bundle of Silk in your luggage. Silk saris of Banaras are exceptional, simply phenomenal. Indulge in the art work, contribute in its revival and participate in the history. Buy a Banarsi silk sari, let us help you find the places.